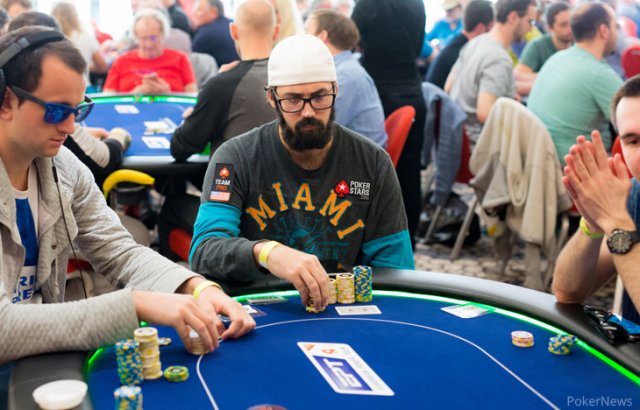 It's two o'clock in the afternoon in the principality of Monaco. As punctual as ever, PokerStars pro Jason Mercier waltzes into the hip Blue Gin Bar at the Monte Carlo Bay Resort wearing basketball shorts and a black, long-sleeved Miami shirt. His white baseball cap is flipped backwards, he's showcasing jet black glasses, and he's adorned with PokerStars patches.

He speaks with the same casualness he spoke with eight years ago when, donning a lucky collared shirt, he took down the European Poker Tour's San Remo Main Event. He's as laid back as it gets despite the fact he's about to register for a Single-Day High Roller event with a Є50,000 buy-in. And a few days after that, it'll be time to avenge his PokerStars SCOOP Player of the Series title.
2015 was a banner year for Mercier at SCOOP. He took down his second, third, and fourth SCOOP titles in the span of a couple weeks. He found victory in a $2,100 No Limit Hold'em event, a $2,100 No Limit Draw event, and a $2,100 Fixed Limit Badugi tournament, capturing SCOOP Player of the Series honors.
"I'm not sure I can repeat getting three wins again," Mercier said from the comfort of a fluffy blue couch. "That was pretty tough. But, I think I can win Player of the Series again."
It'll be all about volume for Mercier during this year's SCOOP. "I'm going to play pretty much every event," the Floridian said. "Last year, I didn't play most of the low events because they're so small relative to the larger events. And I was playing on a small laptop last year. This year, I brought a monitor, so I might have some of the low ones going so I can get some min-cashes for points to give myself a better chance of winning."
All told, Mercier reached five final tables during the 2015 SCOOP, which also ran in May. "I'm not going to be disappointed if I don't win a SCOOP title – they're hard to get," said Mercier. "But I look forward to doing well. Winning Player of the Series this year is meaningful because I won it last year. It would be that much more impressive if I were to win it two years in a row. It's like defending my title."
He'll come into SCOOP more determined than ever to repeat. And if he walks the walk, he'll get a trophy and $20,000 in cash. Maybe he'll drop the mic too.
Like other pros, Mercier must exit the United States in order to play on PokerStars' dot-com site. Rather than moan and groan like some players do, Mercier sees it as an opportunity to travel the world.
"It forces me to go to different places," he said. "This year, I went to Amsterdam and Aruba to play poker, two places I probably wouldn't have gone to otherwise. It's given me an opportunity to see more places and spend more time in places I want to for weeks at a time."
When he does arrive at his grinding pad, he'll be able to battle in a series with 55 events and over $40 million guaranteed.
"I'm looking forward to all of the Mixed Games," he said, trying to remember the schedule off-hand. "It's nice that there's at least a $2K buy-in for almost every variant like No Limit Deuce and Five Card Draw. But, I'm also looking forward to the $21K Eight-Max because a lot of times the biggest buy-in is a heads-up event, and I'm not crazy about heads-up tournaments, especially in WCOOP or SCOOP because they're really, really tough."
The big $21K Eight-Max event will take place on May 14. You can expect many of the poker world's elite to show up.
Speaking of showing up, volume will mean an aggressive SCOOP schedule. Otherwise, an encore performance will be hard to come by.
"It usually depends what happened the night before," Mercier said of his daily schedule. "If I'm up super late, I'll usually have time to wake up and hop in the first event at the last moment. If I got knocked out of everything early, I might wake up and try to do something during the day and eat lunch or go to the beach. The first event of the day during SCOOP, I'll probably late register so I can do something earlier in the day. I'll register for all of the medium and high events during the day and potentially play some cash games on the side if they're good."
Most of the time, he'll have seven or eight tables open at a time. Up to 15 SCOOP tournaments can happen in a single day.
Whatever happens online, Mercier surrounds himself with the very best. Imagine having access to all of the following brainpower. "I still talk to Dan O'Brien a lot and Kyle Julius," Mercier said. "In the last year or two, I've started hanging out with Mustapha Kanit and Dario Sammartino. Mustapha is pretty unbelievable in what he has been able to do in the last couple of years."
SCOOP runs for two weeks beginning Sunday, May 8.