Chalk up the first PokerStars Spring Championship of Online Poker(SCOOP) title for Jason treysfull21Mercier (pictured). The longtime PocketFiver won a $215 Eight-Game event on Thursday and now needs a TCOOP victory to become poker's third Triple COOP champion.

—
Follow professional sports tipsters, make your own betting tips, and compete for real cash prizes. Tipdayis the ultimate sports tipping resource. Check it out.

—
"It feels good," Mercier told PocketFives on Friday about his SCOOP win. "I am happy to get another title under my belt." The tournament had 559 entrants and more than doubled its $50,000 guaranteed prize pool.
Mercier is an avid Mixed Game player and typically plays Eight Game cash online. "I'm very experienced in it," Mercier said. In fact, one of his two WCOOP titles came in an Eight-Game event. His other was in a $1,050 No Limit Hold'em tournament.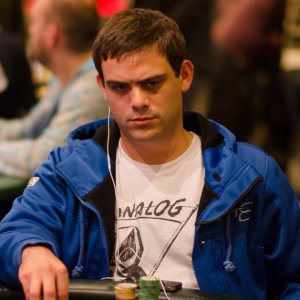 Thursday's Eight-Game final table was stacked with the likes of Michael benvo123Benvenuti (pictured) and Eugene Katchalov. Perhaps not coincidentally, Mercier, Benvenuti, and Katchalov finished 1-2-3, respectively. "Michael and I had all the chips going into the final table," Mercier said. "I predicted I'd be facing him heads-up with two tables left. He played very well and Eugene did a good job to get third, allowing the others to get knocked out before him."
We asked Mercier to break down the Eight-Game skills of Benvenuti and Katchalov. He responded, "I wasn't really even aware Michael played, but I was very impressed with how he was playing from what I could see. Eugene is very skilled at Mixed Games." Entering the final table, Mercier and Benvenuti had 1.77 million in chips; the rest of the table had just one million combined.
Also on Thursday, Mercier finished seventh in a $2,100 SCOOP Eight-Game tournament, telling us, "I was kind of hanging on for a while in the $2K, but eventually got knocked out of that one. I was trying to finish the heads-up quickly so I could focus on the $2K because there was a lot more money on the line there and the heads-up was taking much more of my focus."
Here's how the mid-stakes Eight-Game event's final table looked:
1. Jason treysfull21Mercier – $21,242.00
2. Michael benvo123Benvenuti – $15,652.00
3. Eugene "E.Katchalov" Katchalov – $11,459.50
4. Ceegee – $7,826.00
5. st0nebluff – $5,590.00
6. Eric tightlines Pratt – $3,577.60
Mercier has his sights set on winning the $50,000 Poker Player's Championship at the upcoming World Series of Poker. The tournament takes on an Eight-Game format and Mercier joked, "That one would have a little better payout."
Finally, we asked Mercier whether he gets a rail when he is running deep in tournaments online. After all, he has had a considerable amount of success over the years for people to get behind, including two WSOP bracelets and $1.5 million in tracked online scores. "I have some close friends and family back home watching," Mercier said, "and I get a lot of mentions on Twitter from fans that tell me they are rooting me on and sweating, which is pretty cool."
If you don't already have a PokerStars account, sign up through the links on PocketFives and get a 100% up to $600 deposit bonus along with one free month of PocketFives Trainingwith no sign-up fee. Sign up here.
Want the latest poker headlines and interviews? Follow PocketFives on Twitterand Like PocketFives on Facebook. You can also subscribe to our RSS feed.