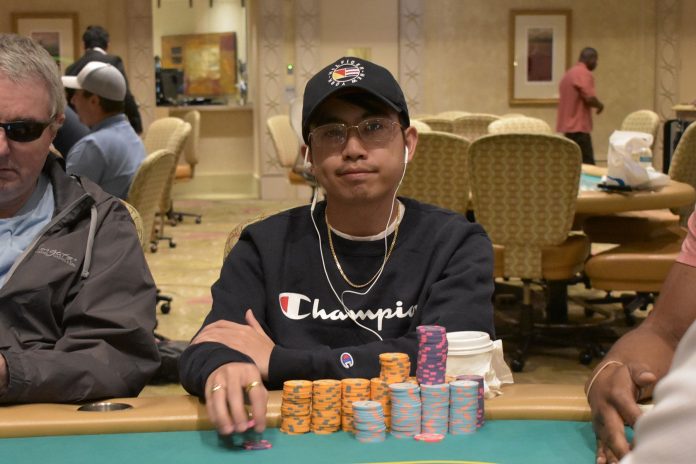 Four years ago, Kenny Huynh decided to celebrate his 21st birthday by taking a trip to Philadelphia to try his hand at live poker.
"I played a morning event at Harrah's in Philly, I busted that one, but then I ended up playing at the SugarHouse at 7:00 PM, just regular daily and I ended up cashing that. It was like $100 buy in, cashed it for like $600," Huynh said. "It was small at the time, but I didn't know what to expect and then after that day I was like, wow, this is actually a lot easier than I thought it would be."
Huynh, who won Event #19 ($400 NLHE) of the 2020 World Series of Poker Online on Sunday night, started playing poker at 14 years old with some friends. Once he was old enough to play in casinos, he dabbled in lower buy-in tournaments picking up a cash her and there. In 2019, Huynh took a shot in a satellite at the Borgata with the intention of selling the seat if he won.
"It was actually a funny story. I was planning on selling my seat, but the Borgata didn't let me at the time, so it forced me to play it and magically, I ended up final tabling that event," Huynh said of his fifth place finish in the $2,700 Borgata Summer Poker Open Championship for $69,801.. "It kind of just boosted my confidence that what I was doing was working and ever since then, it's been just been riding the wave."
That wave carried him until February, when he finished second out of 1,496 entries in a $550 buy-in Parx Big Stax XXXII Big Stax 500. He earned $80,298 for that performance and knew right then and there that he'd be heading to Las Vegas in the summer to take a stab at the WSOP.
"That same day, after a 19 hour day, I had to attend another Day 2 and I ended up final tabling that, just barely final tabling and getting knocked out tenth, but I was really confident at the time," Huynh said. "I was booking flights already, planning my schedule for the year and then Corona happened and they canceled all that. It felt like I stopped my momentum, but apparently not."
Huynh is a No Limit cash game regular at Parx Casino in Philadelphia. His normal game is anywhere from $2/$5 to $5/$10 and he's not afraid to take the occasional shot at $10/$20. That's not quite where his heart is however.
"Tournaments are definitely where my heart's at, live. I was never really an online player much, but due to what we have to deal with, with Corona this year and everything, it's kind of forced me to play more online and luckily I found success in that," Huynh said.
Having cut his teeth in those cash games, which often don't play with a full nine players, Huynh got the final table on Sunday night and felt like he had an edge over the other five players.
"Once the table hit six handed, I really felt comfortable because I just feel really confident in my game, six handed or less," Huynh said. "Thanks to all the cash games I've been able to play online, those games usually are shorthanded, I shouldn't say I felt really experienced, but it just felt comfortable playing since all the cash games I've been playing a lot and have been shorthanded."
It wasn't quite 6 AM when Huynh wrapped up his bracelet win. Having grinded through most of the field while his housemates were fast asleep, Huynh's excitement bubbled over and made for an early wake up call.
"I woke up everyone in the house at six in the morning, I was so ecstatic. I couldn't believe it, because I had played the $3,200 and I was really unmotivated after busting that one," Huynh said. "I was talking to my poker buddies, telling them like, 'Oh, I think I'm just going to rebuild the loss in cash games' and my poker buddy was like, 'You can't not play the rest of this year. This is going to be your best opportunity to win a bracelet and it might be the only time you can win one in like 12 hours' and three days later it happened. So it's pretty surreal."
With one WSOP bracelet already to his name, Huynh plans to grind the rest of the WSOP.com events before heading down to Mexico to gets started on the GGPoker events.