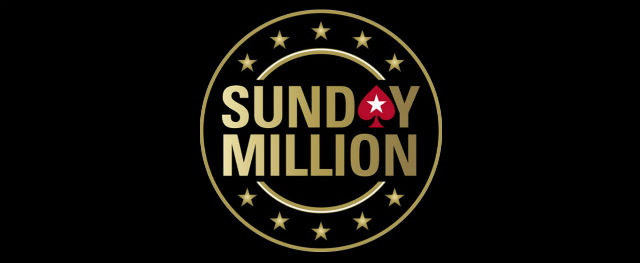 There was a four-way final table chop in the PokerStars Sunday Million weekly flagship tournament over the weekend, as 'Koby295' earned close to original first place money by cashing for $188,929. He won his way into the Sunday Million earlier in the day in a $4.40 satellite – giving him an ROI on this tournament of over 4,200,000%. Akos 'Akker' Pasztor of Hungary was awarded the second-highest payout of $117,587 for his official fourth place effort while 'ktm2502t' and 'mariusghet12' collected $100,000 and $94,505 for their respective finishes.
'Bluf_To_Much' came out on top in the Sunday Warm-Up for $51,360 as #26 ranked Andreas 'r4ndomr4gs' Berggren of Sweden took home $38,520 for his runner-up performance in that event. Pedro 'gusma' Madeira of Brazil (ranked #130 worldwide) will return to the Top 100 this week following his win in the Sunday Grand for $50,117. Johannes 'Greenstone25' Korsar of Sweden (currently ranked #25) finished 2nd for $37,555 while 66th-ranked Alex 'Dynoalot' Difelice of Canada placed 3rd for $28,490. The 6-max Sunday Supersonic was won by 'bigstealer' for $30,961.
The $2,600 buy-in partypoker Super High Roller event was won by 'D0nKanaile_' for $44,400. 8th-ranked 'eisenhower1' of Sweden could threaten the overall top spot thanks to his win in the partypoker $530 buy-in High Roller for $29,776. 16th-ranked 'veeea' of the Russian Federation won the 888 Poker Mega Deep for $23,159 and also final tabled the partypoker High Roller.
PokerStars Sunday Million ($200+15 NLHE)
6,269 entrants – $1,253,800 paid out to 900 spots
Koby295 – $188,929
mariusghet12 – $94,505
ktm2502t – $100,000
Akkerx – $117,587 (Akker) *4-way deal
kurt23x – $52,659.60 (kurt23x)
marcasa – $40,121.60
DogK8 – $27,583.60
0Human0 – $15,045.60
SoCloseCall – $9,716.95
PokerStars Sunday Warm-Up ($200+15 NLHE)
1,605 entrants – $321,000 paid out to 234 spots
Bluf_To_Much – $51,360.00
mrAndreeew – $38,520.00 (r4ndomr4gs)
QuiteAFish – $28,890.00
1chiban – $21,105.75
rezdavid – $15,247.50 (raisedave)
busttard – $11,877.00
youradobber – $8,667.00
faaatzzz – $5,617.50
Kovalski1 – $3,210.00 (Kovalski)
PokerStars Sunday Grand ($1,000+50 NLHE) *$200k Guaranteed
259 entrants – $259,000 paid out to 45 spots
gusmaa – $50,116.50 (gusma)
Greenstone25 – $37,555.00 (Greenstone25)
dynoalot – $28,490.00 (Dynoalot)
EkkoMid – $21,367.50
-demis-13 – $14,763.00
dntfrgtame – $11,396.00
lb6121 – $8,806.00 (Luke Schwartz)
Harel82 – $6,216.00
shorezydrew – $4,532.50 (shorezydrew)
PokerStars Sunday Supersonic ($205+$10 NLHE 6-Max) *$175K Guaranteed
966 entrants – $197,798 paid out to 144 spots
bigstealer – $30,961
ShippityShip – $26,895 *2-way deal
IAMTHOR89 – $18,790.82
paul_peaches – $12,856.88 (paul_peaches)
bagoch – $8,485.54 (bagoch)
HKN291209 – $5,933.94
PokerStars Sunday Storm ($10+$1 NLHE)
22,381 entrants – $223,810 paid out to 3,600 spots
BRAMIB777 – $20,620.02
ludvigr – $12,966.40
xxxNAGYxxx – $14,006.56 *3-way deal
bLDISONFIRE – $8,169.06
supernewf500 – $5,930.96
SkyyBluee – $3,916.67
Garpest – $2,797.62
kdj07 – $1,824.05
duffstaa – $1,197.38
partypoker Super High Roller ($2,600 NLHE) *$100k Guaranteed
48 entrants – $120,000 paid out to 6 spots
D0nKanaile_ – $44,400
flsh2013 – $30,000
easylimppp – $18,000
Tjeeeena – $12,000 (lena900)
BOOMALOOM – $9,000
ABCpoker911 – $6,600 (DeathbyQuads)
partypoker High Roller ($530 NLHE) *$150k Guaranteed
325 entrants – $162,500 paid out to 45 spots
eisenhower1 – $29,776 (eisenhower1)
Nicholas_Brody – $25,880 (BrazilianEye) *2-way deal
SpeweyStuey – $17,875
frokennatur – $13,650 (perrymejsen)
deepsee – $9,344 (veeea)
SLABBE1991 – $7,313
MFP93 – $5,688
Busto123 – $4,063
idealsolar – $2,844
iPoker Sunday Masters (€150 NLHE)
123 entrants – $19,382 paid out to 18 spots
B4NN4ST0C4ZZ0 – $4,457.82
agrocomedio – $3,101.09
1BACKtoBACK17 – $2,354.89
barwen18999 – $1,744.36
ChIpSiSbK – $1,162.91 (chipsxxx)
niboru – $969.09
JKoInyoface – $775.27 (funwheel)
iLik3Min0rs – $581.45
KyrgyzNutsaaaa – $484.55
888 Poker Baby WHALE ($320 NLHE)
311 entrants – $93,300 paid out to 45 spots
allesrigged – $18,053.55
Inho – $13,528.50
HateH4teHate – $10,263.00
IggyGak – $7,697.25 (IgorK)
hellohellooo – $5,318.10 (hellohellohello)
sephir0t – $4,105.20 (RoccoGe)
IWantSuckout – $3,172.20
DePittsterje – $2,239.20 (bparis)
saiyajin1337 – $1,632.75
888 Poker Mega Deep ($215 NLHE) *$100k Guaranteed
613 entrants – $122,600 paid out to 81 spots
veeea – $23,159 (veeea)
jobekr – $16,796 (jobekr)
t3amedward – $12,383 (donut604)
windiswild – $9,318
HARRYPOKER44 – $6,547
rufstation – $5,211
OMG_PorFavor – $3,985
plizmuck – $2,759
Bill_Dung – $1,839
BetVictor Sunday Showdown (€215 NLHE) *€25k Guaranteed
119 entrants – €25,000 paid out to 12 spots
Tianinho – €6,888 (Tianinho)
K000LXFTW – €4,625 (k0000000lx)
legenden – €3,500
Fur_cue_Charlie – €2,375
Kat-Everdeen – €1,775
Killtoheal – €1,313
deepsea – €1,063
Wasteman – €837,50
10kkBR – €663