A star-studded field turned up for Event #20 of the 2014 World Series of Poker, a $3,000 No Limit Hold'em Shootout. There were 389 entrants and, when all was said and done, Kory s00tedj0kers Kilpatrick (pictured) walked away with his first WSOP bracelet in his first WSOP final table. PocketFivers are up to eight WSOP bracelets this year.

—
PocketFives' WSOP coverage is brought to you by Real Gaming, a regulated online poker site in Nevada. Play Real Gaming, real money poker on any device. Play now for Final Table Freerolls. Skip straight to the final table and win cash daily.
—
Kilpatrick Tweeted before the 10-handed finale began, "Made my first WSOP final table in #event20 3k shootout. Starts at 2. Think it streams on wsop.com . Tough table; should be fun!"
The final table had three bracelet winners and a host of brand name poker players, leading Kilpatrick to tell WSOP staff, "There were really no bad players here; everyone played solid." He added, "I was really focused and I was really feeling it today. It feels great."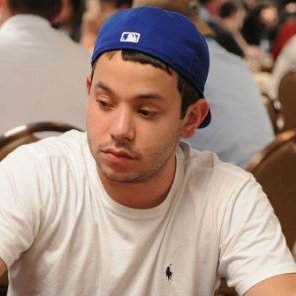 Kilpatrick started the final table third in chips, but busted Chris Bell in fifth place to take the lead. Kilpatrick then sent Jack Duong to the rail in fourth place after rivering a full house and, as a result, stacked almost half of the chips in play. Kilpatrick continued his streak and ran Noah Bronstein out the door in third = to enter heads-up play up 2:1. He did not relinquish the lead from there.
It took 83 hands for a single person to be eliminated and then another 57 for the nine-handed table to have a knockout. In the final hand of the tournament, Kilpatrick's A-J outlasted Eric gpokerg Wasserson's J-10 for the bracelet and a quarter of a million dollars. Wasserson (pictured) recorded his first WSOP cash of 2014 and second WSOP final table of his career:
1st Place: Kory s00tedj0kersKilpatrick – $254,891
2nd Place: Eric gpokergWasserson – $157,490
3rd Place: Noah Bronstein – $115,659
4th Place: Jack Duong – $85,616
5th Place: Chris Bell – $63,877
6th Place: Phil Galfond – $48,043
7th Place: Taylor taypaur Paur – $36,414
8th Place: Michael Stonehill – $27,812
9th Place: Dylan ImaLucSac Linde – $21,409
10th Place: Narendra Banwari – $16,609
Meanwhile, Chris FoxWallace (pictured) and Calvin cal42688Anderson are among the final 21 left in a $10,000 HORSE event (#22) that's scheduled to play down to a winner on Tuesday. High-stakes cash game player Tommy Hang leads the way with a stack of 757,000, while bracelet winner Randy mavsrule3 Ohel is in second with 611,000. Ohel and Wallace have been PocketFives members since the year we launched, while Anderson was ranked #1 as recently as November of last year.
The top prize in Event #22 is $507,000. Here's how the field stacks up entering today's scheduled conclusion:
1. Tommy Hang – 757,000
2. Randy mavsrule3Ohel – 611,000
3. Richard Ashby – 508,000
4. Christopher FoxWallace – 506,000
5. David Benyamine – 412,000
6. Justin ZeeJustin Bonomo – 345,000
7. John Cernuto – 335,000
8. Calvin cal42688Anderson – 301,000
9. Max Pescatori – 282,000
10. Sergey Altbregin – 261,000
11. Lee Goldman – 240,000
12. Nick Schulman – 194,000
13. Bill Chen – 193,000
14. Bruno Fitoussi – 189,000
15. Glenn Cozen – 184,000
16. Daniel Negreanu – 181,000
17. Bertrand ElkY Grospellier – 177,000
18. Ben Yu – 106,000
19. Mark Gregorich – 99,000
20. Nick Kost – 69,000
21. Richard Sklar – 53,000
The tournament will restart at 2:00pm PT on Tuesday. Stay tuned to PocketFives for the latest WSOP news, sponsored by Real Gaming.
Want the latest poker headlines and interviews? Follow PocketFives on Twitterand Like PocketFives on Facebook. You can also subscribe to our RSS feed.