According to State Senator Raymond Lesniak (pictured), PokerStars, the world's largest online poker site, will launch in New Jersey in March. Now that the so-called "lame duck" session of Congress in the US is behind us and lawmakers around the country have taken their posts, the focus in New Jersey may now shift to PokerStars being licensed.

Longtime industry pro and Online Poker Report front man Chris Grove Tweeted to Lesniak on Saturday, "What about PokerStars – how's that appeal going?" Lesniak responded, "March 2015." You can follow Grove on Twitter at @OPReport. You can follow Lesniak at @SenatorLesniak.
Lesniak, who said late last year that PokerStars was in "time out" in New Jersey, added on Twitter, "Adelson's play to ban eGaming in Congress is dead and PokerStars' new ownership [is] too formidable to deny." In the middle of 2014, Amaya Gaming bought PokerStarsand its sister site, Full Tilt, for $4.9 billion to create the largest publicly traded internet gambling company in the world. In the process, it eliminated PokerStars' ownership during Black Friday.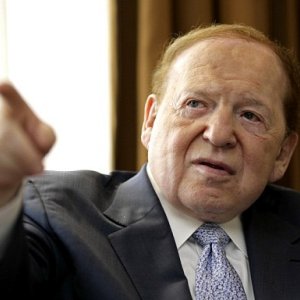 During last year's lame duck session, it appeared that New Jersey officials would let Las Vegas Sands CEO Sheldon Adelson (pictured) potentially ban internet gambling in the US at the Federal level before deciding what to do with PokerStars in the Garden State.
Online Poker Reportelaborated, "It's worth noting that Lesniak isn't the only voice suggesting that PokerStars' outlook in New Jersey has improved. A recent note from Adam Krejcik at Eilers Research put PokerStars' chances of cracking the New Jersey market in 2015 at better than 50%."
In PocketFives' New Jersey pokercommunity, PocketFives co-founder Adam Small said in a thread, "The assumption continues to be that Stars/Tilt will get approved. This hasn't really changed since the Amaya acquisition. The only thing that's changed, from where I'm standing, is ETA. That still appears to be very much in the air." Rumors circulated, for example, that PokerStars would launch in New Jersey last October, but those didn't pan out.
Stay tuned to PocketFives for the latest.
Want the latest poker headlines and interviews? Follow PocketFives on Twitterand Like PocketFives on Facebook. You can also subscribe to our RSS feed.