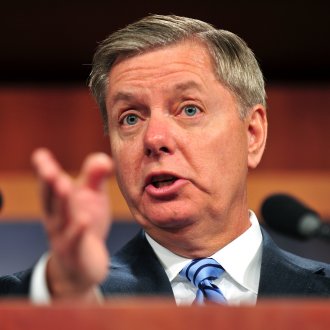 According to an e-mail sent on Thursday from the Poker Players Alliance, the main lobbying group for poker players on Capitol Hill, "Senator Lindsey Graham (R-SC, pictured) will soon introduce Senate legislation to expand the Wire Act to ban internet poker along with other forms of internet betting" in the United States. When his bill will be dropped remains to be seen. He has reportedly not found a Democratic co-sponsor.

The PPA sourced a Gambling Compliance article and detailed, "Graham articulated firm opposition to online betting. When asked about a poker carve-out, he was adamant in his rejection, going so as to say he would even oppose other bills with carve-outs, specifically mentioning the one proposed by Senators Harry Reid and Dean Heller of Nevada."
Speaking on the legislation, Poker Players Alliance Executive Director John Pappas told PocketFives in an exclusive statement, "The prohibition Senator Graham is seeking serves no one's interests. It is obviously bad for online poker enthusiasts who want the freedom to play, but it is just as bad for those he seeks to protect. A prohibition protects no one and very well could create the types of problems Senator Graham wants to suppress. The poker community needs to stand strong and oppose this effort every step of way. It is a serious threat to the future of online poker in the US."
When asked what sparked Graham to introduce such legislation in the first place, the Senator from South Carolina was quoted as saying, "I don't think it is a good idea for the country. South Carolina is not a big gambling state… A lot of damage can be done to the society in general. Again, the law enforcement community has been pretty universally against it in South Carolina and you can see a pretty wide coalition of cops and religious leaders coming together."
Three US states have legalized online gambling already: Nevada, New Jersey, and Delaware. Nevada allows online poker only, whereas New Jersey and Delaware permit other casino games as well. Nevada and Delaware recently reached an accord to share poker liquidity, although a date when the compact will take effect is not yet known.
Last week, it was revealed that Reid (pictured) and Heller are formulating legislation to ban all forms of online gambling except poker, legislation that Graham would be opposed to, according to Gambling Compliance.
The PPA labeled the effort from Reid and Heller "odd," telling the poker community, "It's an odd bill. Sheldon Adelson is gunning specifically for poker, so he doesn't want it (unless he's hoping to divide and conquer). And, unless they sweeten the deal, players don't really get anything out of it either. States can already authorize online poker, as we've seen in three states."
Graham has been in the US Senate since 2003 and was in the House of Representatives prior to that. Strom Thurmond formerly held his Senate seat.
Keep it dialed to PocketFives for the latest poker legislation news.
Want the latest poker headlines and interviews? Follow PocketFives on Twitterand Like PocketFives on Facebook. You can also subscribe to our RSS feed.