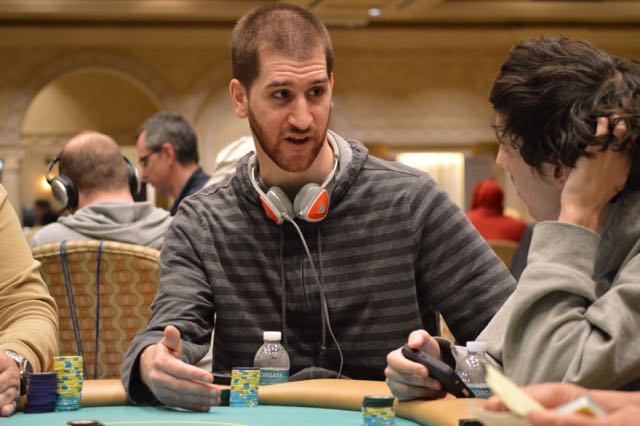 New Jersey online poker is producing some of the best players on the East Coast and a few of them are out in Las Vegas this summer to take their shot at a full schedule. Among those players is Mike 'MikeyCasino' Azzaro. Currently, Azzaro is the #8-ranked player in New Jersey and has put together a live tournament resume of $310,000 in earnings.
Azzaro has been on the precipice of his tournament breakthrough for a few years now and he plans on putting in a full schedule this summer in pursuit of live poker glory.
Throughout this summer, PocketFives will provide readers with exclusive insight into Azzaro's summer as he looks to capture treasure in the desert.
Mike Azzaro's summer starts as an unknown quantity. Everyone who comes to Las Vegas is full of optimism that this is "their year." And why wouldn't they be? Millions of dollars are up for grabs in properties across Sin City and the only way to win it, is to be in it. That is what Azzaro plans on doing as he starts his summer grind.
The World Series of Poker bracelet remains the crown jewel for all poker players and this summer, the WSOP has 74 of them up for grabs. Azzaro knows the prestige of bracelet is worth quite a bit but he's realistic about his chances of claiming poker's top prize.
"My goals for the summer is to play well and not do anything stupid with my money. I would love to win a bracelet and a million dollars but if I don't I won't be disappointed since it's extremely tough to do so."
The tough part for players who are in the midst of the grind each and every day is finding a life balance along with maintaining a sustainable healthy lifestyle. As he prepared himself for the Colossus, the largest tournament of the summer in terms of field size, Azzaro kept active in hopes that peak physical condition might lead to increased mental acuity.
"I got to Vegas about two weeks ago and haven't played much. I'm taking a break until Colossus begins. The first two weeks all I've been doing is going to the gym, playing basketball, and swimming."
Along with maintaining himself physically, Azzaro also has the peace of mind of having a good relationship with his roommates for the summer. In fact, they are the same roommates he lives with in New Jersey. Chris Horter and Jamie Kerstetter made the trip out to Las Vegas in what has become an annual tradition in their RV. Azzaro drove back them across the country last summer and flew out to meet them in the desert this year. That comfort gives Azzaro an added level of mental stability knowing he can trust those living with him around his most valuable commodity this summer, money.
"When I'm playing I know I can trust the people I live with to not steal or do anything crazy. I can't live with strangers [and] I don't trust most people."
Azzaro's schedule is jam-packed and he feels like his previous years of experience and success already had in 2017 puts him in a great position to achieve glory this summer.
"The last few summers I played a ton of SNGs and good value MTTs. I feel that I'm playing the best poker I've ever played and have a ton of momentum heading into the summer."