In an AMA on Reddit, longtime poker pro Mike timexMcDonald (pictured) talked about his newfound love for a computer game called Prismata. He is apparently ranked fifth in the world at it and told readers, "I've been playing Prismata like 40 hours a week. I'm biased since my friends made it, but I'm over-the-top addicted."

Instead of grinding poker when he's at home, McDonald revealed that he has been hitting up Prismata instead. He's not alone either, as the Canadian said in the AMA, "Many other poker players are playing Prismata daily. I think it's the best game I've ever played and I hope it grows to be huge."
McDonald speculated that in five years, the top-earning Prismata player would be making a quarter-million dollars annually.
According to its website, Prismata is "an easy-to-learn, fast-paced, hybrid strategy game that borrows familiar elements from real-time strategy games, collectible card games, and tabletop strategy games, combining them in a radical new way… In Prismata, players take turns spending their resources, building up their economies, constructing an army, and obliterating one another until only one side remains. Games last only minutes, but always feel fresh thanks to randomly-generated unit pools that are different every time."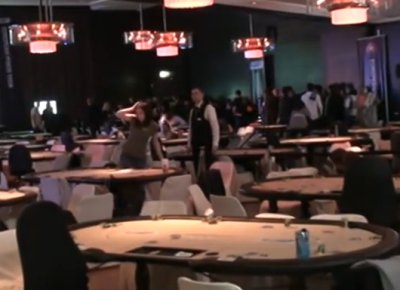 McDonald also talked about poker-related topics, including the infamous EPT Berlin robbery (pictured) in 2010 that brought the Grand Hyatt Hotel to its knees. McDonald, who was involved in the series' High Roller Event, said, "I heard arguing outside and shouting. Someone at my table said, 'They have machine guns and have planted bombs in the building.' Immediately, all 500 people in the room started running for the one exit where the gunmen weren't. Tables got flipped, people got trampled, it was the most scared I've been in my life."
Speaking of chaos, McDonald also talked about being on the Ethics Committee for the short-lived Annie Duke-led Epic Poker League, which folded before the conclusion of its first season. "I'm not used to having people lie to my face," McDonald said. "I found each meeting to be emotionally draining, as I felt I was just being lied to non-stop."
One of the hot topics in today's online poker world is the purchase of PokerStars and Full Tilt by Amaya Gaming, creating a massive company that has implemented plenty of rake and promotional changes much to the chagrin of some players. As McDonald evaluated, "I'm quite disappointed by it. I think that's just how monopolies work though. If I were in their shoes and spent $5 billion, I would be trying to maximize profits too."
McDonald singled out a few players during the AMA including Andrew luckychewy Lichtenberger: "Most US regs who didn't really relocate after Black Friday have fallen way behind the curve, but Andrew manages to always stay ahead of the game even if logging way fewer hours than anyone else."
Fun fact: McDonald rock climbs three times a week and lifts three times a week. We'll let you read the rest of the Reddit AMA with Mike McDonald.
Want the latest poker headlines and interviews? Follow PocketFives on Twitterand Like PocketFives on Facebook. You can also subscribe to our RSS feed.