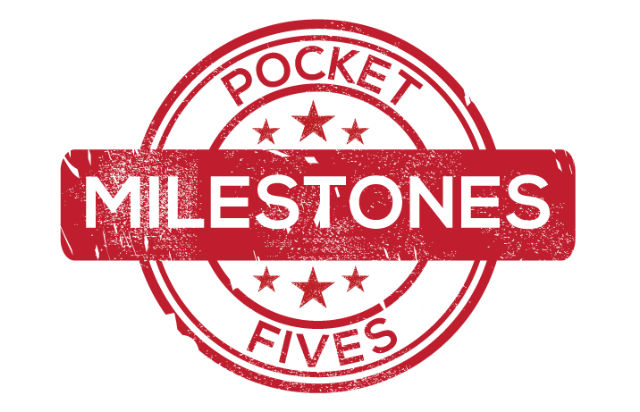 Every week The PocketFives Milestone Report looks at the online poker players who are achieving career-best achievement or reaching new heights in the rankings.
Dara O' Kearney Earns 8th Triple Crown
Longtime PocketFiver, Irish poker ambassador, and host of the popular The Chip Race podcast, Dara 'Doke' O'Kearney earned his eighth career PocketFives Triple Crown on May 8. The accomplishment puts him seventh all-time on career Triple Crowns.
He accomplished the feat in short order in the first week of May. At first he took down the 888poker $10,000 Sunday Monsoon for $2,255 on May 6. The very next day he won Event #12-H of the partypoker POWERFEST series for $13,333. Then he completed the task with a gold medal in the PokerStars $215 Super Tuesday on May 8 for another $8,296. Three days led to three victories for O' Kearney as he continues to rack up the accolades.
Joining him in achieving Triple Crowns during the same week is Bryan 'bparis' Paris. Paris, who is fifth on the PocketFives all-time money list with over $10 million in lifetime earnings, earned his sixth Triple Crown on May 10. Like O' Kearney he scored qualified victories on PokerStars, partypoker, and 888poker within a matter of four days.
Hungary's 'flashxx' also got in on the Triple Crown action, reaching her very first on May 11. She used victories on PokerStars, PokerStars.es, and partypoker to earn the accolade. 'flashxx' is currently just $6,000 shy of surpassing $300,000 in lifetime earnings.
Major Money Milestones
Former Worldwide #1-ranked online player Chris 'Getting Daize' Oliver became just the ninth player all-time to surpass $10 million in lifetime earnings. He sealed the deal with a final table appearance in Event #4-HR of partypoker's POWERFEST that earned him over $25,000. Oliver's storied career includes reaching the #1-ranking twice, earning a Triple Crown and becoming the 2010 Yearly PLB Champion. Now, he's in one of the most elite clubs on PocketFives and despite everything he's achieved, he continues the daily grind with an eye on $11 million.
Andres 'probirs' Nemeth, the current #3-ranked player in the world, hit a major milestone of his own after passing $8 million in lifetime earnings. He flew past the mile marker with a career-high cash of over $576,000 by winning Event #14-H the $25,000 High Roller of PokerStars SCOOP series.
Right behind him are a pair of longtime PocketFivers who just surpassed $7 million in lifetime earnings. Both Fabrizio 'SixthSenSe19' Gonzalez and Calvin 'cal42688' Anderson used the mammoth summer series to rack up enough earnings to push them past the $7 million. Gonzalez took second in POWERFEST Event #45-HR for $15,600 to get the job done. Anderson has been destroying the SCOOP fields highlighted by his victory in SCOOP Event #19-H for $126,659.
Plenty of other big names have seen big gains recently and soared past the money markers they had been chasing. Both David 'Bakes' Baker, Guntis 'lovefee' Aleskins and partypoker ambassador Patrick 'pleno1' Leonard surpassed $5 million in lifetime earnings.
Toronto's Mike 'SirWatts' Watson, Diego 'MrBittar' Bittar from Brazil, Huber 'IamSound' Stefan from Switzerland and Russia's 'Flat' (currently the #27-ranked player in the world) all joined the $4 million lifetime earnings club.
'Romeopro' Climbs To Career-High #2 Ranking
Ten players hit career-high marks in the Worldwide Top 100 this week. Of the ten, two players soared to new heights within the top 10 including the aforementioned Guntis 'lovefee' Aleskins who earned the #8-ranked thanks to his performance during SCOOP Event #14-M for $240,766 and 1,181.52 PLB points.
Roman 'Romeopro' Romanovsky had the best weekend of his career winning two SCOOP events in a single week and winning over $834,000, including a career-high cash with his runner-up finish in SCOOP Event #14-H for $442,299. His surge put him within striking distance, for the very first time, of the #1 worldwide ranking.
Career High Rankings In The Top 100