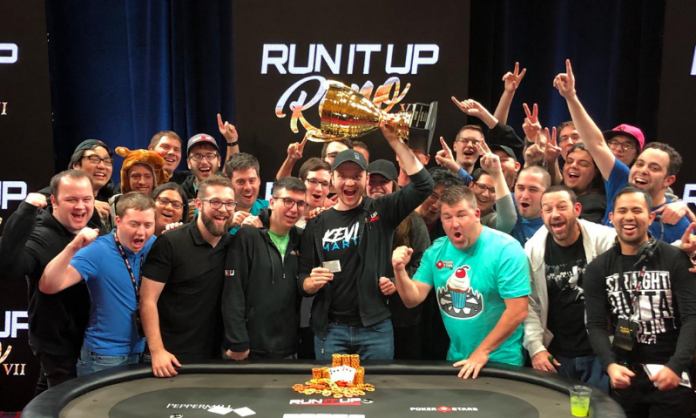 "I'm gonna make this happen. Somehow, I'm gonna win one of these damn passes."
After calling his shot earlier this year, Nathan Manuel has done it. He's won a PokerStars Players No-Limit Hold'em Championship Platinum Pass.
Winning the Pass involved topping a field of 825 entries in the $86 buy-in Moneymaker PSPC Tour stop at Run It Up Reno. After 128 players hit the money, the field worked its way down to the final table. Manuel entered the final table with the chip lead and had to battle with a tough group of competitors, including three-time Run It Up Reno trophy winner Andrew Cha and Florida grinder Hayden Fortini, who finished in sixth and eighth places, respectively.
In the end, Manuel was left to battle with Run It Up Reno regular Marty Gorenc. Manuel entered the heads-up match at a 3-1 disadvantage but ultimately prevailed.
"I'm sure it has not sunk in," Manuel said 24 hours after the win. "I have not done the paperwork yet, but it'll probably feel more real once I do all of that and know what the situation looks like."
Manuel has already been all over in his quest for a Platinum Pass, and knowing his opportunities were running out more and more by the day, he was prepared to jump overseas in his chase.
"The thing that makes it the most real is that I was literally planning a trip to London to play two events there — a MegaStack and a £2,000 event that both had Platinum Passes, and I was trying to figure out any alternate ways that I might find to win a Pass. The fact that I'm not having to do that and go to these extra lengths to give myself more opportunities makes it feel more practically real, but I don't think the reality of accomplishing a goal has settled in yet."
No matter how he won a Pass, Manuel would have felt a great success, but doing so in a Moneymaker PSPC Tour stop was something that resonated with Manuel as he drew some similarities between himself and Chris Moneymaker.
"For me, poker is something that I love and something that I am passionate about," Manuel said. "I'm an everyday guy with a job, who, very much like Chris Moneymaker, lives a professional career, but this game opens up opportunities that are unique and that you can't even anticipate.
"I find myself in a place today where I have some opportunities and it's interesting to find myself in the position to play a $25K tournament that I clearly would never play based on my bankroll and based on the history I have playing poker," Manuel said. "My average tournament buy-in is sub-$1,000, so to have an opportunity to play something with the best players in the world in a field that's going to be super unique in that it has all these people being added to it that likely are not professional players, it puts a really interesting spin on it. I do feel some relief that I've won a Pass because I came into this knowing that I was not a favorite to win a Pass."
Now that he's clinched a Pass and will be off to the Bahamas in January, Manuel is quick to change gears. Even though recognizes the odds weren't in his favor to win a Platinum Pass, Manuel realizes that winning a Pass, albeit a very big accomplishment in itself, is only part of the larger goal.
"All that I'm thinking about at this point is that the goal has now changed," Manuel said. "I'm not trying to win this Pass, I'm not trying to learn Japanese to win a Pass, which is something I wanted to do and I'm really excited I did, but now it's getting better at poker. Think about poker, think about poker at the highest level, think about poker at the level of $25K buy-in tournaments and the people who you're going to be interacting with and playing with in that field, even though I know a huge percentage, probably half of the field, will be non-professionals. I hope and anticipate and expect of myself a lot. Part of that is expecting that I'll play well. Even if I don't make a deep run, that I'll play well for myself and be happy with the way that I play in that tournament for myself."
You can follow Nathan Manuel on his quest to the PSPC via his Twitter account and his YouTube channel.