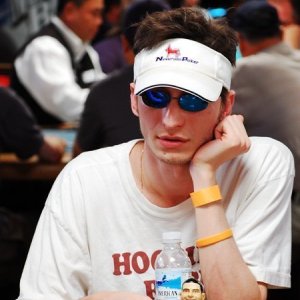 Last week, an article that appeared in the Las Vegas Review-Journaloutlined an investigation by Nevada authorities into the bitcoin online poker site SealsWithClubsthat ended in an arrest warrant being filed for founder Bryan Micon (pictured).

Nevada officials claim Micon's arrest and the preceding investigating are the first involving the digital currency, which although nascent is widely accepted, even by major retailers. Additionally, it's reportedly the "first state-level criminal prosecution of illegal online poker."
The Nevada Gaming Control Board (NGCB) began investigating SealsWithClubs in August 2013, according to the Las Vegas paper, after a Bulgarian "complained about the site."
An NGCB agent created an account on the poker site the following February and, as an agent put it, "I placed bets using my chips and won some hands while losing others. I had successfully purchased bitcoin using US currency and then gambled the bitcoin on the website sealswithclubs.eu on two separate dates for a total of 30 hands of poker."
The same agent cased out Micon's home and monitored his social media. The paper explained, "In Skype conversations observed by gaming agents, Micon estimated that SealsWithClubs earned $10,000 to $12,000 profit each month."
After determining beyond a doubt that Micon operated the site, NGCB officials moved in, raiding his home on February 11, seizing his computer equipment and reportedly shuttling him outside in his skivvies. The Review-Journal said that at the time of the police raid, Micon was editing a page on SealsWithClubs' website.
One day after the cops showed up, Micon flew to Antigua (pictured). A GoFundMe campaign has been created for his legal defense and $3,155 has been raised so far out of a goal of $100,000.
David Chesnoff, Micon's attorney, told the Review-Journal, "Mr. Micon maintains his innocence and we're looking forward to litigating on what appears to be a case of first impression. We are going to advise our client that he's been charged in Las Vegas and what his legal obligations are."
Micon has been accused with operating an unlicensed interactive gaming system and faces up to 10 years in jail and a $50,000 fine. The site was reportedly in business between March 2014 and February 2015.
Want the latest poker headlines and interviews? Follow PocketFives on Twitterand Like PocketFives on Facebook.