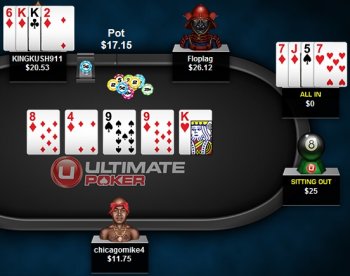 In Nevada, WSOP.com kicked off its weekend with seven major events including the Weekend Warm-Up $5,000 Guarantee and Re-Entry R&A $3,000 Guarantee on Saturday and the Freezeout and $15,000 Weekly Guarantee on Sunday. WSOP.com had 420 runners vying for the available prizes totaling $42,150.

The player with the highest individual cash was bk1048in the Sunday $15,000 for $4,902. With five final tables this year, bk1048 now has over $7,500 in winnings.
Of note on WSOP.com was the seven cashes made by BSHriever5in the last seven days including the takedown of the Weekend Warm-Up on Saturday for $2,060. He has over $48,000 in winnings this year.
This weekend saw Ultimate Poker run three of its major events, as the Nightly $2K on Friday did not run to completion. There were 150 runners fighting for the 18 prize spots available totaling $14,868.
The player with the highest individual cash was fordhardin the Sunday $10,000 for $2,900. This was the first final table for fordhard. The Sunday $10,000 had an overlay of $1,173, as the guarantee was not met.
Of note on Ultimate Poker this week was needs_a_boat, who had a first place finish on Sunday night and second place finish on Saturday night in the $2K Nightly events. needs_a_boat now has over $5,000 in winnings for the year.
The following are the tournament results for the weekend from WSOP.com and Ultimate Poker, two of the regulated online poker sites in Nevada. Visit PocketFives' Nevada poker community for the latest news and discussion from Nevada players.
——————————-
WSOP.com – the $27.50 R&A $3,000 Guarantee for Friday, August 15 had 58 runners buying in for $25, 86 re-buys for $25, and 41 add-ons for $25, totaling $4,625. 9 spots were paid with 1st place $1,387 and 9th place $171. The top nine finishers were:
1. Procer $1,387.50
2. RWinn $809.37 (RWinn)
3. nuknuk420 $564.25
4. CtrlAltDel $471.75 (Seeley7)
5. Citrus $374.62
6. BShriever5 $328.37
7. jchak $282.12
8. RichrdParker $235.87 (RichrdParker)
9. vegasbiker $171.12
——————————-
WSOP.com – the Weekend Warm-Up $55 R&A $5,000 Guarantee event on Saturday, August 16 had 38 runners buying in for $55($50+5), 40 rebuys and 25 add-ons creating a prize pool of $5,150. There were 4 winners with 1st place $2,060 and 4th place $772. The four finishers were:
1. BSHriever5 $2,060.00
2. ACEHI911 $1,287.50
3. TheGoat21 $1,030.00
4. greenparty $772.50
——————————-
WSOP.com – the $33 Re-Entry $3,000 Guarantee event on Saturday, August 16 had 60 runners buying in for $33($30+3), and 34 re-entries for $30 creating a prize pool of $2,820 and creating an overlay of $180. There were 6 winners with 1st place $1,050 and 6th place $240. The six finishers were:
1. samac $1,050
2. izzy383 $660
3. jjmalaprop $450
4. BSHriever5 $330
5. mnbass1 $270 (bassmaster)
6. SOMEONEINLV $240
——————————-
WSOP.com – the $27.50 R&A $3,000 Guarantee for Saturday, August 16, had 52 runners buying in for $25, 84 re-buys for $25, and 37 add-ons for $25, totaling $4,325. 9 spots were paid with 1st place $1,297 and 9th place $160. The nine finishers were:
1. GOLF_IS_LIFE $1,297.50
2. luckisreal $756.87
3. astroboy $527.65
4. TheGoat21 $441.15
5. OJlimpson $350.32
6. georgeMcfly $307.07
7. lvroller $263.82
8. Margrave $220.57
9. BIGBUCKSV $160.02
——————————-
WSOP.com – the $55 FreezeOut on Sunday with a $1000 Guarantee August 17 had 64 runners buying in for $55($50+5) creating a prize pool of $3,200. There were 8 winners with 1st place $992 and 8th place $144. The eight finishers were:
1. mnbass1 $992 (bassmaster)
2. FantasyGuru $672
3. Citrus $416
4. JaminOnFaces $320 (JaminOnFaces)
5. happymon $272
6. schlem2 $208
7. StewieG $176
8. Ronit $144
——————————-
WSOP.com – the 15KGuarantee for Sunday, August 17, had 86 runners buying in for $215 ($200+$15) for a total prize pool of $17,200. 15 spots were paid with 1st place $4,902 and 15th place $378. The nine finishers were:
1. bk1048 $4,902.00
2. Maynardo $2,838.00
3. POSTA $1,720.00
4. StreetsAhead $1,376.00
5. hanky23 $1,186.80
6. Rubydear $1,014.80
7. legum $842.80
8. MikeyMillz $584.80
9. royalflush24 $464.40
——————————-
WSOP.com – the $27.50 R&A $3,000 Guarantee for Sunday, August 17, had 62 runners buying in for $25, 83 re-buys for $25, and 41 add-ons for $25, totaling $4,650. 10 spots were paid with 1st place $1,348 and 10th place $130. The ten finishers were:
1. _JPV_ $1,348.50
2. Goscorp $790.50
3. PaulDewald $558.00 (PremiumStud)
4. Scadush $465.00
5. BSHriever5 $372.00
6. rjrlv254000 $320.85
7. BIGBUCKSV $274.35
8. Ronit $227.85
9. VegasV $162.75
10. captn $130.20
——————————-
Ultimate Poker – the $2,000 Nightly R/A, Saturday, August 16, had 29 runners buying in for $50 each ($45.50+5.50) with 13 rebuys and 12 add-ons generating a prize pool of $2,457. 5 spots were paid with 1st place for $982 and 5th place getting $196. The five finishers were:
1. mrslick $982.80
2. needs_a_boat $663.39
3. luckysnake $368.55
4. DatDude $245.70
5. Downtown711 $196.56
——————————-
Ultimate Poker – the $10,000 Sunday, August 17, had 97 runners buying in for $100 each ($91.00+9.00) generating a prize pool of $8,827 and creating an overlay of $1,173. 9 spots were paid with 1st place $2,900 and 9th place getting $300. The nine finishers were:
1. fordhard $2,900
2. Pupsta $2,000
3. ZipLocked $1,500
4. Fasty $1,000
5. lturbo $800
6. luckisreal $600
7. driver-1 $500
8. Baloo $400
9. luckboxbryan $300
——————————-
Ultimate Poker – the $2,000 Nightly R&A, Sunday, August 17, had 27 runners buying in for $50 each ($45.50+4.50) with 12 rebuys and 14 add-ons generating a prize pool of $2,411.50. 4 spots were paid with 1st place for $1,085 and 4th place getting $289. The four finishers were:
1. needs_a_boat $1,085.17
2. DatDude $602.88
3. GHopStaxxx $434.07
4. LV Jake13 $289.28