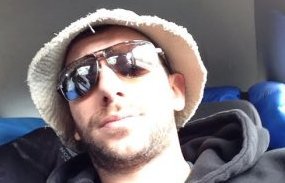 This weekend in New Jersey, Dan RedSoxNets5Sewnig made three final table appearances, which included a second place in the PartyPoker/Borgata $5,000 Guarantee, a fifth place in the 888 Poker/WSOP $2,000 Guarantee, and a final table in the network's $40,000 Guarantee for a total of $3,481.

Coming out on top of the PartyPoker/Borgata $50,000 Guarantee was Frank fnasty97 Molinari (pictured, ranked 65th in New Jersey), who outlasted a field of 261 players to pocket $10,000. This is Molinari's first win in this Sunday Major, which will bring him to over $147,000 in tracked online cashes.
Continuing to move up the ranks in New Jersey is Kevin Sofcknsickk Campbell, who will add $2,995 to his bankroll with his win in the 888 Poker/WSOP $10,000 Guarantee.
Earning the highest first place payout this weekend was PocketFiver Mergulas, who shipped the 888 Poker/WSOP $40,000 Guarantee Sunday Major for $10,800.
Lastly, getting another tournament win under his belt was Steven 7douche Madara, who won the 888 Poker/WSOP $10,000 Weekly Sunday Guarantee for $3,228
Congrats to all PocketFivers who cashed this weekend. Visit PocketFives' New Jersey pokercommunity for the latest news and discussion from New Jersey players.
——————————————————-
PartyPoker/Borgata $5,000 Guarantee for Friday, May 15th had 94 runners. 12 spots were paid with 1st place paying $883. The final 9 finishers were:
1 Jermz – $883* (Jermz)
2 tman817 – $861*
3 emmastertens – $763
4 JONESYR147 – $505
5 gingerbreadman – $435
6 AdamGold33 – $370
7 seedload – $305 (seedload)
8 PayneKilla – $245
9 waldorf – $190
*Final Table Chop
——————————————————-
PartyPoker/Borgata $10,000 Guarantee for Friday, May 15th had 93 runners buying in for $100 ($91 + $9). 12 spots were paid with 1st place paying $2,250. The final 9 finishers were:
1 CumToDaddy – $2,250
2 Bondfather – $1,545
3 WryBagel – $1,220 (WryBagel)
4 Jaybone – $1,010 (Jaybone2315)
5 ninjaG0 – $870 (ninjaGO)
6 Thatgood45 – $740
7 WinningAtTheB – $610
8 sofcknsick – $490 (Sofcknsickk)
9 hags021 – $380 (hags021)
——————————-
PartyPoker/Borgata $5,000 Guarantee for Saturday, May 16th had 102 runners buying in for $50 ($45+ $5). 15 spots were paid with 1st place being $938. The top 9 finishers were:
1 stephhub31 – $938* (stephhub31)
2 alinanova – $902*
3 royalflush12 – $575
4 MAJUSILVA – $475
5 AussieAl13 – $400
6 iganatz – $340 (iganatz)
7 mjt4life – $285
8 Nutella – $230 (Nutella)
9 demace1 – $180
*Final Table Chop
——————————————————-
PartyPoker/Borgata $10,000 Guarantee for Saturday, May 16th had 87 runners buying in for $100 ($91 + $9). 12 spots were paid with 1st place being $2,250. The top 9 finishers were:
1 imjiraiya – $2,250
2 dolar1984 – $1,545
3 GiantGenius – $1,220 (Pompiaa2)
4 MBPage21 – $1,010
5 CANILIVE – $870
6 iluvmollys55 – $740 (iluvmollys55)
7 Thatgood45 – $610
8 poopchute – $490 (sisco)
9 JohnnyDrama – $380 (JohnnyDrama)
——————————-
PartyPoker/Borgata $5,000 Guarantee for Sunday, May 17th had 113 runners buying in for $50 ($45+ $5). 15 spots were paid with 1st place being $1,114. The top 9 finishers were:
1 HygieneMan – $1,114
2 mj23style – $758 (RedsoxNets5)
3 Riverdog39 – $585
4 Inf3rno85 – $483
5 showmethecookie – $407
6 Pumpernickel – $346
7 bravoace – $290
8 dgordon – $234
9 TightTightTight – $183
——————————————————-
PartyPoker/Borgata $10,000 Guarantee for Sunday, May 17th had 157 runners buying in for $100 ($91 + $9). 18 spots were paid with 1st place being $3,043. The top 9 finishers were:
1 borgatareg82 – $3,043
2 Sevilla21 – $2,072
3 SmellsLikeIrish – $1,557 (wishihAdsOMeLUcK)
4 laumserg – $1,286 (Mergulas)
5 spraack – $1,100
6 pokeherchamp – $943
7 provvinx – $786
8 roystalin – $643 (ol muggins)
9 Shie1ds75 – $500
——————————-
PartyPoker/Borgata $50,000 Guarantee $200 ($185 + $15) for Sunday, May 17th had 261 runners for a prize pool of $48,285 ($1,715 overlay). 36 spots were paid with 1st place paying $10,000. The final 9 finishers were:
1 fnasty97 – $10,000 (fnasty97)
2 Nawlins – $6,585
3 Birdz198199 – $4,750
4 Billson – $4,000 (Billson)
5 solidrock – $3,350
6 chipriwin – $2,850
7 Jermz – $2,350 (Jermz)
8 Mikey_TheKidd – $1,850 (Mikey_TheKidd)
9 JAKA55 – $1,350
——————————————————-
888 Poker/WSOP "NJ High Roller" $2,500 Guarantee – $100 buy in for Friday May 8th had 37 runners for a prize pool totaling $3,478. 6 spots were paid with 1st place $1,217. The top 6 finishers were:
1 Deusexmachin – $1,217 (WillisNYC)
2 skonn – $765 (skonn)
3 neshanic19 – $521
4 hsolo – $382
5 420lovepot – $313
6 schaf4206 – $278 (schaf4206)
——————————————————-
888 Poker/WSOP "NJ High Roller II" $2,000 Guarantee – $100 buy in for Friday, May 8th had 36 runners for a prize pool totaling $3,420. 6 spots were paid with 1st place $1,197. The top 6 finishers were:
1 money_chips – $1,197
2 incogknight – $752
3 THAKID33 – $513
4 schaf4206 – $376 (schaf4206)
5 Dr_lewiskidd – $307
6 ShoveNpray – $273
——————————————————-
888 Poker "NJ High Roller" $2,500 Guarantee – $100 buy in for Saturday May 16th had 39 runners for a prize pool totaling $3,666. 6 spots were paid with 1st place $1,283. The top 6 finishers were:
1 KoO1585 – $1,283
2 Deusexmachin – $806 (WillisNYC)
3 Steelman14 – $549
4 olmuggins – $403 (ol muggins)
5 uniman – $329
6 JayRiv – $293 (RivJ)
——————————————————-
888 Poker/WSOP "NJ High Roller II" $2,000 Guarantee – $100 buy in for Saturday May 16th had 40 runners for a prize pool totaling $3,800. 6 spots were paid with 1st place $1,330. The top 6 finishers were:
1 JayRiv – $1,330 (RivJ)
2 nhnynjbf – $836
3 OnTheRun187 – $570
4 Bigslick39 – $418
5 CMart12 – $342
6 GucciMane69 – $304
——————————————————-
888 Poker "NJ High Roller" $2,500 Guarantee – $100 buy in for Sunday May 17th had 72 runners for a prize pool totaling $6,768. 10 spots were paid with 1st place $1,962. The top 10 finishers were:
1 LOLOLOLOL – $1,962
2 kopdom2 – $1,150
3 MickVictory – $812 (MickVictory)
4 I_am_Nutz – $676
5 donkleader – $541
6 Ate8Eightwin – $466
7 youngkoi – $399 (sang500)
8 Savant111 – $331 (Savant111)
9 centrfieldr – $236 (centrfieldr)
10 danhyoo – $189
——————————————————-
888 Poker/WSOP "NJ High Roller II" $2,000 Guarantee – $100 buy in for Sunday May 17th had 41 runners for a prize pool totaling $3,895. 8 spots were paid with 1st place $1,246. The top 8 finishers were:
1 flawlessbink – $1,246 (tonydatiger)
3 Marmaduke300 – $701
4 benthegreat – $486
5 RedsoxNets5 – $323 (RedsoxNets5)
6 LOLOLOLOL – $284
7 yeayeaflush – $241 (wildman75)
8 DamnFlopLag – 202
——————————————————-
888 Poker "Big Sunday" $10,000 Guarantee – $200 buy in for Sunday, May 17th had 39 runners. 6 spots were paid with 1st place $3,500. The top 8 finishers were:
1 OnTheRun – $3,500 (OnTheRun)
2 SLHalper13 – $2,200 (s.l. halper)
3 FairyMary – $1,500 (Bigmike22)
4 Str8yAAnkAAs – $1,100
5 HelloMcFly – $900
6 JohnyTyrene – $800 (JohnyTyrene)
——————————————————-
888 Poker/WSOP NJ $10,000 Guarantee for Friday, May 8th had 148 runners buying in for $30 ($27.50 + $2.50) R&A, 150 re-buys for $27.50, 107 add-ons for $27.50, totaling $10,982. 25 spots were paid with 1st place being $2,995. The top 9 finishers were:
1 SofcknsicKKK – $2,995 (SofcknsicKK)
2 Wrybagel – $1,742 (Wrybagel)
3 Cubsters – $991
4 Deuxexmachin – $773 (WillisNYC)
5 SLHalper – $664 (s.l.halper)
6 schaf4206 – $555 (schaf4206)
7 Adversity45 – $424
8 Dominiking – $272
9 TMac15 – $196 (njhockey15)
——————————————————-
888 Poker/WSOP the $5,000 Nightly Guarantee R&A for Saturday, May 16th had 254 runners buying in for $10 each, 276 re-buys for $10 and 163 add-ons for $10, for a prize pool totaling $6,306. 30 spots were paid with 1st place being $1,639. The top 9 finishers were:
1 OnlineCrusha – $1,639
2 bigtsk14 – $945
3 sayala9 – $605
4 Iron_Man – $479
5 mrbfmrbf – $416
6 sizzlinbetta – $283 (sizzlinbetta)
7 valuecheck – $220
8 RonSwanson – $163
9 Frankayank23 – $132
——————————————————-
888 Poker/WSOP $10,000 Guarantee for Saturday, May 16th had 156 runners buying in for $30 ($27.50 + $2.50) R&A, 140 re-buys for $27.50, 108 add-ons for $27.50, totaling $11,029. 30 spots were paid with 1st place being $2,977. The top 9 finishers were:
1 SizeLarge – $2,977
2 rockybest17 – $1,737
3 ZhuKing – $992 (aceszhuited)
4 Thrash123 – $772 (Thrash)
5 KoOp1585 – $661
6 Ngudan777 – $551
7 JTurn15 – $419
8 deadlyobl – $264
9 AA545454 – $187
——————————————————-
888 Poker/WSOP $40,000 Guarantee for Sunday, May 17th had 195 runners buying in for $200 ($185 + $15) for a prize pool of $36,075 ($3,925 overlay). 30 spots were paid with 1st place being $10,800. The top 9 finishers were:
1 smaulerg – $10,800 (Mergulas)
2 gamblegamble – $6,300 (k1dpokr2010)
3 mingo14 – $3,600
4 juice – $2,800
5 RedSoxNets5 – $2,400 (RedSoxNets5)
6 bt1977 – $2,000
7 KevinDurant35 – $1,520
8 rivermonsta – $960
9 whoameye – $680
——————————————————-
888 Poker/WSOP $10,000 GTD Weekly Sunday for May 17th had 129 runners for a prize pool of $11,739. 25 spots were paid with 1st place $3,228. The top 9 finishers were:
1 stevenmadara – $3,228 (7douche)
2 Sean_naeS – $1,878 (wishihAdsOMeLUcK)
3 Shoregambler – $1,068
4 juice – $833
5 Brksy25 – $716
6 LeftSid3 – $598 (JohnnnyDrama)
7 castro78 – $457
8 phatdaddy – $293 (phatchoy888)
9 DCOOP – $211