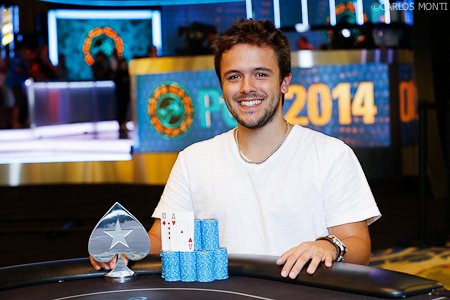 There were nine players who laid claim to the title of #1 in the PocketFives Rankingsin 2015. Plus, there were 14 lead changes during the year, which means there was plenty of movement atop of the Rankings. Let's take a look back at the #1 ranked players of 2015.

2015 began with Brazil's Yuri Martins ranked #1. He had assumed the role on December 27, 2014 and was the top dog until January 21, 2015, or five weeks. Martins won a WCOOP bracelet in September in a $1,050 Pot Limit Omaha High-Low event.
Another Brazilian, Joao joaomathiasMathias, bumped his fellow countryman from the #1 spot on January 21. He held down the fort for one week until January 28 when Chris Big HuniHunichen became the #1 ranked online poker player in the world. Hunichen won the PokerStars Super Tuesday around the same time and was ranked #1 on PocketFives for five weeks. It was the only time Hunichen has been ranked #1.
On March 5, Nico PokerKaiserFierro and Fedor CrownUpGuyHolz began taking turns at #1. Fierro was #1 for one week before Holz knocked him out, also for a week. Then, Fierro reclaimed the #1 spot before Holz stole it back on March 25. Fierro promptly became the top-ranked player for three weeks until April 22. Fierro won the 888 Mega Deep on March 22 and April 19 to solidify his spot atop the Rankings.
On April 25, norfair18 became #1 on PocketFives for the first time in his career. He held the title for two weeks on the strength of a Super Tuesday runner-up finish and Million Dollar Sunday final table before ceding the top spot to Fierro on May 5.
Fierro then spent 16 weeks at #1, or almost four months, the longest reign of anyone in 2015. During his run, Fierro took down an OPS event and the 888 Mega Deep. He also earned three PocketFives Triple Crowns. All told, Fierro spent 21 weeks at #1 in 2015, the most of anyone.
On August 26, Aaron aguskb Gustavson bucked Fierro from the top spot for a week, the first and only time he has been ranked #1. Gustavson final tabled the Super Tuesday three times in 2015, the best showing of which was a second place finish in June for $52,000. Gustavson is currently ranked 18th in the world on PocketFives.
One week after Gustavson became #1, StrungOut1assumed the role, also for a week. He won the Sunday Million a few days before becoming #1, a cash worth almost $150,000. Gustavson then retook the #1 spot for a week before Sweden's eisenhower1 became #1 on September 30 and closed out the year on top.
eisenhower1 has a PLB score of 7,313 points, only 27 ahead of the second-ranked player, so we could see a changing of the guard in the first week of 2016 when the Rankings are recalculated on Wednesday.
If you're a fan of lists, here were the top-ranked PocketFivers of 2015:
eisenhower1
September 30, 2015 to Today
aguskb
September 9, 2015 to September 30, 2015
StrungOut1
September 2, 2015 to September 9, 2015
aguskb
August 26, 2015 to September 2, 2015
PokerKaiser
May 6, 2015 to August 26, 2015
norfair18
April 22, 2015 to May 6, 2015
PokerKaiser
April 1, 2015 to April 22, 2015
CrownUpGuy
March 25, 2015 to April 1, 2015
PokerKaiser
March 18, 2015 to March 25, 2015
CrownUpGuy
March 11, 2015 to March 18, 2015
PokerKaiser
March 4, 2015 to March 11, 2015
Big Huni
January 28, 2015 to March 4, 2015
joaomathias
January 21, 2015 to January 28, 2015
Yuri Martins
December 17, 2014 to January 21, 2015