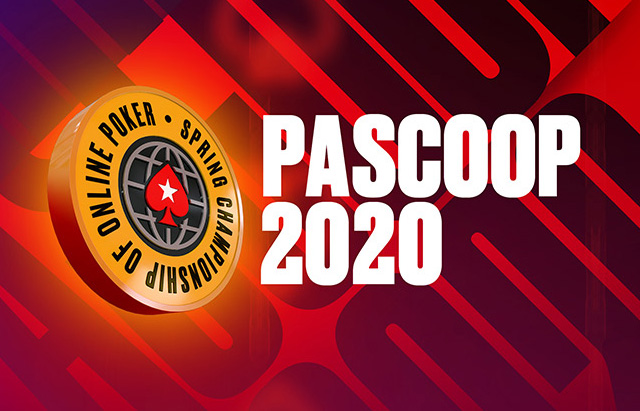 It was exactly 11 years ago Sunday that Terrence Chan took down the High and Medium version of two PokerStars Spring Championship of Online Poker events in the same day. On Saturday, Pennsylvania online poker player 'Jo-Z Wellz77' almost became the first player to win the High and Low versions of the same Pennsylvania Spring Championship of Online Poker tournament.
In Event #25-H ($50 Eight Max NLHE Turbo), 'Jo-z Wellz77' made their way through 390 other entries to win $3,250.57. Runner-up 'redhanded77' earned $2,363.65 while 'EE Deak' finished in third place for $1,718.80.
At the same time, 'Jo-z Wellz77' outlasted 826 other entries to get heads-up against 'limpios99' in Event #25-L ($5 Eight Max NLHE Turbo) only to finish as the runner-up. 'limpios99' took home the title and $628.92 and 'Jo-z Wellz77' banked $447.94.
'CleggsOnGG' dominated the PokerStars PACOOP back in December with 18 cashes. On Saturday, they picked up a PASCOOP title and $9,498.70 after beating the 587-entry field in Event #22-H ($100 No Limit Hold'em). Runner-up 'lapa2612ram' had to settle for $6,892.73 and 'ALmerle' wound up with $5,002.05 after coming in third place.
'2MuchFun2BeHad' had tons of fun winning Event #22-L ($10 No Limit Hold'em) for $2,060.19.
A total of 222 entries in Event #23-H ($200 Four Max NLHE) built a $41,292 prize pool which 'BDevils89' was happy to take the winner's share of. Winning the title earned 'BDevils89' a $7,981.41 score while 'Honeyjawn U' took home $5,248.82 for finishing one spot behind. 'CleggsOnGG' narrowly missed out on another PASCOOP title after coming in third place for $3,451.88.
Winning Event #23-L ($20 Four Max NLHE) earned 'octobersky2345 a $2,857.69 payday.
The final three players in Event #24-H ($150 NLHE Turbo PKO BigStack Turbo) came to terms on a deal the redistributed more than $8,400. 'Mmmaaaalin' ended up with the title and $3,022.13 as part of the deal and they also won $3,770.02 worth of bounties. Runner-up 'Allin1out' took home $2,767.80 and $883.65 in bounties while third place finisher 'MsPersona' won $2,655.31 and $657.90 from bounties.
'kv6970' took down Event #24-L ($15 NLHE Turbo PKO BigStack Turbo) without a chop to win $940.93 and another $730.52 in bounties.0
Event #22-H: $100 No Limit Hold'em
587 entries
$53,886.60 prize pool
CleggsOnGG – $9,498.70
lapa2612ram – $6,892.73
ALmerle – $5,002.05
SendMeUrSatoshi – $3,629.98
zales08 – $2,634.28
Eastin_Malojinn – $1,911.69
PTfish10 – $1,387.32
WuTangFinancial – $1,006.77
MiracleManDan – $730.62
Event #22-L: $10 No Limit Hold'em
1,482 entries
$13,486.20 prize pool
2MuchFun2BeHad – $2,060.19
ButtonM@sher – $1,480.08
jbrink22 – $1,064.19
THE BORT 20 – $765.16
JSBriggEdq – $550.15
OnlyHope541 – $395.56
Habibi 008 – $284.41
leroythewarrior – $204.49
5deadflies – $147.03
Event #23-H: $200 Four Max NLHE
222 entries
$41,292 prize pool
BDevils89 – $7,981.41
Honeyjawn U – $5,248.82
CleggsOnGG – $3,451.88
nothingsbutVvSs – $2,270.13
Event #23-L: $20 Four Max NLHE
960 entries
$17472 prize pool
octobersky2345 – $2,857.69
BlurryBlue – $1,801.48
Wake up NE0 – $1,135.98
ZDUBZX – $716.33
Event #24-H: $150 NLHE Turbo PKO BigStack Turbo
245 entries
$33,736.50 prize pool
Mmmaaaalin – $3,022.13* + $3,770.02
Allin1out – $2,767.80* + $883.65
MsPersona – $2,655.31* + $657.90
rhunterd8 – $1,540.17 + $640.70
deadtosolve – $1,154.97 + $1,299.68
P0stFl0pMal0ne – $866.10 + $442.90
TeamVillage – $649.48 + $309.60
cooooooch – $487.04 + $238.65
Morris Wanchuk – $365.23 + $778.30
Event #24-L: $15 NLHE Turbo PKO BigStack Turbo
959 entries
$13,090.35 prize pool
kv6970 – $940.93 + $730.52
Saschaford – $940.36 + $112.73
pyun25 – $604.38 + $249.89
Luv_2_Win_$um – $453.33 + $74.60
we_all_go_solar – $339.87 + $136.21
shutdafkupdonny – $254.86 + $197.54
lala0829 – $191.12 + $42.93
WhatbeatsWhat1 – $143.32 + $22.10
TheSaneMan – $107.47 + $230.62
Event #25-H: $50 Eight Max NLHE Turbo
391 entries
$17,790.50 prize pool
Jo-z Wellz77 – $3,250.57
redhanded77 – $2,363.65
EE Deak – $1,718.80
ECJERSEY – $1,249.87
prettyp2020 – $908.88
Honeyjawn U – $660.92
RiverMeDaddy – $480.61
dbrinker – $349.49
Event #25-L: $5 Eight Max NLHE Turbo
828 entries
$3,767.40 prize pool
limpios99 – $628.92
Jo-z Wellz77 – $447.94
Razor_M&P40 – $319.33
Big_House109 – $227.65
switzerland000 – $162.29
DGrega – $115.69
billyv929 – $82.48
iaf5007 – $58.80
Head1708 – $48.18