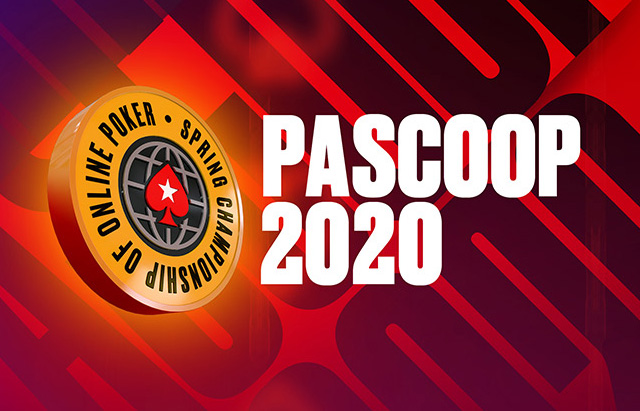 The first-ever PokerStars Pennsylvania Spring Championship of Online Poker is officially in the book and 'LiveMonster179' and 'Tobes37' get to have their names written into the early chapters of Pennsylvania regulated online poker history.
'LiveMonster179' outlasted the 157 other players who had advanced to Day 2 of Event #45-H ($300 NLHE (PASCOOP Main Event)) to win $57,394.54. Runner-up 'fan_buzgon' earned $41,650.41 and third-place finisher 'kdQuel' took home $30,225.68.
'Tobes37' came out on top of Event #45-L ($50 NLHE (Main Event)) after the final three players agreed to a deal. 'Tobes37' wound up pocketing $11,645.24 and the title while 'hunterm708' won $10,820.70 as the runner-up and 'DouglasPaul24' had to settle for $8,834.04 after coming in third.
The final day of play also included the conclusion of Event #49, the High and Low Phase events which awarded more than $132,000 in prize money. 'Dionysus1888' picked up the win in Event #49-H ($100 NLHE Phase Event Day 2) for a $14,506.16 payday. Second-place finisher 'foldurdraw' earned $10,633.20 while 'hogdiggitydog' walked away with $7,794.10. 'PhillyWalkerGuy' added $4,733.05 to their bankroll after winning Event #49-L ($10 NLHE Phase Event Day 2) after a three-way deal.
Event #48-H ($100 No Limit Hold'em) drew 651 total entries with 'LetMeWin3437' taking it down for $10,369.44. One spot behind them, 'donkyking_cs' won $7,524.7 and 'dubsesq' rounded out the podium finishers for a $5,460.72 score.
'BARTOC51' won Event #48-L ($10 No Limit Hold'em) for $1,758.51.
The final event on the 50-event schedule, Event #50-H ($150 Six Max Hyper Turbo PASCOOP Wrap-Up), had 87 entries to build a $26,647.50 prize pool. The final two players chopped up more than $9,200 of that prize pool with 'MrChillibin' getting the PASCOOP title and $4,815.58 and 'NeillyAA74' earning a silver medal and $4,398.44. Third-place finisher 'Badbeat2315' banked $2,810.24.
Event #50-L ($15 Six Max Hyper Turbo PASCOOP Wrap-Up) went to 'R_C13691' for $1,105.41.
Event #45-H: $300 NLHE [Main Event]
1,315 entries
$368,200 prize pool
LiveMonster179 – $57,394.54
fan_buzgon – $41,650.41
kdQuel – $30,225.68
jaykoch01311 – $21,934.77
KennytheRipper – $15,918.05
tich213 – $11,551.72
tone5555787 – $8,383.05
liftship – $6,083.58
MRWIGGLES3318 – $4,418.86
Event #45-L: $50 NLHE [Main Event]
2,073 entries
$94,321.50 prize pool
Tobes37 – $11,645.24*
hunterm708 – $10,820.70*
DouglasPaul24 – $8,834.04*
GoldenfaceKilla – $5,104.35
Buccos5114 – $3,638.55
Malignant88 – $2,593.68
robertbuf510 – $1,848.86
Darkhorse0007 – $1,317.93
Bert Chrysler – $939.47
Event #48-H: $100 No Limit Hold'em
651 entries
$59,761.80 prize pool
LetMeWin3437 – $10,369.44
donkyking_cs – $7,524.7
dubsesq – $5,460.72
dbrinker – $3,962.84
StickyIckyEarl – $2,875.83
Seanell – $2,086.99
Swanny1806 – $1,514.53
ElokkPoker – $1,099.09
CleggsOnGG – $797.61
Event #48-L: $10 No Limit Hold'em
1,222 entries
$11,120.20 prize pool
BARTOC51 – $1,758.51
MTG426 – $1,263.74
hjseig – $908.64
lionspaws73 – $653.32
DIEZAL801458 – $469.74
SirSpicyPanda – $337.74
iFloatalot – $242.84
Cloud471993 – $174.60
2firstnames88 – $125.54
Event #49-H: $100 NLHE Phase Event Day 2
163 entries
$88,036.20 prize pool
Dionysus1888 – $14,506.16
foldurdraw – $10,633.20
hogdiggitydog – $7,794.10
neverf0ld111 – $5,713.05
LegendsandLiars – $4,187.65
HBGgolfSIM – $3,069.54
and_porter – $2,249.96
pokerkidd0420 – $1,649.21
mcmullend17 – $1,208.86
Event #49-L: $10 NLHE Phase Event Day 2
711 entries
$43,780.10 prize pool
PhillyWalkerGuy – $4,733.05*
NVLVS – $5,364.31*
kmudge – $3,666.49*
johnnyboat46 – $2,204.45
YouPay4MyWeed – $1,558.78
TiltedMachine – $1,102.22
SolusApparatus – $779.39
_flipnshipit – $551.11
TotSpurs17 – $389.69
Event #50-H: $150 Six Max Hyper Turbo PASCOOP Wrap-Up
187 entries
$26,647.50 prize pool
MrChillibin – $4,815.58*
NeillyAA74 – $4,398.44*
Badbeat2315 – $2,810.24
FatherHeadge – $2,038.24
PetCheetah101 – $1,478.91
A Frequent ? – $1,072.86
Event #50-L: $15 Six Max Hyper Turbo PASCOOP Wrap-Up
439 entries
$6,189.90 prize pool
R_C13691 – $1,105.41
shabody – $776.96
drbabyface – $546.30
Longshot788 – $384.11
SuicideKings10 – $270.08
Chris Moneymake – $189.90