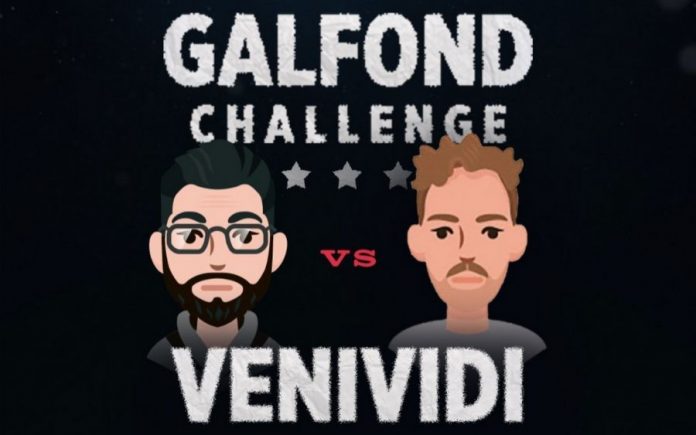 Down more than €900,000 in his 'Galfond Challenge' match against 'VeniVidi1993,' Phil Galfond is opting to suspend his play against 'VeniVidi1993' for the time being.
Galfond and 'VeniVidi1993' have battled across 15 sessions at €100-€200 PLO on Run It Once Poker, Galfond's online poker site. Through those 15 sessions, 9,927 hands were played and Galfond was down €900,240.17. The three most recent sessions have set Galfond back €419,016.77 alone.
Galfond and 'VeniVidi1993' had a day off on Monday and were planned to play another session on Tuesday, but it was called off.
"I was playing scared," Galfond wrote in a statement he released on Twitter. "I was expecting to lose. I simply couldn't get my brain to work properly."
Galfond pointed out that, contrary to what may be the common belief, the most difficult thing wasn't the money. "It's the gap between the result and your expectations," he said.
Galfond said the two had six more sessions planned in February and that missing those sessions will see Galfond take a per-session penalty of about €3,000 each. Galfond and 'VeniVidi1993' were slated to play 25,000 hands, with Galfond risking €200,000 in side action to the €100,000 of 'VeniVidi1993.' In his note, Galfond said he is going to suspend playing anymore sessions against 'VeniVidi1993' until at least March 1.
When March 1 rolls around, Galfond will decide if he's going to continue to battle with 'VeniVidi1993' or call it off. If Galfond does elect to call it off and accept defeat, he'll have to pay 'VeniVidi1993' the €200,000 side bet.
"I hope I feel prepared to come back and put on a good show for you all, but I know that realistically, as much as I don't want to, there's a chance I'll have to just take the loss," Galfond said.
The individual sessions have not been good to Galfond, who won just two of the 15 times he and 'VeniVidi1993' played. One of those winning sessions for Galfond saw him finish up just €2,615.26.
Challenge Results To Date
Hands Played
Daily Winner
Amount Won
Day 1 (Jan. 22)
655
VeniVidi1993
€72,572.68
Day 2 (Jan. 23)
715
Phil Galfond
€2,615.26
Day 3 (Jan. 24)
557
VeniVidi1993
€84,437.52
Day 4 (Jan. 25)
581
VeniVidi1993
€17,544.87
Day 5 (Jan. 27)
726
VeniVidi1993
€155,063.52
Day 6 (Jan. 28)
703
VeniVidi1993
€13.31
Day 7 (Jan. 30)
823
VeniVidi1993
€52,057.13
Day 8 (Jan. 31)
940
VeniVidi1993
€60,743.37
Day 9 (Feb. 1)
446
VeniVidi1993
€

12,706.51

Day 10 (Feb. 3)
696
VeniVidi1993
€100,993.30
Day 11 (Feb. 4)
741
VeniVidi1993
€15,647.36
Day 12 (Feb. 6)
622
Phil Galfond
€87,940.91
Day 13 (Feb. 7)
470
VeniVidi1993
€267,949.70
Day 14 (Feb. 8)
593
VeniVidi1993
€48,473.73
Day 15 (Feb. 9)
659
VeniVidi1993
€102,593.34
–
–
–
–
Total
9,927
VeniVidi1993
€900,240.17
In addition to playing against 'VeniVidi1993,' Galfond has five other competitors lined up for the Galfond Challenge. He's locked in details with Bill Perkins, Brandon Adams, Chance Kornuth, Dan 'Jungleman' Cates, and high-stakes online poker player 'ActionFreak.' Those matches have their own specific terms, stakes, and length of play, but no timetable has been set for when they will take place. In his note, Galfond did say that he had planned to start playing another match in the Galfond Challenge at the end of February and that he still hopes to make this happen.