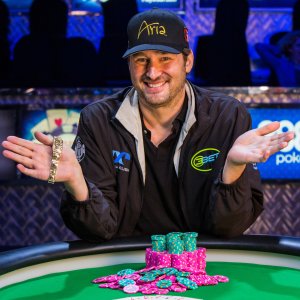 On Monday night, Phil Hellmuth (pictured) won his record-extending 14th World Series of Poker bracelet. He triumphantly Tweeted when the $10,000 Razz event was over, "BOOOM!! Won my 14th @WSOP Bracelet!!! Dedicated it to a friend I lost recently: Dave Goldberg. Giving my bracelet to Goldies family."

—
Tournament Poker Edgeis the only poker training site dedicated exclusively to MTTs and features over 1,000 training videos, blogs, articles, podcasts and a dedicated strategy forum for members. Check Tournament Poker Edge out on Twitter.
—
The tournament drew 103 entrants and featured a loaded final 10 that included Mike GoLeafsGoEhLeah, Stephen stevie444Chidwick, newly minted bracelet winnerShaun shaundeebDeeb, and Thomas "Thunder" Keller. There were 26 bracelets among the final 12 players, and 17 bracelets among the final eight.
Congratulations poured in on Twitter. Gavin Smith Tweeted, "Contacts to @phil_hellmuth. You continue to amaze me! Glad I have that PH13 hat away, when can I pick my new one up? #GOAT." Sorel Imper1um Mizzi added, "All the haters out there can chirp all they want, but there's no denying that @phil_hellmuth knows how to win bracelets."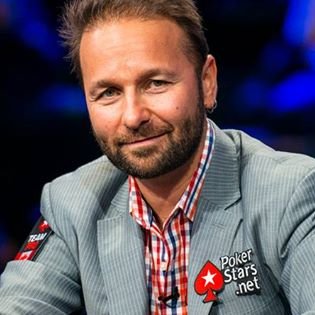 Todd Brunsonprodded on Twitter, "Congratulations to @phil_hellmuth for winning his 14th bracelet. He's still a one trick pony, he just switched from Hold'em to Razz." And finally, Daniel Negreanu (pictured) chimed in, "Hellmuth wins #14 and apparently is a professional Razz player now! Congrats @phil_hellmuth."
Hellmuth's first 11 bracelets came in Hold'em. Two out of his last three, however, are in Razz. He's the only person to win the WSOP and WSOP Europe Main Events and told WSOP officials on Monday, "It's an amazing feeling. It's one of those ones where I kept my head down the whole time. I tried to stay divorced from the result, detached from the result. I was just focusing on playing great, playing great, playing great."
In terms of his recent success in Razz, Hellmuth explained, "I think I figured something out about Razz in maybe 2012. All of a sudden, the game just clicked. I was like, 'Wow, this game just makes sense.' Then I won a Razz bracelet!"
Hellmuth is up to 109 WSOP cashes, 52 of which are for final tables. Heads-up, he defeated Mike Gorodinsky, also a bracelet winner. Hellmuth said of his adversary, "Mike is just really tough and I need all of my concentration to give myself the best chance to beat him. He played phenomenal poker."
Here's how the final table shook out:
1. Phil Hellmuth – $271,105
2. Mike Gorodinsky – $167,517
3. Adam Owen – $104,914
4. Mike GoLeafsGoEhLeah – $75,964
5. Thomas Keller – $59,370
6. Jyri Merivirta – $47,344
7. Stephen stevie444Chidwick – $38,447
8. Brandon Shack-Harris – $31,727
Congrats to Hellmuth on his 14th bracelet! Stay tuned to PocketFives for the latest WSOP coverage, brought to you by Tournament Poker Edge.
Want the latest poker headlines and interviews? Follow PocketFives on Twitterand Like PocketFives on Facebook.