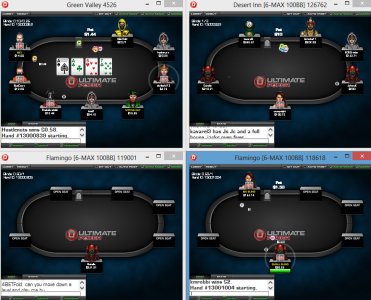 Quite a few PocketFives members already appreciate the fact that WSOP.comNevada feeds tournament results into our player profiles and our Nevada poker community page. It makes it quite exciting to see our members' results flash up within 24 hours or so of the event taking place.

Starting on Monday, PocketFives will be receiving tournament results from Ultimate Poker in Nevada and results going back to May 5, 2013 will be uploaded. This is practically from when the first hand of regulated poker was dealt in the state (April 30, 2013 was the start of the initial software testing).
PocketFives will be tracking any scheduled non-satellite tournament with at least 20 entrants, a minimum of a $100 prize pool, and at least a $0.01 buy-in played on Ultimate Poker in Nevada. This is great news for those who play on the site and your results will help you climb the PocketFives Rankings.
If you already play on Ultimate Poker but have not updated your screen name, take the time to do so now:
1. Place the cursor over your PocketFives name on the upper right side of the screen until the drop-down menu appears.
2. Click on "Edit Profile".
3. Click on "Select Poker Site" and choose "Ultimate Poker NV".
4. Enter your screen name where it says "Enter Your Screen Name".
5. Click the "Submit" button.
If you are having any problems with this process, don't hesitate to send an e-mail to PocketFives at [email]support@pocketfives.com[/email]. We will be sure to help you in completing the changes needed to have your Ultimate Poker results show up.
Once the updates begin, your results will also be posted on your profile page. Members who already play on WSOP.com have been enjoying these benefits for months and now you can too!