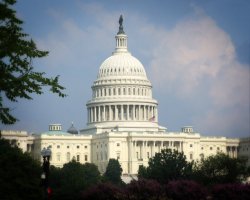 This month, the PocketFives Podcastremembers Black Friday and gives our listeners an update on Federal and state online poker legislation. The internet gaming industry was turned on its head on April 15th, 2011 when the U.S. Department of Justice indicted 11 individuals associated with PokerStars, Full Tilt Poker, and Absolute Poker. All three sites left the U.S. market, while only PokerStars has managed to scrape up the funds to pay back players.

Watching the events of the past year unfold have been Poker Players Alliance(PPA) Executive Director John Pappas and Vice President of Player Relations Rich TheEngineer Muny, who join the PocketFives Podcast this month. Both have played integral roles in advancing online poker legislation on Capitol Hill and speaking out on behalf of players everywhere.
PocketFives has published a plethora of legislative articles since Black Friday. If you haven't kept up, Pappas recapped the latest: "Players are already seeing what's happening. It's a combination of Federal and state action. Since Black Friday, we've had a lot of progress made here in Washington. I would characterize it as a lot of starting and stopping. In June following Black Friday, Congressman Joe Barton (R-TX, pictured) introduced his bill, HR 2366, and over the next six months, we had four hearings surrounding that bill and that issue."
However, there has been relatively little movement in 2012. Pappas explained what has happened in the New Year: "We haven't seen the type of progress that we would have hoped so far. We would have liked to see a bill passed out of committee by now. We would have loved to see the bill that Senator Harry Reid (D-NV) and Senator Jon Kyl (R-AZ) have spoken about many times, but we haven't. At the same time, we're also seeing the states move."
Pappas elaborated, "It's not necessarily related directly to our issue, but just a general slowdown of Congress to truly accomplish anything of substance. They are paralyzed by bipartisanship, particularly by what appears to be a divisive election year. The PPA is continually and constantly engaged with Republican and Democratic leaders talking about how we can get our issue raised between now and when Congress recesses."
Nevada has already approved regulations that would allow legal online poker and is in the process of reviewing potential licensees. "I do believe there will be real money, live play on the internet for residents in Nevada beginning sometime in early 2013," Pappas forecasted. "Who knows if New Jersey can get its bill signed by Governor Chris Christie (pictured)? [Nevada and New Jersey]could [have legal online poker] right around the same time." Other states like Iowa and California have investigated the issue, and Illinois recently launched online lottery ticket sales.
"In my opinion, it's no longer a matter of if, but a matter of when and how this will happen," Muny said of legalized internet poker in the United States. "The state efforts are pushing the Federal efforts forward… The Federal efforts are also pushing the states forward and that's due to the efforts of the poker community." Muny has spearheaded the Daily Action Plan here on PocketFives, which offers ways members of the community can get involved politically from the comfort of their own homes.
Could online poker become a rider? Or will it likely pass as standalone legislation? Pappas told the PocketFives Podcast that the number of opportunities for the former could be limited: "I don't know that there will be a lot of opportunities. I think you'll see the PPA and others make serious plays to make sure online poker is included in those must-pass bills between now and the election. If we're not successful, there's a real opportunity in the lame duck session."
There has been a considerable amount of chatter on PocketFives and elsewhere that a piece of pro-online poker legislation could find its way onto the Cyber Security Act, which is still in progress. Pappas revealed, "There has been outreach from our lobbying side on that, but I would certainly encourage our membership to remind their lawmakers that not just the Cyber Security Act, but any moving vehicle this year is an appropriate vehicle for internet gaming, particularly those bills that require some sort of revenue component."
Muny noted that the Cyber Security Act is unique because it is germane to our issue, "whereas some of the other pieces of legislation, it would be hard to envision how we would fit in other than a revenue aspect."
Get up to speed on online poker's prospects in the United States by listening to this month's PocketFives Poker Podcast.