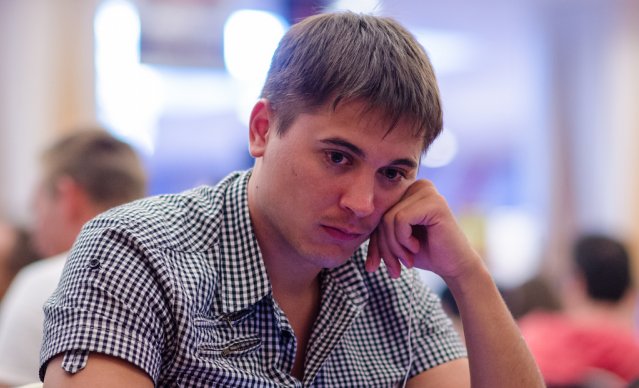 Once you hit #1 on PocketFives, you're in pretty elite company. Chris 'moorman1' Moorman, World Series of Poker November Niners Cliff 'JohnnyBax' Josephy and Griffin 'Flush_Entity' Benger, and Fedor 'CrownUpGuy' Holz – they've all been at the top of the podium.

To be ranked #1 multiple times is a feat few have accomplished, but two PocketFivers are poised to do exactly that. Artem 'veeea' Vezhenkov and Joao 'joaomathias' Mathias, both already in the top 10 in the PocketFives Rankings, inched up closer this week to claiming the #1 title for the second time.
Vezhenkov, from Russia, is up four spots to #3 this week. He took down a $320 No Limit Hold'em Six Max tournament on PokerStars on Tuesday for $6,800 and won the partypoker Heavyweight Uppercut for $7,200 last Wednesday to help him continue to climb the leaderboard. He has $5.4 million in career online tournament winnings and is the top-ranked Russian on PocketFives. Vezhenkov was #1 for a one-week stint in January.
Mathias, from Brazil, rose three spots to #7. He hit it big over the weekend, winning the PokerStars Super-Sized Sunday for $32,000, his 13th largest score. That came one month after he took down the site's Thursday Thrill for $37,000. Mathias just hit $8 million in career winnings and, amazingly, has almost 700 top-three finishes in tracked tournaments. He was also last ranked #1 in January.
Vezhenkov and Mathias have 7,285 and 6,946 PLB Points, respectively. The entire community trails top-ranked 'C Darwin2', from Sweden, who has a PLB score of 7,868 points. The Swede won the Winamax High Roller on Tuesday for $8,500 and, two weeks ago, took down the Sunday Grand for almost $50,0000 to pad his lead. 'C Darwin2' has been ranked #1 since July 6.
Hungary's 'greengrass67' continued to climb the leaderboard, moving up another 20 spots this week to #27 in the world. On July 24, he won both the partypoker Heavyweight Rocky and PokerStars Big $109 for almost $30,000 total, the 26th and 27th online MTT wins of his career and his fourth and fifth wins of July. This is the highest 'greengrass67' has ever been ranked.
Romania's Andrei 'ragaaaila19' Boghean also hit it big this week, entering the top 100 for the first time ever at #59. He's been on a tear over the last 10 days, winning both the PokerStars Big $215 and Sunday Warm-Up for $75,000 total. The same day as his Warm-Up win, he finished fourth in the Big $109. Boghean has $1.2 million in career online tournament winnings and is the #2-ranked player in Romania.
Also new to the top 100 is 'FouEnculePL', who calls the UK home. He entered at #82 after winning the PokerStars Big $215 earlier this month for $20,000, his largest cash ever. 'FouEnculePL' is the ninth-ranked player in the UK and is $9,000 shy of hitting $900,000 for his career.

Columbia's Mayu 'marroca5' Roca Uribe made waves, moving up 19 spots to #66, three off his all-time high. He finished third in the Super-Sized Sunday over the weekend for $13,000, which propelled him to almost $4.4 million in lifetime winnings. Uribe is the #2-ranked player in his home country.
Finally, Rasmus 'RasA' Agerskov Larsen, from Denmark, reentered the top 100 at #89. On Monday, the Dane took down both the partypoker Heavyweight Main Event and PokerStars Monday Six Max for $38,000 total, pushing his career win total to 54. The Heavyweight Main Event cash, which was worth $25,000, was his third largest score of 2016.
The Top 10:
C Darwin2 – 7,868 points
1_conor_b_1 – 7,377 points
veeea – 7,285 points
NoPlanB – 7,284 points
lena900 – 7,215 points
Pot4teUS – 7,008 points
joaomathias – 6,997 points
joaosimaobh – 6,946 points
JMolloy – 6,769 points
Greenstone25 – 6,723 points