A big tournament series like SCOOP means big changes in the PocketFives Online Poker Rankings, which were recalculated on Wednesday. PokerKaiserretained the top spot by a fairly wide margin, as his 7,744 PLB Points were 800 more than the second place player. Therefore, we'd expect to see PokerKaiser, who won last week's Winamax High Roller, on top again next Wednesday.

One major change involved mindgamer (pictured) who rocketed 56 spots from #64 to #8. He was ranked #1 on PocketFives two years ago and finished second in a SCOOP event two days ago for $81,000 and over 500 PLB Points. On May 15, he took down a SCOOP $1,050 Rebuy Big Antes event for $163,000 and almost 1,000 PLB Points. The Austrian is nearing $4.5 million in career online tournament scores.
veeeais knocking on the door of #1, as he moved up from #7 to #2 thanks to a mid-stakes SCOOP victory for $71,000 and 652 PLB Points. He final tabled the 888 Poker Volcano three days prior and is three wins shy of 200 all-time. He is a few thousand dollars short of $4 million all-time.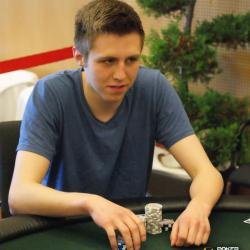 Germany's Fresh_Oo_D(pictured) moved up from #21 to #10 after netting five wins in a three-day span. The five included the PokerStars $215 NLHE Turbo, which he took down for $15,000. Fresh_Oo_D is the top-ranked player in Germany and has $3.6 million in career online tournament winnings.
Finally this week, we wanted to salute Romania's fbg1919, who reentered the top 100 at #42. He won a SCOOP event three days ago for almost $400,000 officially along with a whopping 1,482 PLB Points. The $2,100 NLHE event had 1,099 entrants and a prize pool that almost hit $2.2 million. He plays as a.S.e High on PokerStars.
Here are the top 10 players in the PocketFives Rankings this week along with the PLB score for each:
1. PokerKaiser– 7,744 points
2. veeea– 6,935 points
3. Romeopro – 6,793 points
4. norfair18 – 6,762 points
5. StrungOut1 – 6,705 points
6. joaomathias – 6,696 points
7. Big Huni – 6,692 points
8. mindgamer– 6,557 points
9. sifosis – 6,503 points
10. Fresh_Oo_D – 6,469 points
Congrats to all of our ranked players!
Want the latest poker headlines and interviews? Follow PocketFives on Twitterand Like PocketFives on Facebook.