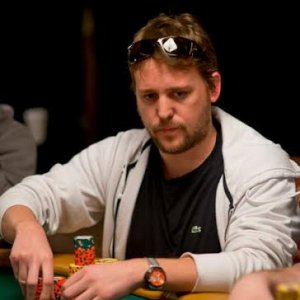 For the fourth time in his career, Nicolas PokerKaiserFierro (pictured) is the #1 ranked player in the PocketFives Rankings. He leapfrogged Mike norfair18 Phillips this week to reclaim the top spot, which he last occupied in April.

Helping push Fierro over the top was a win in the PartyPokerDaily Major on Monday for $3,600 along with victories the same day in the PokerStars.fr Six-Max Club €250 and PokerStars $22 Cubed for almost $8,000 combined. He has a PLB score of 7,463 points, which leads Phillips by about 300.
veeea moved back into the top 10 this week, climbing from #13 to #9. He had a rock solid third day of May, winning the PokerStars $109 Rebuy and PartyPoker $25,000 Guaranteed and finishing second in the iPoker Sunday Masters for a total of $19,000. He is four wins shy of 200 all-time and is approaching $4 million in career online tournament winnings.
Sweden's squeezeboxxmoved up from #63 to #21, his best showing ever, after winning the Sunday Supersonic for $49,000 and taking third in the PartyPoker $200,000 Guaranteed for $16,000 over the weekend. On May 1, he won the WinamaxHigh Roller and how has $2.5 million in online MTT winnings. He plays as ROSTBURKon PokerStars.
Brazil poker player Bernardo bedias Dias (pictured) moved up almost 70 spots to #25 in the world. He won the PokerStars $265 No Limit Hold'em Knockout over the weekend for $14,000 just a few days after taking down the Super Tuesday for almost $100,000. The latter earned him 754 PLB Points.
Finally this week, we wanted to salute Ukraine's psyhoagromor, who moved up from #91 to #54. On May 3, he won the PokerStars $215 Rebuy for $16,000 and final tabled the Sunday 500 for another $15,000. He was ranked as high as #16 in the world last year and is the #3 ranked player in Ukraine.
Here are the top 10 players in the Rankings this week along with the PLB score for each:
1. PokerKaiser– 7,463 points
2. norfair18– 7,141 points
3. Romeopro – 7,076 points
4. joaomathias – 6,630 points
5. Big Huni – 6,624 points
6. MendaLerenda – 6,585 points
7. CrownUpGuy – 6,434 points
8. p0cket00 – 6,426 points
9. veeea– 6,356 points
10. hellohellohello – 6,312 points
Congrats to all of our ranked players!
Want the latest poker headlines and interviews? Follow PocketFives on Twitterand Like PocketFives on Facebook.