It's Wednesday, which means the PocketFives Online Poker Rankingswere recalculated. Last week's #1 player, Griffin Flush_Entity Benger, retained the top spot for the second week in a row with 7,812 PLB Points, but several PocketFivers are nipping at his heels. Benger is from Toronto and ascended to the top spot for the first time in two years.

The new eighth-ranked player on PocketFives is p0cket00(pictured), a former #1 who last reached the apex of the Rankings in 2011. The Canadian has over $7.5 million in tracked scores, the second largest total of anyone on PocketFives, and is fresh off finishing second in a PokerStars $215 NLHE Turbo 2X Chance tournament for $11,000 three days ago. p0cket00 was at #22 last week.
Already this month, p0cket00 has $147,000 in tracked winnings from 63 in the money finishes, an average of $2,333 each. He has four scores of over $10,000 in May and, mind you, the month is only two weeks old.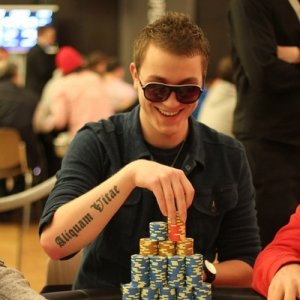 Also moving from the 20s to the top 10 of the Rankings was Roman Romeopro Romanovskyi (pictured). You can now find him at #10 worldwide, up 14 spots on the week on the strength of a win in a $320 NLHE Six-Max tournament on PokerStars for $18,000 and nearly 300 PLB Points. Romanovskyi has $3.8 million in lifetime cashes and his ranking represents his highest mark ever.
Germany's Fresh_Oo_D debuted in the top 100 at #30 this week. He was the runner-up in the PokerStars Sunday 500 over the weekend for $62,000 officially and a rock solid 463 PLB Points. The same day, he finished second in a SCOOP $2,100 NLHE event for nearly $300,000 in cash plus nearly 1,000 PLB Points. If all that weren't enough, the day before, he took ninth in a SCOOP $2,100 NLHE Turbo Zoom event for $17,000.
As Samuel L. Jackson would say, "Hold onto your butts." In the first two weeks of May, Fresh_Oo_D has $454,000 in tracked scores across 48 in the money finishes, an average of $9,458 each and the most among anyone this month. He is the top-ranked player in Germany and could be found as high as #6 worldwide last year.
Also entering the top 100 this week was Portugal's Rui RuiNF Ferreira, who sits at #34, just four spots behind Fresh_Oo_D. He had a blockbuster SCOOP showing on May 6, winning a $700 NLHE Heads-Up event and finishing second in the Super Tuesday for nearly $300,000 combined along with well over 1,500 PLB Points.
As has become the norm, four of the top five players in the Rankings this week call Sweden home. Here's a look at the top 10 players this week, along with the PLB score for each:
1. Flush_Entity (Canada) – 7,812 points
2. lukethafluke (Sweden) – 7,691 points
3. VnilaVader (Sweden) – 7,641 points
4. r4ndomr4gs (Sweden) – 7,463 points
5. Sheater (Sweden) – 7,186 points
6. blanconegro (Canada, pictured) – 7,148 points
7. lilachaa (Bosnia and Herzegovina) – 7,097 points
8. p0cket00(Canada) – 7,046 points
9. huiiiiiiiiii (Austria) – 7,040 points
10. Romeopro(Ukraine) – 7,021 points
Congrats to all of our ranked players!
Want the latest poker headlines and interviews? Follow PocketFives on Twitterand Like PocketFives on Facebook. You can also subscribe to our RSS feed.