After a one-week reign at #1 in the PocketFives Rankings by Nicolas PokerKaiserFierro, there's a new sheriff in town: England's Patrick pleno1 Leonard. He jumped from #3 to #1 this week and has 8,024 PLB Points, the only member of PocketFives with a PLB score north of 8,000. This is Leonard's second stint at #1; he was formerly at the top of the Rankings in mid-August. By the way, Fierro dropped to #3 worldwide with a PLB score of 7,916.

—
PocketFives' news coverage is brought to you by William Hill Poker, one of the largest skins on the iPoker Network. The poker room offers a generous welcome package including a 200% deposit bonus up to $2,000 and a superb VIP program. PocketFivers will love playing in the site's €1 million guaranteed iPOPS series, which runs through November 9. Visit William Hill today!
—
Leonard has had a hot start to November. Despite the month only being five days old, he has won the PokerStarsBigger $55 for $41,000 and taken third in the Big $109 for $12,000. He logged five tracked MTT wins in October to boot, raising his career total to 33. Read our recent interview with pleno1.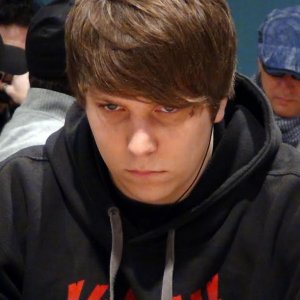 Moving up four spots from #10 to #6 is Andreas r4ndomr4gs Berggren, who was last ranked #1 in July. He won an iPOPS High Roller Event over the weekend for $23,000, his first tracked win since October 14. Berggren is the top-ranked Swedish player on PocketFives.
Jumping 10 spots from #23 to #13 is Austria's huiiiiiiiiii(pictured), who climbed as high as #2 on our site earlier this year. huiiiiiiiiii won a $320 Six-Max tournament on PokerStars on Tuesday for $13,000, one day after final tabling a PartyPoker Pokerfest event for $11,000. Prior to those two scores, he hadn't recorded a five-figure cash since the end of September.
Ukraine's accussity rose nine spots in the Rankings to land at #17 in the world, his highest mark ever. accussity final tabled the PokerStars Sunday 500 over the weekend and won four tournaments during the second half of October. He is the top-ranked poker player in Ukraine.
Austria's 23NoraB moved up 15 spots to #32 on the strength of three wins in the last week, the largest of which was worth $8,700 and came in the PokerStars $109 Rebuy. 23NoraB was ranked as high as #7 on PocketFives last year and just passed $3 million in winnings on PokerStars.
Another Austrian making waves in the top 100 is mindgamer, who rose from #74 to #48 after a productive Sunday that saw him final table the PokerStars Sunday 500 for $53,000 and win the site's $40,000 Guaranteed for another $9,000. He is on the cusp of passing $3.8 million in lifetime winnings and was ranked #1 on our site in December of last year.
Finally, Aleksandr NoPlanB Mordvinov (pictured) entered the top 100 worldwide at #57, 19 spots off his all-time high. He finished second in an FCOOP High Roller Event on Sunday for $76,000 and won a Six-Max tournament on PokerStars.fr the next day, taking home another $7,600. He is the fifth-ranked player in Russia.
Here are the top 10 players worldwide on PocketFives along with the PLB score for each:
1. pleno1– 8,024 points
2. Yuri Martins – 7,970 points
3. PokerKaiser– 7,916 points
4. p0cket00 – 7,515 points
5. CrownUpGuy – 7,168 points
6. r4ndomr4gs– 7,116 points
7. jbrown8777 – 7,102 points
8. European – 7,009 points
9. TheClaimeer – 7,003 points
10. joaomathias – 6,990 points
Congrats to all of our ranked players!
Want the latest poker headlines and interviews? Follow PocketFives on Twitterand Like PocketFives on Facebook. You can also subscribe to our RSS feed.