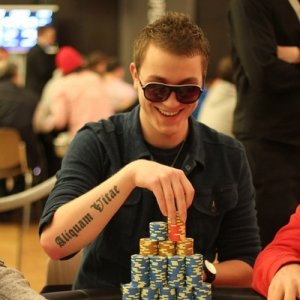 We'll start off this week's PocketFives Rankings Update by wishing everyone a very Merry Christmas! No matter what your plans are, we hope you have a wonderful day! Now, let's get to the business at hand. The PocketFives Rankingswere recalculated on Wednesday and Yuri Martins is once again your top-ranked player. He has over 600 PLB Points more than second place to boot, meaning we'd expect to see him at #1 again next week.

We had two returning entrants to the top 10 worldwide this week: Roman RomeoproRomanovskyi (pictured) and Jimmy JMolloy Molloy. We'll start with Romanovskyi, who moved up eight spots in the Rankings to #9. He has had a solid last week, taking third in the Sunday Warm-Up over the weekend for $52,000 officially and winning two tournaments in the last two days to bring his career total to 192.
Romanovskyi just passed $3 million in tracked scores on PokerStars alone and was ranked as high as #6 on PocketFives earlier this year. He is the top-ranked Ukrainian online poker player and has almost a half-million dollars in live scores, according to the Hendon Mob.
Molloy (pictured) moved up two spots in the Rankings to settle at #10, two spots off his all-time high. He won the PokerStars $109 Rebuy on Tuesday for almost $10,000 and took second in the Full Tilt Super Sized Sunday over the weekend for $18,000. Molloy has $3.5 million in career online tournament winnings and is #2 in Canada.
One of the biggest jumps of the week inside the top 100 went to StrungOut1, who went from #51 to #27 on the strength of a victory in the PokerStars Bigger $55 for $39,000 over the weekend. This is the highest StrungOut1, who joined PocketFives in 2006, has ever been ranked on our site.
Finally, we wanted to highlight Ami UhhMee Barer, who reentered the top 100 worldwide at #56. He won the Bigger $109 on Sunday for $52,000 after a three-week hiatus from the virtual felts. Barer was ranked as high as #3 in the world in 2011 and has $6.5 million in tracked scores, the 15th highest total of anyone on PocketFives.
Here are the top 10 players in the Rankings this week along with the PLB score for each:
1. Yuri Martins – 8,327 points
2. CrownUpGuy – 7,691 points
3. pleno1 – 7,427 points
4. p0cket00 – 7,320 points
5. joaomathias – 7,237 points
6. PokerKaiser – 6,920 points
7. Big Huni – 6,879 points
8. r4ndomr4gs – 6,853 points
9. Romeopro– 6,663 points
10. JMolloy– 6,653 points
Congrats to all of our ranked players.
Want the latest poker headlines and interviews? Follow PocketFives on Twitterand Like PocketFives on Facebook. You can also subscribe to our RSS feed.