The news over the last 24 hours has been all about PokerStars. And Monday afternoon even more news came in, as the online poker giant announced rake increases for Spin & Gos, multi-table tournaments, and ring games. According to a release announcing the change, the average increase across all games will be 4%.

In Spin & Gos, rake will go up by one percentage point for games with buy-ins of $1 to $30. The two exceptions to this are the $3 buy-in Spin & Gos, which will have their rake increased by two percentage points, and the $0.25 Spin & Gos, which will be unaffected. Outside of that price range, $60 and $100 buy-in Spin & Gos will not have their rake changed.
In MTTs, PokerStars will begin raking add-ons and rebuys similar to its practice in closed-market MTTs. Starting March 28, every rebuy and every add-on will be raked while rake in Hyper-Turbo MTTs will be upped to 5%.
In ring games, PokerStars will increase the cap and percentage of rake in select No Limit and Limit games, with a focus on heads-up games. Some rake caps will actually be lowered from their current levels and Fixed Limit games will remain unchanged.
On Twitter, plenty of players reacted to the rake increase, including seventh-ranked Steven 'SvZff' van Zadelhoff, who tweeted:
@PokerStars Extra rake! Why not! Must be a fucking joke right!? Good job guys, keep killing the game!

— Steven van Zadelhoff (@svzff) March 21, 2016
David 'davidv1213' Vamplew, who recently hit $2 million in scores on Stars alone, was less than pleased with the announcement:
the hypocrisy+gall of @pokerstars to claim to act in best interest of game +of recreational plyrs is just incredible https://t.co/0yopjr7wl0

— David Vamplew (@davidv1213) March 21, 2016

High-stakes players like Scotland's Niall 'firaldo' Farrell were concerned about the impact on games like the $109 Rebuy, which will now have every rebuy raked.
"Charging rake on rebuys tilts me incredibly hard. Percentage rake vs buy-in will be much higher on 5 rebuys of 100r (545) vs a 500+30 fo," Farrell said.
"As a result of these changes, PokerStars expects that the overall impact will be a rake increase of 4%," a statement from PokerStars said. "PokerStars will continue to monitor its games and make regular adjustments to pricing whenever necessary."
The changes will be implemented on March 28 on PokerStars.com. The changes do not apply to closed markets such as the newly-launched PokerStarsNJ; they'll only take effect in markets that share liquidity.
In defending its decision to increase rake with an overall impact of 4%, PokerStars provided a chart showing data from games played between January 8 and March 7 of this year. Then, it compared the rake taken in these games to the rake that reportedly would have been taken by its three major competitors: partypoker, 888, and iPoker.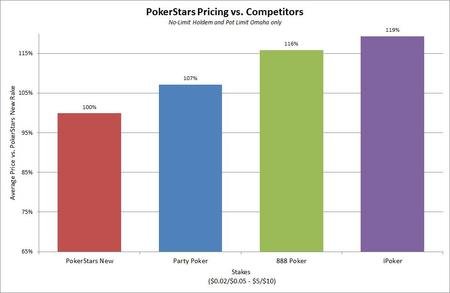 "When the rake is weighted according to the different volumes of games played at different stakes, the current rake at PartyPoker is 7% more expensive than under the new PokerStars rake," PokerStars said. "The current rake at 888 Poker is 16% more expensive than under the new PokerStars rake. The current rake at iPoker is 19% more expensive than under the new PokerStars rake."
Vamplew responded with a chart showing rake on $20 to $24 rebuys with three rebuys and one add-on as an example of the effect that raking all rebuys and add-ons will have compared to practices on other sites:


This is the latest change announced by PokerStars. The chain began back in November, when PokerStars announced it would reduce rewards for high-volume and high-stakes players, which resulted in a three-day boycott led by a group of Russians and Dani 'ansky451' Stern. In January, WeArePokerPlayers.com claimed a boycott it led resulted in a $1.3 million hit to PokerStars' bottom line.