According to eGaming Review(EGR), PokerStrategyhas filed a $1.2 million lawsuit against Pocket Kings. The legal action is in regards to "an existing marketing agreement signed before Full Tilt saw its operating licenses suspended by the Alderney Gambling Control Commission in June of last year." Pocket Kings still owes $1.2 million of the deal. The lawsuit is not against PokerStars.

PokerStars purchased the assets of Full Tilt Pokerin a deal that was officially consummated on Thursday with a $225 million payment to the DOJ. But, according to EGR, "the case has been brought against Full Tilt Poker's former marketing division rather than PokerStars itself."
PokerStrategy officials told PocketFives that PokerStars' legal team was fully informed and aware of its claim prior to filing.
PokerStrategy's Chief Executive Officer Dominik Kofert told EGR why the filing came one week after the sale of Full Tilt Poker's assets to its one-time rival was announced: "We only filed the claim this week, as we did not want to stand in the way of Full Tilt Poker reaching an agreement with the DOJ to return missing funds to the affected poker players."
PokerStrategy was a major partner of Full Tilt. EGR revealed that at the height of its relationship with Full Tilt Poker, PokerStrategy was sending 30,000 players per month to the room. Whether those were general sign-ups or depositing players remains to be seen, but Full Tilt, thanks in part to sites like PokerStrategy, became the second largest online poker room in the world in terms of cash game volume, second only to PokerStars.
In fact, according to EGR, PokerStrategy is "believed to have provided the bulk of the operator's non-U.S. players after Tilt was forced to withdraw from the U.S. following Black Friday." Non-U.S. players were able to partake in Full Tilt's real money games until the Alderney Gambling Control Commission suspended the room's license in June 2011 on the grounds that it had been misled; the agency revoked Full Tilt's license three months later.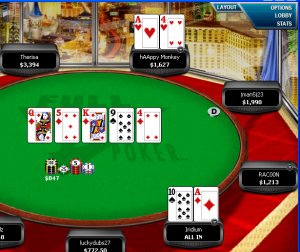 Non-U.S. Full Tilt players will be reunited with their funds by way of PokerStars within 90 days, while U.S. players will need to file a claim with the Department of Justice in order to be made whole. There is no timetable laid out for the latter group and the Full Tilt lawyers we've spoken to are unaware of what the payout process will be.
This isn't the first suit against Pocket Kings or an entity associated with Full Tilt Poker. Among the various legal filings over the last 16 months was a suit by Nick Hammer, Robin Hougdahl, Steve Segal, and Todd tbt4653Terry released in April 2012 that charged Full Tilt front men Howard Lederer and Chris Ferguson with "conversion" and "exercising unlawful dominion and control over player funds." Terry and company had originally filed a suit under the RICO Act that was dismissed in January.
In October of last year, one month after Full Tilt's license was revoked, a $900 million class action lawsuit was levied against Full Tilt. That one accused the site of "fraud, unjust enrichment, 'a pattern of racketeering,' and 'brazen money-laundering.'"