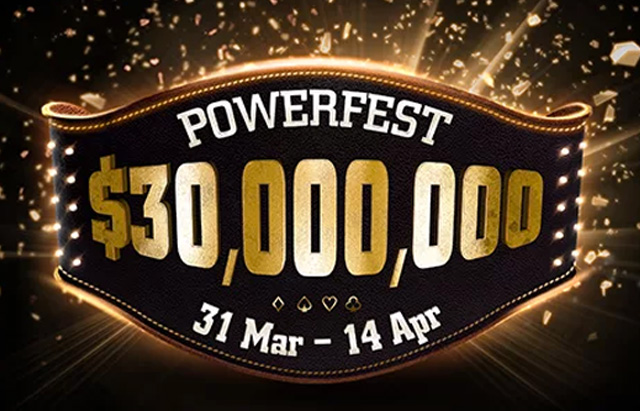 partypoker's $30 Million guaranteed POWERFEST super series kicked off on Sunday with 25 of the 255 scheduled tournaments generating prize pools in excess of $4.28 million.
The largest buy-in tournament of the day was the $5,200 POWERFEST #03-SHR which smashed it's $500K guarantee as 141 entries created a prize pool of $705,000. Sam 'Pudge714' Greenwood, playing under his partypoker screen name 'DeanMalenko' took down the contest for $162,079, the largest POWERFEST score of the day. Greenwood defeated Hungary's #2- ranked 'wildace10' heads up, who took home his own six-figure payday of $116,325. The final table of this event was packed with online poker's elite as 'mwhldwn' (aka 'Bencb789'), 'girafganger7', Jonathan 'proudflop' Proudfoot and partypoker ambassador Joao 'joaosimaobh' Simao all made the top six and took home five-figure cashes.
There will be plenty of the popular Progressive Knockout tournaments throughout the POWERFEST schedule and the biggest buy-in of them all on Sunday was the $2,100 POWERFEST #04-HR. 250 entries helped the tournament exceed the $500,000 guarantee by $12,500. The bulk of that prize pool was claimed by 'JgsNV' who took home the $40,305 first place prize and added on over $56,000 in bounties. 'pockjack0' officially finished as the runner-up for $40,255 and an extra $17,156 in bounties.
There were two $1K tournaments on the schedule on Sunday. 'Hac3Cosas' bested the 371 entry field in the $1,050 POWERFEST #02-HR [Deep, Eight Max] to earn the $71,974 first place payday. He outlasted 'bscmt' who settled for just over $51,000 as the runner up. Jonathan 'proudflop' Proudfoot also made an appearance on this final table, bowing out in eighth place for $6,900.
The second of the $1K's saw the #10-ranked player in the world, Sweden's 'inhoo', take down the $1,050 POWERFEST #06-HR [PKO, Fast, Eight Max] for a total score of over $50K. Playing under his partypoker screen name 'petdet3ctive', the Swede grabbed the first place prize of $23,827 and tacked on an additional $28,384 over 10 collected bounties. 'MysterioBrown' finished in second place, taking home $23,827 plus over $8,600 in bounties. partypoker ambassador Kristen 'Krissyb24' Bicknell finished in sixth place for over $6,400 + $1,885 in bounties.
POWERFEST $530 #01-HR [Slow, 8-Max], $250,000 Gtd
555 entrants, $277,500 prize pool
1. Ignent – $51,726
2. DamianLillard – $36,768.75
3. beguidobao – $25,058.25
4. z-booooo – $17,343.75
5. La.Brouletterie – $12,210
6. spinner2255 – $8,824.50
7. Krissyb24 – $6,354.75
8. Alien_Army – $4,551
POWERFEST $1,050 #02-HR [Deep, 8-Max], $300,000 Gtd
371 entrants, $371,000 prize pool
1. Hac3Cosas – $71,974
2. bscmt – $51,940
3. Sheparentao – $35,987
4. TullaMoreFan12 – $25,784.50
5. BateBicoPLZ – $18,364.50
6. NoisiaRadio – $13,615.70
7. shorezydrew – $9,460.50
8. proudflop – $6,900.60
POWERFEST $5,200 #03-SHR [8-Max], $500,000 Gtd
141 entrants, $705,000 prize pool
1. DeanMalenko – $162,079.50
2. wildace10 – $116,325
3. mwhldwn – $84,600
4. omgitsgiraf – $59,925
5. proudflop – $42,300
6. joaosimaobh – $33,487.50
7. Equilibrium_x – $26,649
8. TIMEXCNT – $21,150
POWERFEST $2,100 #04-HR [PKO, 8-Max], $500,000 Gtd
250 entrants, $512,000 prize pool
1. JgsNV – $40,305.44 + $56,023.28 in bounties
2. pockjack0 – $40,255.41 + $17,156.83 in bounties
3. mnbvcxziki – $28,713.40 + $9,089,06 in bounties
4. lgnent – $21,228.86 + $17,316.80 in bounties
5. smir9david – $14,969.07 + $10,352.34 in bounties
6. hi_all – $11,430.92 + $1,570  in bounties
7. Beeeetelgeuse – $8,437.11 + $4,331.25 in bounties
8. Maddonaa – $6,259.79 + $525 in bounties
POWERFEST $530 #05-HR [Deep, Turbo, 8-Max], $100,000 Gtd
218 entrants, $111,725 prize pool
1. lincownz – $22,780.79
2. spera9k1 – $16,535.30
3. Spacey1891 – $11,786.98
4. petdet3ctive – $8,714.55
5. Flompe – $6,144.87
6. Jeff7010 – $4,692.45
7. kimokh – $3,463.47
8. ilushan – $2,569.67
POWERFEST $1,050 #06-HR [PKO, Fast, 8-Max], $300,000 Gtd
303 entrants, $309,060 prize pool
1. petdet3ctive – $23,827 + $28,384.70 in bounties
2. MysterioBrown – $23,797.32 + $8,616.57 in bounties
3. A23456789 – $16,701.80 + $7,645.62 in bounties
4. alwayswin2222 – $12,154.28 + $9,441.24 in bounties
5. Otxark0agabr0 – $8,598.94 + $3,956.87 in bounties
6. Krissyb24 – $6,449.21 + $1,885 in bounties
7. KERBMODE – $4,547.52 + $6,191.25 in bounties
8. SleepWalker13 – $3,307.28 + $4,452.50 in bounties
POWERFEST $530 #07-HR [PKO, Turbo, Mix-Max], $100,000 Gtd
230 entrants, $117,875 prize pool
1. Barsukeen – $10,105.27 + $14,917.51 in bounties
2. megustaestrecha – $10,093.70 + $3,248.45 in bounties
3. alex2pairs – $7,180.25 + $2,190.25 in bounties
4. Krissyb24 – $5,235.19 + $2,272.26 in bounties
5. RhymeAndReason – $3,909.46 + $1,529.89 in bounties
6. Maddonaa – $2,606.31 + $1,443.75 in bounties
7. BernhardPavar – $1,581.25 + $1,000.79 in bounties
8. zxsd1976 – $1,581.25 + $1,804.67 in bounties
9. Isildur1 – $1,581.25 + $2,411.71 in bounties