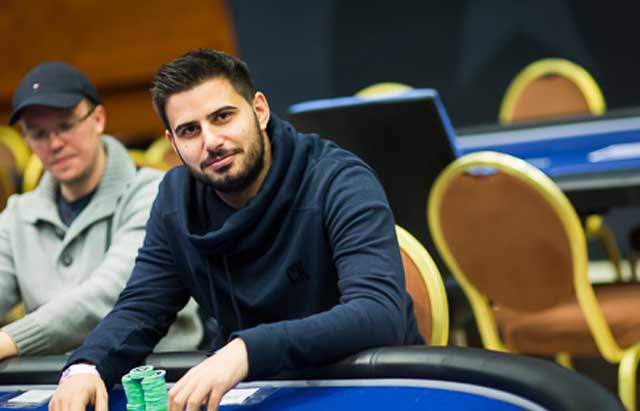 Greece is well-known for being a poker-loving nation but, like many other countries out there, they have not always had the easiest of paths to logging on and grinding. From an outright ban in 2002 to the reinstatement of online poker in 2011 to the attempt at shutting down larger poker sites a couple years later, the players in Greece have had to be resourceful and find a variety of ways to get in the game.
Despite the ups and downs of online poker regulation in Greece's history, the players have persisted and today there's a talented core of players from Greece who are looking to make a different kind of online poker history: climbing into the ranks of the best in the world.
The current #1-ranked player in Greece is Apostolis 'apostolis20' Bechrakis. A longtime grinder, Bechrakis is under $20,000 away from earning a badge of earning $5 million in lifetime scores. It's likely you'll see his name in the Milestones column soon as that's a cash amount a player of his talent could hit at any time. In fact, he did just that on January 23 when he was victorious in the PokerStars $530 Bounty Builder High Roller for $19,769. Currently ranked #75 in the world, Bechrakis wields over 5000 PLB points, nearly 1000 more than his closest countryman in the national rankings.
Second in the Grecian rankings is 'sinkedshrimp'. He racked up valuable PLB points at the end of 2017 after taking down the PokerStars Bounty Builder on November 30 for over $9,000 and, only a week later, made a deep run in the massive partypoker MILLIONS $5 Million Gtd tournament for $18,486.
Alexandros 'mexican222' Kolonias is an absolute crusher and has been on an absolute tear as of late. The #3-ranked online player in Greece is currently #2 on the country's All-Time Money list. Kolonias is a regular participant in the biggest buy-in tournaments the online poker world has to offer having cashed five times in the recent PokerStars High Rollers Series for a total of over $166,000. Then, one month later, he outdid himself and finished as the runner-up in a PokerStars $2,000 No Limit Hold'em tournament for over $266,000. Kolonias has accumulated over $2.3 million in lifetime earnings in his career online and an additional $2.1 million in live results.
Checking in at the #4 spot is Damianos 'damourinio' Aslanidis. Currently the #302-ranked player in the world, Aslanidis just recently eclipsed $3.5 million in lifetime earnings after earning a victory in the 888poker Mini Mega Deep for $5,400.
Theodoros 'teo96' Aidonopoulos is right on the heels of Aslanidis. Ranked #5 in Greece, and #312 in the world, he is also grinding toward a major milestone of $3 million in lifetime earnings. Helping him in that pursuit was back-to-back four-figure cashes in early January for over $4,600.
'DsL1cH' is next on the list. The mid-stakes grinder has been putting in solid volume in 2018 and is just off a career-high in the worldwide rankings, currently sitting at #348.
At #7 is 'prsalute', a Grecian grinder with over $1 million in lifetime earnings and a PokerStars Sunday Million final table under his belt. His recent achievements include a pair of runner-up finishes on January 16 padding his bankroll by over $6,000.
Ranked #457 in the world 'panic.player' grinds the mid-stakes tournament scene on PokerStars racking up cashed on a near-daily basis. On New Year's Day, he took fourth in a $50 No Limit Hold'em tournament for over $3,000, his largest score of the month.
Georgios 'zisimo7' Zisimopoulos, ranked #9, is a former worldwide top 100 ranked player who just recently surpassed the lofty milestone of over $3 million in lifetime earnings. Zisimopoulos also holds a high rank on the live tournament scene, having accumulated over $1.7 million in lifetime earnings, good for fourth on the Greece All-Time Money list.
Dimitrios 'JIM_BALLAS' Ballas wraps up the current top 10 rankings in Greece. Despite putting in moderate volume in 2018, he's already won over $13,000 this year so far.
Greece's Online Poker Rankings Top 10
| | | |
| --- | --- | --- |
| RANK | PLAYER | POINTS |
| 1 | apostolis20 | 5,001.73 |
| 2 | sinkedshrimp | 4,175.95 |
| 3 | mexican222 | 3,926.22 |
| 4 | damourinio | 3,539.83 |
| 5 | teo96 | 3,506.75 |
| 6 | DsL1CH | 3,341.32 |
| 7 | prsalute | 3,090.22 |
| 8 | panic.player | 3,032.30 |
| 9 | zisimo7 | 2,920.84 |
| 10 | JIM_BALLAS | 2,897.79 |