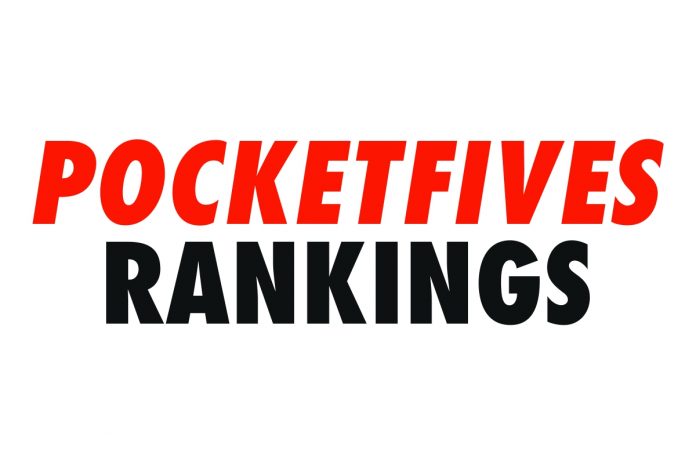 The long reign of 'C Darwin2' is over. For the first time in 2018, a new name sits atop the PocketFives Rankings and it took a schedule packed with PokerStars Spring Championship of Online Poker and partypoker Powerfest events to make it happen.
Fellow Swede 'lena900' picked up two SCOOP titles and a Powerfest victory plus three other qualifying cashes to move from #5 to #1. All told, 'lena900' picked up an astonishing 3,375.86 points and $628,508 in those six events. The three victories came in Powerfest #53 ($10,300 Super High Roller NLHE), SCOOP #24-High ($530 NLHE w/rebuys) and SCOOP #39-High ($1,050 NLO8).
'C Darwin2' didn't fall far though. The Swede, who held the #1 spot for the last 20 weeks, wound up at #2 thanks in large part to the massive lead he had built up and the four qualifying cashes he picked up over the last week, adding 979.94 points to his total. While 'lena900' has won multiple titles during POWERSCOOP, 'C Darwin2' failed to win in either of those series over the last week. He did pick up a win in the PokerStars Daily 500 on May 12.
Andres 'probirs' Nemeth held on to the #3 spot by adding 917.63 points to his total from two Powerfest cashes and one SCOOP cash. Nemeth now sits 852.4 points behind 'C Darwin2' but just 88.99 ahead of his next closest competitor, Roman 'Romeopro' Romanovsky.
Romanovsky, who won two SCOOP titles two weeks ago, picked up just two qualifying cashes for just 311.75 points this past week and fell from #2 to #4.
Russia's 'hellohellohello' stayed in the top five, but dropped from #5 to #4. He picked up just 685.59 points from three qualifying cashes and is one of five players with a PLB points total of 10,000 or more.
Other big movers this week include 'GINS FINEST' (#17 to #8), Pedro 'PaDiLhA SP' Padilha (#15 to #12) and Connor 'blanconegro' Drinan (#24 to #17).
The biggest jump inside the Top 25 though comes from 'Dattebayo'. The Austrian moved all the way from #47 to #25 thanks to an astonishing 11 qualifying cashes. The Austrian added 2,161.54 points to his total with 975.52 of those coming from a pair of Powerfest wins on May 12.
| | | | |
| --- | --- | --- | --- |
| RANK | PLAYER | POINTS | PREVIOUS |
| 1 | lena900 | 12,120.06 | 5 |
| 2 | C Darwin2 | 11,627.33 | 1 |
| 3 | Andres 'probirs' Nemeth | 10,774.93 | 3 |
| 4 | Roman 'Romeopro' Romanovsky | 10,685.94 | 2 |
| 5 | hellohellohello | 10,643.99 | 4 |
| 6 | girafganger7 | 9,495.45 | 6 |
| 7 | Ramiro 'Ramiro' Petrone | 9,412.94 | 10 |
| 8 | GINS FINEST | 9,310.73 | 17 |
| 9 | Ariados | 9,228.53 | 11 |
| 10 | Steven 'SvZff' van Zadelhoff | 9,015.83 | 9 |
| 11 | Guntis 'lovefee' Aleskins | 8,925.32 | 8 |
| 12 | Pedro 'PaDiLhA SP' Padilha | 8,841.52 | 15 |
| 13 | Conor '1_conor_b_1' Beresford | 8,697.33 | 7 |
| 14 | Patrick 'pleno1' Leonard | 8,357.73 | 13 |
| 15 | European | 8,264.97 | 12 |
| 16 | DamageAP | 8,133.50 | 14 |
| 17 | Connor 'blanconegro' Drinan | 8,125.69 | 24 |
| 18 | kofi89 | 8,046.96 | 18 |
| 19 | Sheater | 7,895.88 | 20 |
| 20 | Fabrizio 'SixthSenSe19' Gonzalez | 7,890.79 | 16 |
| 21 | Joao 'joaosimaobh' Simao | 7,738.67 | 23 |
| 22 | NoPlanB | 7,736.42 | 25 |
| 23 | josef_shvejk | 7,649.66 | 21 |
| 24 | Johannes 'Greenstone25' Korsar | 7,521.66 | 19 |
| 25 | Dattebayo | 7,507.77 | 45 |