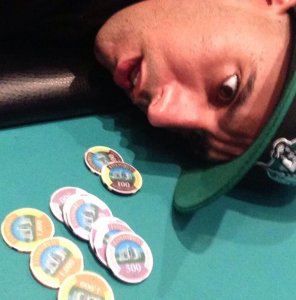 We're just short of the money at the 2014 World Series of Poker Main Event, which is entering Day 4 on Friday. On Monday, we'll know the members of this year's November Nine, but in the meantime, two players have set themselves up for success in the long-run: Andrew Liporace and Mehrdad Yousefzadeh. Both bagged over one million in chips at the close of business on Thursday, the only two to do so.

—
PocketFives' WSOP coverage is brought to you by Real Gaming, a regulated online poker site in Nevada. Play Real Gaming, real money poker on any device. Play now for Final Table Freerolls. Skip straight to the final table and win cash daily.
—
One of the biggest stories of Day 3 involved 2012 bracelet winner Ronnie Bardah (pictured), who is poised to become the first player ever to cash in five straight Main Events. According to WSOP.com, "One more in the money finish would break the tie of four he currently shares with Robert Turner (1991-1994), Bo Sehlstedt (2004-2007), Theodore Park (2005-2008), Chris Overgard (2007-2010), Chris Bjorin (2008-2011), and Christian Harder (2010-2013)."
Bardah doubled up in the waning moments of Day 3 with A-K against 10-10 after flopping an ace to keep his title hopes alive. Here are his WSOP Main Event results over the last four years:
2013 Main Event: 124th place for $50,752
2012 Main Event: 540th place for $21,707
2011 Main Event: 453rd place for $27,103
2010 Main Event: 24th place for $317,161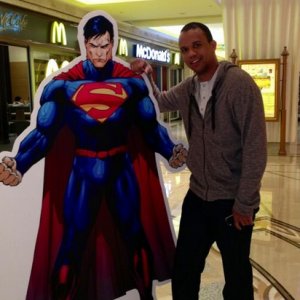 Phil Ivey (pictured), who ended Day 2 as the overall Main Event chip leader, fell to 72nd out of the 746 remaining players and ended Day 3 with essentially the same stack he started the day with. Seated alongside Ivey on Day 3 was Yousefzadeh, who bet 30,000 on a board of 4-9-3-4-6 and turned over 9-9 for a boat after getting a call. Yousefzadeh kept climbing above one million in chips and ended the day at 1.124 million.
We're just short of the money in the Main Event, meaning that when viewers watching the packaged episodes on ESPN tune in come September, they'll see the money bubble burst to start Day 4, likely in the very first episode. The top 693 players will cash, so we need to lose about 50 people in order to make the money. If you missed it, this year's top prize is $10 million and the top seven players will become instant millionaires.
Among those still left in the Main Event is London's Craig mcc3991McCorkell, who Tweeted in the overnight hours, "Alright, Day 4 of the #WSOPMainEvent tomorrow! 213k with 750ish left." Bryan badbeatninja Devonshire shared, "Bagging up 191k at the end of Day 3. 53 minutes remain on the clock, waiting until tomorrow to hit the money. Glad to still be in."
Meanwhile, the chip leader, Liporace, spent Thursday night trying to conduct business on Twitter, writing, "I currently have over 90% of myself going into Day 4 as the chip leader, 1,128,00, looking for swaps."
Phil Galfond (pictured) gave his fans an update on where he stood: "Finished Day 3 of the Main with 92k. Not how I'd hoped my day would go, but I'm happy to still have a shot." He then joked, "Obviously, I'll just fold my way into the money tomorrow."
The action resumes at Noon Pacific Time on Friday with Day 4. We'll keep you posted on the latest WSOP newsright here on PocketFives. Real Gaming, a regulated online poker site in Nevada, brings it to you.
Want the latest poker headlines and interviews? Follow PocketFives on Twitterand Like PocketFives on Facebook. You can also subscribe to our RSS feed.