Rui RuiNFFerreira (pictured) has been making waves during the ongoing PokerStars World Championship of Online Poker. For his latest trick, the Czech Republic poker player won a $215 No Limit Hold'em Big Antes event with an optional reentry for $59,000. But that was only part of a highly successful run so far that has resulted in Ferreira sitting atop the WCOOP Leaderboard after 20 events.

—
Tournament Poker Edgeis the only poker training site dedicated exclusively to MTTs and features over 1,000 training videos, blogs, articles, podcasts and a dedicated strategy forum for members. Check Tournament Poker Edge out on Twitter.
—
Ferreira was one of the short stacks entering the final table of the Big Antes event, but made it to heads-up play with a 3:2 chip lead. It was a back-and-forth heads-up battle that almost ended with Ferreira's opponent, pkace666, winning, but pkace666 dropped a race with A-9 against Ferreira's 8-8 after the PocketFiver spiked a two-outer on the river.
After another hour, pkace666 ran K-J into A-A to give Ferreira his first WCOOP title. The final hand was equally dramatic despite the pre-flop odds. A flop of J-10-4 gave pkace666 a pair and he hit kings-up to pull ahead on the turn. However, Ferreira found a queen on the river for Broadway and the WCOOP title.
Here's how the final table cashed out:
1. RuiNF (Czech Republic) – $59,904
2. pkace666 (United Kingdom) – $44,928
3. Protential (Canada) – $33,696
4. telks (Cyprus) – $24,616
5. leitalopez (Argentina) – $17,784
6. sosickPL (Poland) – $13,852
7. imluckbox (Australia) – $10,108
8. serhiy1989 (Ukraine) – $6,552
9. funwheel (Thailand) – $3,744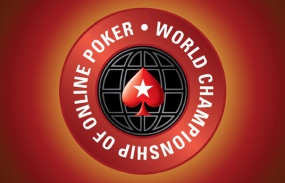 But wait, there's more. Not to be content with simply one WCOOP title, Ferreira kept firing up tournaments and nearly captured a second trophy in Event #19, a $320 No Limit Hold'em Turbo Zoom contest. That tournament drew almost 2,000 entrants and Ferreira walked away with another $21,000, officially taking sixth place, his second WCOOP final table in a matter of days.
But wait, there's even more. Ferreira also took down the PokerStars Sunday Kickoff over the weekend for $32,000. He has removed his screen names from his PocketFives profile, so we can't tell you how much in MTT earnings he has all-time, but we do know that he has final tabled just about every Sunday Major you can name and owns a pair of PocketFives Triple Crowns.
As expected, Ferreira paces the WCOOP Leaderboard with 215 points, 50 more than the next closest player. There are still more than 50 events on deck for the 2015 WCOOP, so anything can happen. Visit PokerStars for more details.
Want the latest poker headlines and interviews? Follow PocketFives on Twitterand Like PocketFives on Facebook.