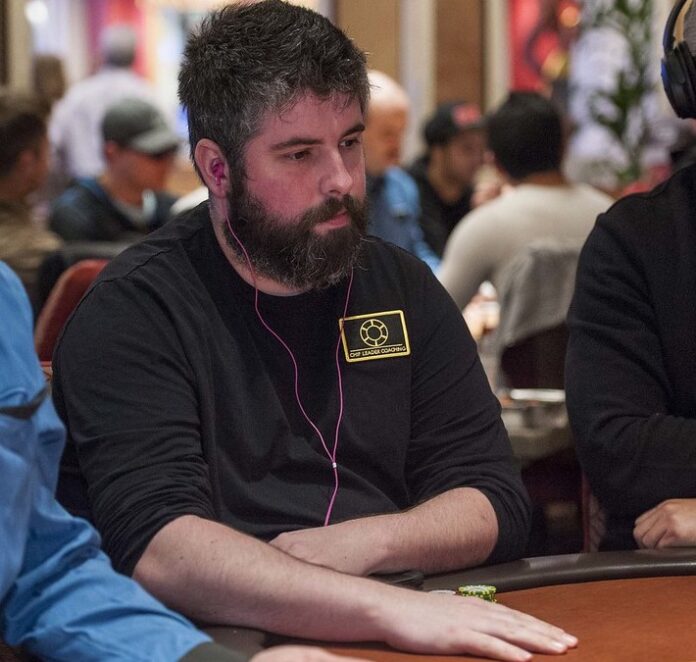 Ryan Leng started the final table of World Series of Poker Online Series Event #13 ($1,000 NLHE Freezeout) with just 13 big blinds but turned his luck around to take home his second WSOP bracelet and add another $108,654 to his poker earnings in a thrilling final table.
Heading into the final table, former bracelet winner Raman Afansenka who led the way, with 2.4 million chips, a big blind ahead of Carmine Ciccone. Sitting middle of the field, Leng had a lot of work to do, but it was another player from the chasing pack who busted first.
Moving all-in from the big blind for 18 big blinds with
, Jonas Wexler was snap-called by Afansenka with
and across the board of
missed his open-ended straight draw on the river to crash out in ninth place for $7,119.
Next to go was Dan Stavila, who found himself double-dominated in a three-way all-in. Ankush Mandavia shoved over the raise of Stavila and call by Krishna Kalidas pre-flop. Both those players called off their stacks, and while Mandavia had
and Kalidas held
, Stavila's
was in big trouble.
The flop of
gave both Kalidas and Mandavia what looked like a lock on the hand, but the turn of
offered a gutshot hope of a miracle for Stavila. Sadly for him, he missed that shot by one pip as the
fell on the river and he was busted in eighth for a score of $9,290.
Those two quick bust-outs could easily have foreshadowed a period of poker where players settled down and adjusted to the shifting balance of power, but instead, more exits swiftly followed. Denis Gnidash moved all-in pre-flop for just seven big blinds with
and was called by Afansenka with
. The coinflip situation played out in Afansenka's favor when the flop of
put the chip leader in a commanding position. Gnidash's hopes were raised on the
turn, but his flush draw missed when the
river fell.
Gnidash's chips had barely been digitally slid over to Afansenka's stack before another player was heading to the virtual rail. Yueqi Zhu min-raised pre-flop and got a call from both Kalidas in the small blind and the  Leng in the big blind. The flop of
8c]
was checked by both blinds, leading to a c-bet worth three big blinds from Gnidash and a call from Kalidas. Leng, however, shoved for a dozen more big blinds and was only called by Gnidash. Leng had moved all-in with
and had hit top pair, but it was well behind Gnidash's
, that was until the
turn sensationally gave Leng the lead. On the river of
, Leng faded a better two pair hand and both aces still in the deck to eliminate Gnidash and more than double his stack at the start of the hand.
Kalidas had lost his own momentum in the hand an moved all-in just a few hands later with
, but a re-shove from Leng to isolate with
worked out perfectly and through the
board, held with ease to move him within striking distance of chip leader Afansenka.
Just four players remained and for an extended period of time, play was tighter and pots were smaller, a situation which only saw Leng strengthen his position as the former WSOP bracelet winner took the chip lead. When Mandavia moved all-in pre-flop for 15 big blinds with
Leng called it off with
. The flop of
3h] gave both players a pair of queens, but Leng's kicker was the issue for Mandavia and through the
turn and
river, nothing changed to save the former bracelet winner against his similarly decorated rival.
Three-handed, Leng pushed both players into a situation where he held seven million chips, with just over half that amount shared between his two opponents. Despite that, the chips rebalanced and all three players traded the chip lead over a period where the stacks shallowed and Afansenka came out on the worst side of it. Eventually, he shoved pre-flop for less than eight big blinds with
. It was a good move and when Ciccone called with
it looked like it had been made at the perfect time, but a flop of
turned that on its head, and after the
turn and
river, the action was down to just two players for the bracelet.
Going into heads-up, Leng had a lead of 6.8 million to 4.9 million chips, but Ciccone leveled things up very shortly after heads-up play began, leaving both players averaging 17 big blinds.
Heads-up was a quick affair, but it wasn't without drama, as both players held the lead. It was Leng who had almost regained his initial lead going into the duel when he called Ciccone's minimum button-raise. The flop of
saw Ciccone c-bet for half the pot and Leng made the call.
The turn of
saw Ciccone bet a lot bigger, this time pumping 848,000 chips into a pot of 1.3 million. Leng, undeterred, moved all-in and gave Ciccone an agonizing decision that took the majority of their remaining time bank. Eventually, Ciccone called with
but top pair was no good, with Leng's
locking up the bracelet before the
river completed the deal.
It was an exciting event, with 561 entries as the prize pool of $504,900 was distributed between some of the best poker players in the game. Kathy Liebert cashed in 11th place for $5,553, while others to go close to making the final table included Alex Condon (21st for $2,978) and former WSOP Player of the Year challenger Dan Zack (29th for $2,474). Others to make the money in the event featured Michael Mizrachi (54th for $1,868), Vinny Pahuja (68th for $1,565) and Alex Rocha (85th for $1,414) with both the latter two players unable to emulate final table appearances earlier in the series.
Ciccone came close to winning the bracelet, earning $67,303 for his runner-up result. Lady luck was on Leng's side, however, as some superb play was rewarded with good fortune and a memorable victory worth $108,654 for the popular poker professional.
WSOP 2021 Online Series Event #13 $1,000 NLHE Freezeout Final Table Results:
Ryan 'Adopt_aDogg0' Leng – $108,654
Carmine 'Shem22' Ciccone – $67,303
Raman 'Acrogum' Afansenka – $46,349
Ankush 'rickrosstheb' Mandavia – $32,465
Krishna 'ninjago' Kalidas – $23,124
Yueqi 'anoob' Zhu – $16,762
Denis 'OJLimpson' Gnidash – $12,370
Dan ''Albacazapada' Stavila – $9,290
Jonas 'puffin_nails' Wexler – $7,119