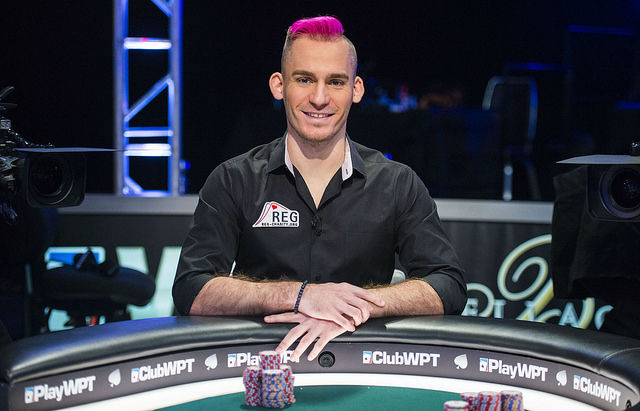 Many observers consider Ben 'Sauce123' Sulsky to be one of the best poker players in the world and on Sunday he provided more evidence to this after topping the PokerStars Spring Championship of Online Poker $25,000 Heads-up No Limit Hold'em event. Sulsky's win was one of 15 SCOOP events that wrapped up on Sunday.
Sulsky beat 'alimounda' in the Event #26 (High) final after dispatching 'donthnrmepls' in the semi-final to win $180,000. Finishing second was worth $100,000. Ben 'ben86' Tollerene lost in the semi-final to 'donthnrmepls'. Each semi-final loser won $60,000. The Medium version of the event was won by'mandza17′ for $88,800 while Luke 'LFMagic' Fields took home $28,491.87 for winning the Low version.

Sulsky wasn't the only high-profile winner on Sunday though.Justin Bonomo won Event #25 High ($2,100 Eight Game) for $95,680 and the second SCOOP title of his career. Bonomo overcame a stacked final table that included 'iteopepe88', Benjamin 'lulDocuments' Lukas and RaúlGonzalez. Brazilian 'fred_volpe' won the Medium version for $25,210.90 and 'phinster' topped the Low event for $11,281.02.
Possibly the toughest final table of the day though came in a game not spread very often – No Limit Omaha Eight or Better. Sam 'SamSquid' Grafton won the event for $51,285 after outlasting Bernardo 'Bedias' Dias, former #1-ranked Joao 'joaoMathias' Mathias Baumgarten, mixed game specialist Richard 'CHUFTY' Ashby and Brian 'Brianm15' England. The Medium version was chopped heads-up by 'Krakukra' and 'Jp_3391' for $18,405.36 and $16,097.76 respectively with 'Krakurkra' earning the title. The Low version was won by 'SomovRulit' for $6,873.19. Ukrainian 'gunnersfun' made both the final table of the Medium and Low version of the event, finishing third and second respectively.
SCOOP Event #24 (High): $530 Six Max NLHE Progressive KO
Entries: 1,111
Prize pool: $277,750 + $277,750 in bounties
Rino2016192 = $46,523.55 + $12,810.50 in bounties
etxnl01 – $34,718.75 + $23,230.38 in bounties
tomasko66 – $26,386.25 + $5,462.87 in bounties
Dsavo – $18,053.75 + $3,917.96 in bounties
julz1833 – $11,915.47 + $5,320.30 in bounties
spwipp – $8,332.50 + $5,886.70 in bounties
SCOOP Event #24 (Medium): $55 Six Max NLHE Progressive KO
Entries: 5,466
Prize pool: $136,650 + $136,650 in bounties
EyesNvrLie – $17,935* + $6,380.98 in bounties
t1moha17 – $17,597.64* + $1,588.47 in bounties
Ernão – $10,590.37 + $1,241.52 in bounties
Cinguzis – $6,490.87 + $828.38 in bounties
johnnycash65 – $3,874.02 + 826.31 in bounties
likasor09 – $2,049.75 + $2,366.69 in bounties
SCOOP Event #24 (Low): $5.50 Six Max NLHE Progressive KO
Entries: 16,552
Prize pool: $41,380 + $41,380 in bounties
RockyRoxin – $5,336.24 + $1,118.23 in bounties
stekubuk – $3,827.65 + $135.49 in bounties
Von Gerhardt – $2,586.25 + $284.29 in bounties
Jab0c0 – $1,344.85 + $310.79 in bounties
Mr.Lucky232 – $827.60 + $436.86 in bounties
bmorn – $434.49 + $69.00 in bounties
SCOOP Event #25 (High): $2,100 Eight Game
Entries: 208
Prize pool: $416,000
Justin 'ZeeJustin' Bonomo – $95,680
iteopepe88- $64,560
RaúlGonzalez – $49,920
Benjamin 'lulDocuments' Lukas – $33,280
EPUBLI2005 – $24,960
Maxxx72alba – $17,056
SCOOP Event #25 (Medium): $215 Eight Game
Entries: 715
Prize pool: $143,000
fred_volpe – $25,210.90
Skint Paddy – $18,590
diffsam – $14,300
kiy101 – $10,010
Boeken – $7,150
Leukotape – $4,290
SCOOP Event #25 (Low): $27 Eight Game
Entries: 2,917
Prize pool: $71,612.35
phinster – $11,281.02
NarTrivedi – $8,235.42
Pius 'MastaP89' Heinz – $6,015.43
mikal12345 – $3,902.87
scuadush – $2,493.54
wr3ckl3sss – $1,271.11
SCOOP Event #26 (High): $25,000 Heads-Up NLHE High Roller
Entries: 16
Prize pool: $400,000
Ben 'Sauce123' Sulsky – $180,000
alimounda- $100,000
donthnrmepls – $60,000
Ben 'Ben86' Tollerene – $60,000
SCOOP Event #26 (Medium): $2,100 Heads-Up NLHE High Roller
Entries: 148
Prize pool: $296,000
mandza17 – $88,800
Henrik 'kingsize86' Wahlberg – $53,280
RuckusTheJame – $29,600
weichhart – $29,600
SCOOP Event #26 (Low): $215 Heads-Up NLHE High Roller
Entries: 942
Prize pool: $188,400
Luke 'LFMagic' Fields – $28,491.87
HU4FU – $18,129.73
kobmish – $9,063.92
Decidophobie – $9,063.92
SCOOP Event #27 (High): $1,050 No Limit Omaha Eight or Better
Entries: 263
Prize pool: $263,000
Sam 'SamSquid' Grafton – $51,285.00
Bernardo 'Bedias' Dias – $38,135.00
Joao 'joaoMathias' Mathias Baumgarten – $28,930
Internett930 – $21,040.00
Richard 'CHUFTY' Ashby – $14,465.00
Antonio7 – $10,520.00
Brian 'Brianm15' England – $7,890.00
Robc1978 – $6,575.00
SCOOP Event #27 (Medium): $109 No Limit Omaha Eight or Better
Entries: 1113
Prize pool: $111,300
Krakukra – $18,405.36*
Jp_3391 – $16,097.76*
Gunnersfun – $11,130.00
Ales_84 – $7,791.00
Nemisoi – $5,565.00
Mr Longhit – $3,339.00
Desslock – $2,226.00
Zombob0 – $1,113.00
SCOOP Event #27 (Low): $11 No Limit Omaha Eight or Better
Entries: 4,362
Prize pool: $43,620
SomovRulit – $6,873.19
Gunnersfun – $4,786.85
Ainna88 – $3,882.18
Yakut888 – $3,009.78
Card-4-john – $2,137.38
Phillo283 – $1,264.98
Zvejyss10 – $545.25
Jonasof87 – $327.15
SCOOP Event #28 (High): $530 NLHE Progressive KO
Entries: 605
Prize pool: $302,500
Dennis 'Dberglin' Berglin – $28,435.33 + $11,543.65 in bounties
PanchoSuper – $20,721.25 + $11,907.66 in bounties
darthVaderNL – $15.276.25 + $1,734.37 in bounties
chipcomehere – $11,495.00 + $3,566.40 in bounties
AppelKruimel – $8,076.75 + $5,100.56 in bounties
Cinquzis – $6,428.12 + $2,812.48 in bounties
Respect_Lt – $4,915.62 + $3,068.34 in bounties
Arttyomka – 43,403.12 + $1,792.96 in bounties
SCOOP Event #28 (Medium): $55 NLHE Progressive KO
Entries: 2758
Prize pool: $137,900
morryAA – $10,861.03 + $3,914.25 in bounties
Zihuatanejo3 – $8,101.62 + $3,209.00 in bounties
Karafla-stam – $5,791.80 + $1,197.87 in bounties
Vershinin – $3,964.62 + $1,208.71 in bounties
Merceko – $2,999.32 + $367.94 in bounties
Termospullo – $2,309.82 + $1,577.54 in bounties
Stknsidewayz – 41,620.32 + $500.96 in bounties
MACC157 – $932.20 + $516.76 in bounties
SCOOP Event #28 (Low): $5.50 NLHE Progressive KO
Entries: 9563
Prize pool: $47,815
Mr_Plejer7x – $3,353.47 + $744.99 in bounties
Sladjan 68 – $2,438.56 + $43.38 in bounties
Sindrel – $1,721.34 + $367.83 in bounties
Alfonso306 – $1,195.37 + $248.74 in bounties
Korobochka2 – $956.30 + $246.24 in bounties
Kenny_rieger – $717.22 + $63.46 in bounties
Besgod – $478.15 + $135.76 in bounties
SERGEY AIS – $239.07 + $278.69 in bounties