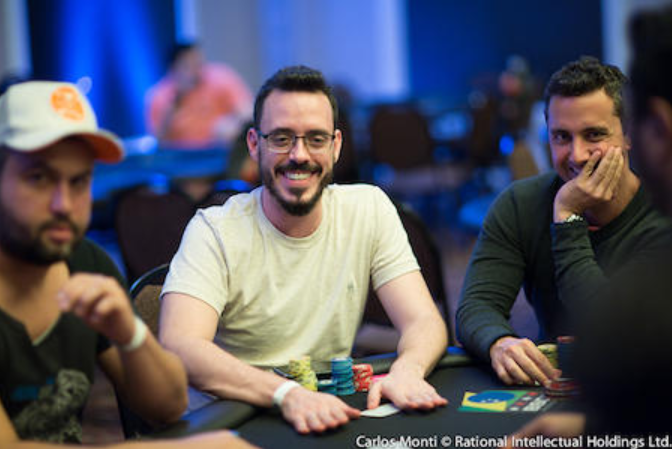 For years now, Brazil online poker players have enjoyed tremendous success during PokerStars Spring Championship of Online Poker. Thursday was no different as two Brazilians picked up SCOOP titles and another 14 showed up at final table.
Cassio 'cassiopak' Pisapia De Almeida Kiles, the #13-ranked player in Brazil, beat out 193 other players in Event #15 High ($5,200 No Limit Hold'em) to take home $189,820.91. Francisco 'Tomatee' Benitez finished one spot behind for $162,476.49. The final two players agreed to a chop after Dmitry 'yurasov1990' Yurasov was eliminated in third place.
Edison 'Edison82' Oliveira took down Event #17 Medium ($109 No Limit Hold'em) for $49,689.60. United Kingdom grinder 'Fabaz' finished runner-up for $35,418.28. Brazilians managed to take three more final table spots with 'reyals_rs' banking $2,247.34 for third place.
Andrei 'Premove' Skvortsov topped the 96-player field in Event #16 High ($2,100 Six Max No Limit Omaha Eight or Better) to win a career-best $47,793.24. 'Antonio7' earned $36,693.52 and 'vratario' won $28,171.68 for their respective second and third place finishes.
Canadian 'torscotr06' beat Ramiro 'ramastar88' Petrone heads-up to win Event #17 High ($1,050 No Limit Hold'em) and $99,030.41. Petrone had to settle for $73,841.96. Third place finisher 'Horho' wound up with $55,060.41.
Other Thursday winners included 'ghcastilho18', 'Swaggersorus', 'ImDaBest514', 'Edgy', and 'JanoePoker'.
Event #15 (Low): $55 No Limit Hold'em
Entries: 7,183
Prizepool: $359,150
ghcastilho18 – $48,684.45*
Jcastro18 – $38,677.59*
tobbe119 – $25,915.65
garrafailitro – $18,473.56
paolpius – $13,168.55
batataxpp – $9,386.99
MillWall1723 – $6,691.35
Prudently – $4,769.83
Event #15 (Medium): $530 No Limit Hold'em
Entries: 1,174
Prizepool: $
Swaggersorus – $92,313.46
runovych – $65,803.52
Proudflop – $46,907.05
TrAnEcId – $33,436.98
Roma-Tilt – $23,835.07
theNERDguy – $16,990.48
LiroLa – $12,111.45
RunGodlike – $8,633.47
Event #15 (High): $5,200 No Limit Hold'em
Entries: 194
Prizepool: $1,000,000
cassiopak – $189,820.91*
Tomatee – $162,476.49*
yurasov1990 – $119,422.40
Legenden – $92,657.60
Negriin – $71,891.30
fers223 – $55,779.10
BillLewinsky – $43,278
1_conor_b_1 – $33,578.50
Event #16 (Low): $22 Six Max No Limit Omaha Eight or Better
Entries: 2,502
Prizepool:
ImDaBest514 – $7,350.41
Pauli elTopo – $5,119.73
mmleandro – $3,567.28
birddy420 – $2,485.58
Jkeeeeee – $1,731.88
klimyes2009 – $1,206.72
Event #16 (Medium): $215 Six Max No Limit Omaha Eight or Better
Entries: 521
Prizepool: $104,200
Edgy – $18,436.12
BodogAri – $13,183.81
maggess88 – $9,428
jdaz111293 – $6,742.15
Vitek_vv – $4,821.44
kfasdfa – $3,447.91
Event #16 (High): $2,100 Six Max No Limit Omaha Eight or Better
Entries: 96
Prizepool: $200,000
Premove – $47,793.24
Antonio7 – $36,693.52
vratario – $28,171.68
Naza1114 – $21,628.96
jutrack – $16,605.76
shaundeeb – $12,749.18
Event #17 (Low): $11 No Limit Hold'em
Entries: 10,228
Prizepool: $100,234.40
JanoePoker – $13,394.99
4FKvothe – $9,326.65
jeanjrg1 – $6,498.54
lftgjc – $4,527.99
Jerederoca – $3,154.97
NeyAnderson – $2,198.29
sobbie222 – $1,531.70
ghost_st1 – $1,067.23
danisponja – $743.61
Event #17 (Medium): $109 No Limit Hold'em
Entries: 3,458
Prizepool: $345,800
Edison82 – $49,689.60
Fabaz – $35,418.28
reyals_rs – $2,247.34
Mborsoe2 – $17,997.16
bounty idiot – $12,828.97
HowLuck!@m – $9,144.92
Nextlevelftp – $6,518.77
69sBigLick – $4,646.82
filusPL – $3,312.41
Event #17 (High): $1,050 No Limit Hold'em
Entries: 561
Prizepool: $561,000
torscotr06 – $99,030.41
ramastar88 – $73,841.96
Horho – $55,060.41
Easterdamn – $41,055.88
necgaidziai – $30,613.37
Faaaarst – $22,826.92
ModzillaPL – $17,020.90
LintyontheLash – $12,691.67
NoTilit – $9,463.56