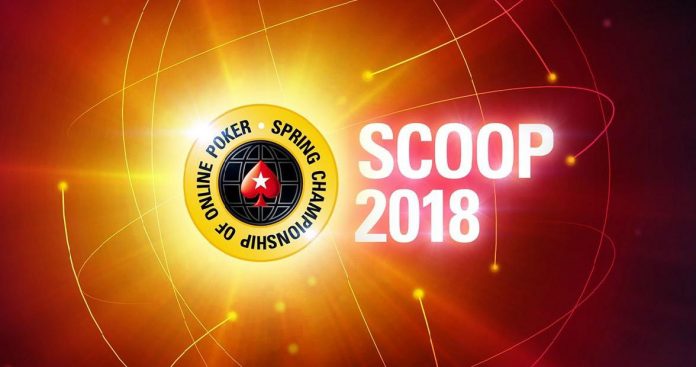 There was one last chance for players to hit top form before Sunday's Spring Championship of Online Poker Main Event tournaments get underway, as Canada's 'D PitcherAK' continued their hot streak to win their third title of the series and $197,847.
If you've had the opportunity to sit back, relax and listen to the latest PocketFives 'The Fives' podcast you will be aware that PocketFives President and Editor in Chief Lance Bradley, and fellow writer Matt Clark, discussed the real possibility of a triple SCOOP title winner this year, with a host of big names sat on two already. Lance reached out to PokerStars this week to clarify whether there had been a triple SCOOP title winner in a single series and they responded to say they had no record of this occurrence happening before. So despite reports in Italy saying that one player did achieve this feat way back during SCOOP series three, it would seem 'D PitcherAK' has done the impossible in Event #49-High ($1,050 No Limit Hold'em).
As the 1,267 player field whittled down to the final nine, there was an array of well-known crushers all looking to claim the $197,847 first-place prize. 'BetForNympho', Dennis 'DBerglin' Berglin, Alexandru 'alexxt7' Farcasanu, 'Killer_ooooo', 'bustoville' and Felipe 'mr.salgado30' Salgado all departed to leave the final three to do battle. 'TiltzPhil' took the bronze medal for a six-figure score of $104,270, which left 'Timonpoika' the only player standing between 'D PitcherAK' and a prestigious third series title. The Event #41-M and Event #18-M champion stood their ground and made it a hat-trick of titles after 'Timonpoika' fell in second-place for $143,630, and with two more days of SCOOP left to go, there is plenty of opportunities for 'D PitcherAK' to make it four!
The Event #49-Medium ($109 No Limit Hold'em) title was won by Fedor 'ftruncev' Truntsev after a three-handed deal was agreed. 'TranquilMind' accepted a prize of $45,922 before they exited in third-place with 'Anton720' settling for $45,500. The Russian Truntsev was able to defeat 'Anton720' heads-up and improved their bankroll by an impressive $51,159.
There was another three-handed deal in the $11 'Low' as 'LuckForWhat' took the majority share and the title. 'El Magnif1co' fell in third-place post-deal and was awarded their agreed upon amount of $12,311 before 'sjeverest' was knocked out for $11,586 by 'LuckForWhat', who banked $16,317.
Anton 'antesvante' Wigg, Aaron Been, Charlie 'JIZOINT' Combes and Renato 'renaton' Nomura all made the final table of Event #47-High ($530 Eight Max No Limit Hold'em) before '69sBigLick' and 'Panini1234′ agreed to a heads-up deal. After 'Bigfish112392' took third-place for $38,292, the final two agreed upon how the remaining prize pool would be shared before the play resumed with 'Panini1234′ taking the victory. Runner-up '69sBigLick' banked $58,794 with the winner scoring $64,583.
Another deal was made in the $55 'Medium' as 'sgsabioni' took the biggest prize worth $25,000, but not the title. After Carlos 'ellocoferasi' Ronielle, 'OMGRubCasco' and former Super Tuesday winner Jerry 'Perrymejsen' Ödeen had departed from the final six, the remaining three players struck a deal. 'SOUFODAMS' agreed to $18,000 before they exited with a bronze medal, and 'sgsabioni' was awarded the largest share worth $25,000. However, they could not go the distance and take the title as well after 'WestCliff21' pulled it back to claim victory and a prize worth $23,349.
And in the $5.50 'Low', Brazil's Rodolfo 'Polsk2601' Vargas outlasted 12,140 other players to claim the first-place prize of $7,670, after he eliminated 'Busuzima102' during heads-up play for $5,457.
Former PocketFives world #1 Joao 'INeedMassari' Simao picked up a SCOOP title to go alongside their WCOOP win in Event #48-High ($2,100 Six Max PLO Win the Button). The current Brazil #2 won $100,782 for coming through the 264 player field and beat 'magiet12' into second-place for $74,703. The Brazilian's win comes days after their fourth-place finish in Event #45-High for $48,806.
The $215 'Medium' was won by 'pm_marke' for a prize of $31,694 after a heads-up battle with 'ItsMyTurrn'. WCOOP title holder "omaha4rollz' had taken third-place for $15,387 before play resumed with the runner-up 'ItsMyTurrn' ultimately departing for a score worth $22,083. 'st1ft' went the distance on the $22 'Low' final table that featured 'IlDepredator' and 'ImluckNuts'. LPE22' was able to battle their way into second-place for $7,925 with the title winner 'st1ft' banking $11,377.
Event #50 saw the final tournaments take place on Day 14 of SCOOP and the introduction of Badugi. Event 04#-M Sunday Million champion' XD89lol<3' could only make it to fourth-place for $8,835 in the $1,050 'High' before the final three players talked numbers. 'aDrENalin710' was happy with $16,477 and was then the first to fall. Adam 'Adamyid' Owen agreed to take $17,919 before failing to beat Andrey 'Kroko-dill' Zaichenko heads-up. The Russian, who already has two bronze medals so far this series, went the distance this time for a prize worth $21,171.
The $109 'Medium' title went to 'silna_rakia' after they got the better of 'High' final table member 'raidalot', who this time earns $4,873 for second place. The Bulgarian winner adds the Badugi title to their name alongside $6,583. And in the $11 'Low', Arild Rotmo added $2,736 to their bankroll after edging out 'ChaseTurner9', who took away $1,953 for finishing as runner-up.
Event #47 (Low): $5.50 Eight Max No Limit Hold'em
Entries: 12,141
Prize pool: $59,490.90
Polsk2601 – $7,670.44
Busuzima102 – $5,457.93
fish_san – $3,890.59
CatchSomeAce – $2,773.34
kalinaj – $1,976.94
Gulmamedov – $1,409.22
gaboor – $1,004.54
satikae – $716.07
Event #47 (Medium): $55 Eight Max No Limit Hold'em
Entries: 4,210
Prize pool: $210,500
WestCliff21 – $23,349.81*
sgsabioni – $25,000.00*
SOUFODAMS – $18,000*
Perrymejsen– $10,627.97
OMGRubCasco – $7,515.12
ellocoferasi – $5,313.98
oyarzun2010 – $3,757.57
reidar1986 – $2,657.01
*denotes three-handed deal
Event #47 (High): $530 Eight Max No Limit Hold'em
Entries: 847
Prize pool: $423,500
Panini1234 – $64,583.00*
69sBigLick – $58,794.24*
Bigfish112392 – $38,292.02
renaton – $28,087.15
JIZOINT – $20,601.87
AaronBeen – $15,111.45
Sykoen – $11,084.22
antesvante – $8,130.22
*denotes heads-up deal
Event #48 (Low): $22 Six Max PLO Win the Button
Entries: 3,979
Prize pool: $79,580
st1ft – $11,377.67
LPE22 – $7,925.80
oversleep – $5,522.48
pretend96t – $3,847.91
ImluckNuts – $2,681.12
IlDepredator – $1,868.14
Event #48 (Medium): $215 Six Max PLO Win the Button
Entries: 962
Prize pool: $192,400
pm_marke – $31,694.91
ItsMyTurrn – $22,083.65
omaha4rollz – $15,387.28
missdj2013 – $10,721.45
tarantaleo – $7,470.41
jutrack – $5,205.18
Event #48 (High): $2,100 Six Max PLO Win the Button
Entries: 264
Prize pool: $528,000.00
IneedMassari – $100,782.95
magiet12 – $74,703.92
Nessilita – $55,373.31
_TheJds_ – $41,044.76
IamTetra – $30,423.83
ghost crab – $22,551.30
Event #49 (Low): $11 No Limit Hold'em
Entries: 16,937
Prize pool: $165,982
LuckForWhat – $16,317.81*
sjeverest – $11,586.99*
El Magnif1co – $12,311.86*
race2carlow – $6,683.93
ReSoN.NL – $4,805.79
Cep911 – $3,455.40
Setosun – $2,484.46
Ilshat o11my – $1,786.33
kao4pino – $1,284.38
*denotes three-handed deal
Event #49 (Medium): $109 No Limit Hold'em
Entries: 4,539
Prize pool: $453,000
ftruncev – $51,159.42*
Anton720 – $45,500.01*
TranquilMind – $45,922.57*
Virgilik – $22,839.35
LOL ImDrunk – $16,149.90
Lisboa_Fer – $11,419.72
yukeepplayin – $8,074.99
krousmenos46 – $5,709.88
BrunoCaetano – $4,037.49
*denotes three-handed deal
Event #49 (High): $1,050 No Limit Hold'em
Entries: 1,267
Prize pool: $1,267,000
D PitcherAK – $197,847.42
Timonpoika – $143,630.16
TiltzPhil – $104,270.93
mr.salgado30 – $75,697.42
bustoville – $54,953.84
Killer_ooooo – $39,894.66
alexxt7 – $28,962.22
DBerglin – $21,025.61
BetForNympho – $15,263.92
Event #50 (Low): $11 FL Badugi
Entries: 1,595
Prize pool: $15,631
Rotmo – $2,736.69
ChaseTurner9 – $1,953.87
pokerrich37 – $1,484.94
HWardinator – $1,094.17
dendroid – $781.55
BEGEMOTIK3 – $468.93
Netinho_RJ – $312.62
sandman201 – $156.31
Event #50 (Medium): $109 FL Badugi
Entries: 342
Prize pool: $34,200
silna_rakia – $6,583.50
raidalot – $4,873.50
giyoung1123@ – $3,676.50
nb_communist – $2,650.50
munchenHB – $1,795.50
ImluckNuts – $1,282.50
NBoss87 – $940.50
vovtroy – $769.50
Event #50 (High): $1,050 FL Badugi
Entries: 93
Prize pool: $93,000
Kroko-dill – $21,171.07*
Adamyid – $17,919.03*
aDrENalin710 – $16,477.40*
XD89lol<3 – $8,835.00
Pfft_Hole – $6,510.00
hotmark777 – $4,882.50
MUSTAFABET – $3,952.50
raidalot – $3,022.50
*denotes three-handed deal