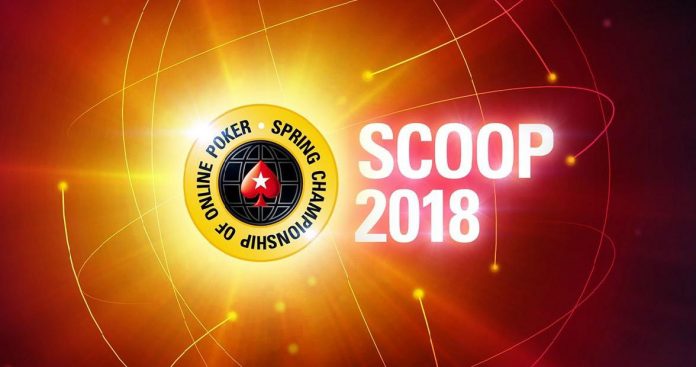 The penultimate day of PokerStars Spring Championship of Online Poker 2018 saw yet another player bag their second title of the year. This time it was Canada's 'OLD TIME GIN' picking up a second win, joining nine other players who have won two titles this year.
'OLD TIME GIN' beat out 337 other players to win Event #59-High ($1,050 Six Max Pot Limit Omaha Eight or Better) for $54,016.67. The win came after the final three players agreed to a deal. Runner-up 'Shanis34' walked away with $43,271 and third-place finisher 'DSmunichlife' took home $45,722.90.
'OLD TIME GIN' won Event #37-High ($2,100 NLHE Super Tuesday SE) a week earlier for his first SCOOP win of the year. The other nine players with two SCOOP titles this year are 'Nilsef', 'Villepn', 'Lena900', Ole 'wizowizo' Schemion, Roman 'RomeOpro' Romanovsky, Jerry 'Hummylun' Wong, Rui 'RuiNF' Ferreira, 'Tr!pleeeee' and Calvin 'cal42688' Anderson.
The biggest winner of the day was Russian 'Maestro_Bolt' who took down Event #1-High ($215 NLHE Phases) for $345,762.20. Prior to Monday's win, the biggest score of his career was just over $12,000 and came five years ago. Three other players picked up six-figure scores behind 'Maestro_Bolt'. Runner-up 'Vakio_Assa' earned $246,882.34 while Douglas 'dougalopes' Lopes and 'Chester20o' picked up $176,300.87 and $125,898.13 for their respective third and fourth place finishes.
Romania's Vlad 'dariepoker' Darie won Event #57-High ($2,100 Eight Max NLHE) for $240,039.17 and his first SCOOP title. Runner-up '444446' won $175,783.14 and former #1-ranked Tim 'Tmay420' West rounded out the podium finishes, earning $128,728.20 for finishing third.
Event #56 (High): $530 No Limit Hold'em
Entries: 1,197
Prize pool: $598,500
WhooooKidd – $90,192.79*
josip1313 – $74,602.91
psxfrcndhe – $50,330.91
RedPantRed – $36,543.27
shenideda – $26,532.70
LPE22 – $19,264.33
TranquilMind – $13,987.12
Schabi10 – $10,155.52
willwin88 – $7,373.52
Event #56 (Medium): $55 No Limit Hold'em
Entries: 5,868
Prize pool: $293,400
PaDiLhA SP – $41,702.33
JKIST04 – $29,053.17
dStrojR – $20,243.45
dinamomos666 – $14,105.11
mjw006 – $9,828.07
Avi Popo – $6,847.95
Virgin2This – $4,771.47
jombas – $3,324.66
JonzStars – $2,316.53
Event #56 (Low): $5.50 No Limit Hold'em
Entries: 12,668
Prize pool: $62,073.20
NeveGiveUp – $7,939.05
nateshot3 – $5,561.11
JUCA_PIRAMA1 – $3,902.61
kidpoker10110 – $2,738.73
DDiddyNut – $1,921.94
ActionAleks – $1,348.75
npc018 – $946.51
hhxxttxs2016 – $664.23
A.Kuznecow – $466.13
Event #57 (High): $2,100 Eight Max No Limit Hold'em
Entries: 705
Prize pool: $1,410,000
dariepoker – $240,039.17
444446 – $175,783.14
Tmay420 – $128,728.20
Sphinx87 – $94,629.21
Black88 – $69,034.44
Vojta_R – $50,554.84
BillLewinsky – $37,021.94
cocojamb0 – $27,111.62
Event #57 (Medium): $218 Eight Max No Limit Hold'em
Entries: 4,221
Prize pool: $844,200
landing_net – $120,558.79
gimley14 – $85,245.88
87bowser – $60,277.90
Cru$h7r – $42,622.98
MarekP96 – $30,139.03
bettoBR – $21,311.49
SELOUAN1991 – $15,069.56
Kappustahead – $10,655.83
Event #57 (Low): $22 Eight Max No Limit Hold'em
Entries: 13,920
Prize pool: $278,400
aasdriaaan – $34,529.46
zocker87 – $24,605.29
P U N I O – $17,539.47
app1961 – $12,502.72
dieison07 – $8,912.36
thelukystump – $6,353.06
MaximeC25 – $4,528.64
svArminia08 – $3,228.18
Event #1 (High): $215 No Limit Hold'em Phases
Entries: 966
Prize pool: $2,350,600
Maestro_Bolt – $345,762.20
Vakio_Assa – $246,882.34
dougalopes – $176,300.87
Chester20o – $125,898.13
TaoJ – $89,904.80
Bjuran – $64,201.93
bagoch – $45,847.27
AnyTw0_Card$ – $32,739.86
dvxclusive – $23,380.00
Event #1 (Medium): $22 No Limit Hold'em Phases
Entries: 4,423
Prize pool: $1,210,340
daBuStar – $142,569.90*
PokerDave476 – $122,801.88*
jays94 – $78,070.56
ColdDry1710 – $55,359.86
quekoP – $39,255.56
bootycheck – $27,836.12
AAligator33 – $19,738.46
dinos622 – $13,996.49
isildur9569 – $9,924.90
Event #1 (Low): $2.20 No Limit Hold'em Phases
Entries: 9,114
Prize pool: $238,657.44
maxallison – $26,234.85*
matheus_ps10 – $21,174.47*
spartanec113 – $17,828.11*
spsahas – $10,220.43
Pictito – $7,157.16
wellyone – $5,012.02
SarubinMirko – $3,509.81
laur1990 – $2,457.86
1BobbyBrown1 – $1,721.19
Event #59 (High): $1,050 Six Max Pot Limit Omaha Eight or Better
Entries: 338
Prize pool: $338,000
OLD TIME GIN – $54,016.67*
Shanis34 – $43,271.00*
DSmunichlife – $45,722.90*
Ravenswood13 – $24,443.04
XD89lol<3 – $17,796.64
fjutekk – $12,957.50
Event #59 (Medium): $109 Six Max Pot Limit Omaha Eight or Better
Entries: 1,494
Prize pool: $149,400
Oledjan – $22,793.33
Pikiniki TM – $15,880.66
Lystig – $11,065.22
Matuks – $5,372.08
razum1973 – $3,743.11
Event #59 (Low): $11 Six Max Pot Limit Omaha Eight or Better
Entries: 5,416
Prize pool: $53,076.80
clemidelux – $7,551.36
Oledjan – $5,259.12
newsworthy1 – $3,664.41
finalvision – $2,553.25
xbelieverx – $1,779.03
mikkelangel0 – $1,239.58
Event #61 (High): $1,050 Eight Max NLHE Progressive KO
Entries: 1,690
Prize pool: $1,690,000
Tomatee – $128,217.18 + $78,010.66 (in bounties)
DEX888 – $91,387.05 + $31,916.98 (in bounties)
markovitsus – $65,141.02 + 33,537.10 (in bounties)
raidalot – $46,441.87 + $15,808.60 (in bounties)
buck21 – $33,105.32 (in bounties)
Dreiven – $23,598.65 + $8,554.68 (in bounties)
Illni213 – $16,821.92 + $10,359.38 (in bounties)
Epiphany77 – $11,991.22 + $9,757.81 (in bounties)
Event #61 (Medium): $109 Eight Max NLHE Progressive KO
Entries: 9,848
Prize pool: $984,800
ghertzoaica – $62,021.71* + $30,373.28 (in bounties)
Atuth1 – $51,832.20 + $3,964.06 (in bounties)
fronk_donk – $33,774.35 + $5,963.69 (in bounties)
Cobus83 – $24,075.55 + $3,119.60 (in bounties)
Tryn2Survive – $17,161.91 + $5,027.06 (in bounties)
SidneyAKQJ – $12,233.57 + $3,337.66 (in bounties)
gortsos – $8,720.55 + $3,510.51 (in bounties)
xxlwantedlxx – $6,216.30 + $2,751.54 (in bounties)
Event #61 (Low): $11 Eight Max NLHE Progressive KO
Entries: 28,147
Prize pool: $275,840.60
thirtysixxer – $13,326.31* + $4,490.23 (in bounties)
dubfitz – $9,971.65* + $554.09 (in bounties)
cliwind – $6,906.89 + $1,021.89 (in bounties)
leigu – $4,923.47 + $1,908.03 (in bounties)
Tomatee – $2,501.79 + $542.98 (in bounties)
Oddiboi – $1,783.36 + $461.01 (in bounties)
rdglok – $1,271.26 + $1,057.24 (in bounties)
sjokoladenam – $906.20 + $350.87 (in bounties)