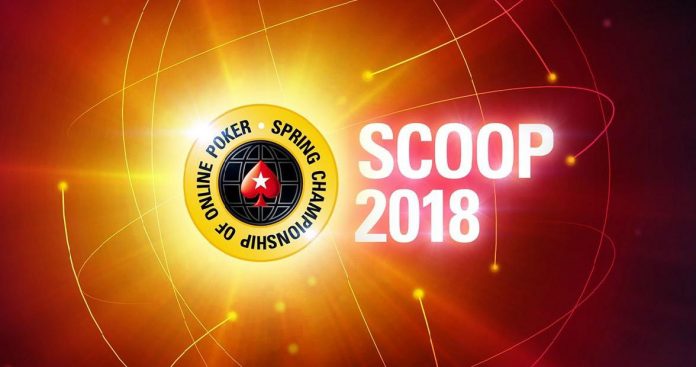 As this year's Spring Championship of Online Poker edges closer to its final few days of play 12 more titles were handed out on Thursday but nobody walked away with a bigger score than 'Remi Lebo_10'. The Ukranian grinder won a massive $236,000 on Day 13 of SCOOP after he was crowned Event #45-High Thursday Thrill champion.
'dadowiec' was able to defeat 'Vico$carpini' heads-up to win Event #44-High ($530 Six Max NLHE) for $75,202, with the Brazilian runner-up banking $52,400. The $55 'Medium' crown went to 'El Pulgoso', who picked up their first SCOOP title after defeating 'sprocketsAA' for the first-place prize of $28,747. In the $5.50 'Low', 'cl1nt0n','Reiarturo','Harald308' and 'zachuPL' agreed to a four-way money-deal before 'cl1nt0n' went on to claim the victory and a $5,655 score.
Event #45 saw the conclusion of both the Thursday Thrill and the Mini Thrill as 'Remi Lebo_10' and Ben 'jenbizzle' Jones picked up the wins. 'Remi Lebo_10', who is currently ranked #2 in Ukraine just behind high-stakes crusher Roman Romanovsky, came through a tough final table that featured former world #1's 'p0cket00' and Joao Simao, Simon  'IgorKarkarof' Pedersen, 'hneves182' and Razvan 'razvyqq' Belea. Maszat 'noirduck' Marci was the Ukrainian's opponent heads-up before the Hungarian fell and took the $91,008 runner-up prize as former Sunday Warm-Up champion 'Remi Lebo_10' collected their first SCOOP title and a prize total worth $236,782 (including bounties).
The UK's Ben 'jenbizzle' Jones picked up his second SCOOP title of the series after a gold medal in the 'Medium' Mini Thursday Thrill. Jones collected his largest online cash to date just eight days ago when he won Event #14-Low for $162,039 and proved it wasn't a fluke by going all the way once again for a total of $93,446 (including bounties). 'deeflame7' was the player he defeated heads-up and they claimed a total of $47,238 for second place.
'ScarantoLeo' navigated their way through the sizeable 13,415 player field in the $22 'Low' to bank $21,285. It was another example of the SCOOP series giving players the chance to win big scores for low buy-ins, with 'Ninelichkaa' collecting $12,925 as runner-up.
Event #46 saw another set of 8-Game tournaments come into the SCOOP mix as 'jutrack' took down the $530 'High' for $34,440. On the final table of six, PocketFives' Germany #1 'nilsef' was the first to exit for $6,560, with former world #1 'shaundeeb' taking fourth for $13,120. After 'ROBBED6969' took away $18,860 for third, 'KeysOfCyprus' was left to do battle with 'jutrack' but ultimately had to settle for the silver medal prize of $25,092.
A three-way deal in the $55 'Medium' saw 'TheAmazonas' earn $6,144 for third-place, 'BlackJJesus' pick up $5,575 for second-place and 'gangst3rn1' the title alongside $7,617 in first. The $5.50 'Low' was taken down by 'calvin7v' for $2,130 after they eliminated 'ohhsuitsusir' into second for $1,554.
The final tournaments on Day 13 of SCOOP saw Event #51 3-Max Turbo Zoom No Limit Hold'em PKO. Daniel 'starwins :)' Petersen came out on top in the $530 'High' for a total of $75,564 after he defeated 'wubblepig' heads-up once a deal was agreed. The runner-up took away a total of $42,416 for their share of the deal, with well-known UK grinder Tom 'Jabracada Hall' also banking a total of $16,758 after he finished in fourth-place from the 1,190 player field.
Gustavo 'PIUlimeira' Goto won the $55 'Medium' for $30,865 after David 'daveyt86' Tompkins had exited in second-place for $16,215. Ireland's Paul 'ros1987' Allen took third-place for a total of $13,995 after Arthur Souza de Campos exited in fourth for $7,822.
And in the $5.50 'Low', 'Stathis SP#3' was the final player standing from the 16,080 player field to earn the title and a total of $5,993 after they defeated 'costa1102' heads-up, who won a prize of $3,689, including bounties.
Event #44 (Low): $5.50 Six Max NLHE 
Entries: 10,146
Prize pool: $50,000
cl1nt0n – $5,655.11*
Reiarturo – $3,828.28*
Harald308 – $3,757.14*
zachuPL – $3,677.84*
zbor12 – $1,581.70
amerikanu85 – $1,102.08
*denotes four-handed deal
Event #44 (Medium): $55 Six Max NLHE 
Entries: 4,023
Prize pool: $201,150
El Pulgoso – $28,747.79
sprocketsAA – $20,029.49
CaioCapT – $13,955.98
reymaniak – $9,724.13
zigosoft77 – $6,775.49
Erikajax1 – $4,720.97
Event #44 (High): $530 Six Max NLHE 
Entries: 917
Prize pool: $458,500
dadowiec – $75,202.18
Vico$carpini – $52,400.95
Respect_Lt – $36,513.38
Elmagico19A1 – $25,442.71
OMGjonyctt – $17,728.63
ZF19 – $12,353.41
Event #45 (Low): $22 No Limit Hold'em PKO
Entries: 13,415
Prize pool: $268,300
ScarantoLeo – $16,806.67 + $4,479.55 (in bounties)
Ninelichkaa – $11,973.86 + $952.35 (in bounties)
Kasian80 – $8,535.38 + $2,391.85 (in bounties)
hyfie – $6,084.30 + $1,038.09 (in bounties)
xGuErReRox – $4,337.09 + $786.16 (in bounties)
Fox_MEF – $3,091.62 + $1,056.33 (in bounties)
Event #45 (Medium): $215 No Limit Hold'em PKO Mini Thursday Thrill
Entries: 3,988
Prize pool: $797,600
jenbizzle – $57,021.17 + $36,425.23 (in bounties)
deeflame7 – $40,645.33 + $6,593.05 (in bounties)
PAAdentr00!! – $28,973.41 + $4,474.39 (in bounties)
sidlovskiy89 – $20,653.25 + $10,933.50 (in bounties)
chipcomehere – $14,722.37 + $2,010.16 (in bounties)
[Esmone_PT] – $10,494.62 + $5,623.04 (in bounties)
am4ever1111 – $7,480.96 + $3,184.00 (in bounties)
Asul – $5,332.71 + $8,097.19 (in bounties)
geo4111 – $3,801.32 + $1,122.67 (in bounties)
Event #45 (High): $2,100 No Limit Hold'em PKO Thursday Thrill
Entries: 730
Prize pool: $730,000
Remi Lebo_10 – $124,275.94 + $112,507.80 (in bounties)
noirduck – $91,008.29 + $23,109.38 (in bounties)
razvyqq – $66,646.51 + $15,609.38 (in bounties)
IneedMassari – $48,806.04 + $55,726.56 (in bounties)
hneves182 – $35,741.23 + $7,062.50 (in bounties)
ale6ka – $26,173.78 + $7,000.00 (in bounties)
IgorKarkarof – $19,167.39 + $2,562.50 (in bounties)
p0cket00 – $14,036.51 + $23,718.75 (in bounties)
Stakelis24 – $11,223.23 + $19,203.13 (in bounties)
Event #46 (Low): $5.50 8-Game
Entries: 2,758
Prize pool: $13,514.20
calvin7v – $2,130.98
ohhsuitsusir – $1,554.13
udacha2706 – $1,135.19
GuesWho'sBac – $736.52
Loko12rus400 – $470.56
Fun Sugom890 – $239.87
Event #46 (Medium): $55 8-Game
Entries: 998
Prize pool: $49,900
gangst3rn1 – $7,617.24*
BlackJJesus – $5,575.32*
TheAmazonas – $6,144.08*
Desateur – $3,243.50
asdf26 – $2,245.50
Toreadorgr – $1,497.00
*denotes three-handed deal
Event #46 (High): $530 8-Game
Entries: 328
Prize pool: $164,000
jutrack – $34,440.00
KeysOfCyprus – $25,092.00
ROBBED6969 – $18,860.00
shaundeeb – $13,120.00
merla888 – $9,840.00
nilsef – $6,560.00
Event #51 (Low): $5.50 3-Max PKO Zoom Turbo NLHE
Entries: 16,080
Prize pool: $78,792
Stathis SP#3 – $4,288.05 + $1,705.59 (in bounties)
costa1102 – $2,795.94 + $894.33 (in bounties)
J Thirteen – $1,827.63 + $161.84 (in bounties)
-t1me2sh1ne- – $1,194.66 + $250.37 (in bounties)
PLatoniys – $1,194.66 + $359.49 (in bounties)
Event #51 (Medium): $55 3-Max PKO Zoom Turbo NLHE
Entries: 6,417
Prize pool: $160,425
PIUlimeira – $22,798.50 + $8,067.81 (in bounties)
daveyt86 – $14,900.69 + 1,315.14 (in bounties)
ros1987 – $9,740.17 + $4,255.75 (in bounties)
ArthurdeCamp – $6,366.88 + $1,456.47 (in bounties)
xowiec – $6,366.88 + $2,078.97 (in bounties)
Event #51 (High): $530 3-Max PKO Zoom Turbo NLHE
Entries: 1190
Prize pool: $297,500
starwins 🙂 – $42,530.82* + $33,034.66 (in bounties)
wubblepig – $35,644.15* + $6,772.57 (in bounties)
BIack88 – $16,520.20 + $5,674.07 (in bounties)
Jabracada – $10,880.34 + $5,958.01 (in bounties)
mostisss – $10,880.34 + $5,273.44 (in bounties)
*denotes heads-up deal