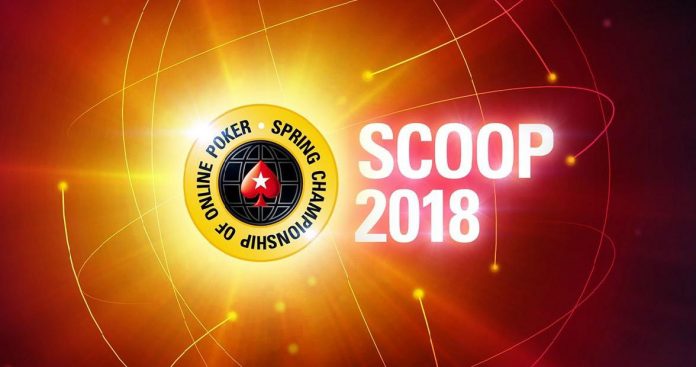 The final day of PokerStars Spring Championship of Online Poker 2018 went into overtime, but as the final cards were dealt, Austrian grinder 'Tankanza' emerged victorious after taking down the SCOOP (High) Main Event for a $1.13 million score. That event was one of three Main Events to finish on Tuesday as the 17-day festival ended.
As expected, the $10,300 buy-in High Main Event final table was a star-studded affair with two former #1-ranked PocketFivers and a Triple Coop winner. 'Tankanza' eliminated the Triple COOP winner, Thomas 'WushuTM' Muehloecker in sixth while the two former #1s couldn't stay out of each other's way and Chris 'Big Huni' Hunichen sent current #1, 'lena900', to the rail in seventh.
Hunichen went out in third place leaving 'Tankanza' and 'nailuj90' to battle for the title and seven-figure score. It didn't take too long for the final two players to start talking deal but 'Tankanza' had no interest in giving up any equity and the only thing the two players could agree on was to continue playing.
It took almost four hours before 'Tankanza' picked up just his second elimination of the final table by busting 'nailuj90' to claim victory. 'nailuj90' took home $837,473.81 as runner-up. There were a total of five players at the final table from Austria: 'Tankanza', 'nailuj90', 'mikki696' (4th), Muehloecker (6th), and 'caaaaamel' (8th).
Even with all the money at stake at each of the Main Event final tables, none of them managed to find common ground for a deal to be made.
'Wildace_hun' outlasted 3,846 other players to win the Medium Main Event for $783,165.95 while runner-up 'VICTOR TXR1' had to settle for $545,685.82. Johannes 'Greenstone25' Korsar picked up just over $89,000 for finishing seventh.
The Low version Main Event, with a $109 buy-in, had a massive field of 18,511 plus 7,850 re-entries, to put the total prize pool to just over $2.6 million. Germany's 'Cashcid Linc' walked away with the title and $267,583.62 after beating 'marjanko89' heads-up.
Event #58 (High): $10,300 NLHE Main Event
Entries: 654
Prize pool: $6,540,000
Tankanza – $1,133,160.03
nailuj90 – $837,473.81
Chris 'Big Huni' Hunichen – $618,943.63
mikki696 – $457,436.37
ULOSEMFKR!! – $338,072.87
Thomas 'WushuTM' Muehloecker – $249,856.12
Niklas 'Lena900' Åstedt – $184,658.86
caaaaamel – $136,474.10
JayP-AA – $100,862.49
Event #58 (Medium): $1,050 Main Event
Entries: 5,508 (3,847 entries, 1,661 re-entries)
Prize pool: $5,508,000
Wildace_hun – $783,165.95
VICTOR TXR1 – $545,685.82
Cottonbud07 – $380,219.44
OverTheTop43 – $264,926.53
ilir3 – $184,594.01
easy live – $128,620.06
Johannes 'Greenstone25' Korsar – $89,619.56
Flavio 'flavioreis88' Rei – $62,444.74
chry1982 – $43,509.89
Event #58 (Low): $109 Main Event
Total entries: 26,361 (18,511 entries, 7,850 re-entries)
Prize pool: $2,636,100
Cashcid Linc – $267,583.62
marjanko89 – $192,380.46
Kabotajoe – $138,323.54
aetos2drama – $99,456.09
allin0709 – $71,510.01
AcckiySotona – $51,416.33
B1GF1SH89 – $36,969.19
50km – $26,581.37
merla888 – $19,112.51