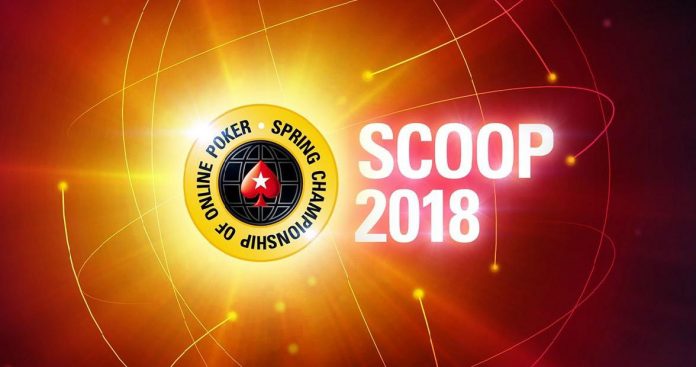 Day 10 of the 2018 PokerStars Spring Championship of Online Poker saw Limit Stud, and Four Max events added to the mix with 'reverdy365' claiming the biggest prize of the day for $155,000.
'reverdy365' was able to outlast a field comprised of 2,464 entrants to take down Event #34-High ($530 Six Max PKO No Limit Hold'em) and win $155,317, which included a massive $64,676 in bounties. Brazil's Rafael 'LiroLa' Monteiro took the runners-up spot for $71,000, with former Sunday Million bronze medalist 'Floweerboy' banking $46,000 in third place.
Ricardo 'Rick7BR' Velôso was the victor in Event #34-Low for $9,200 after he beat out the enormous 27,479 player field. The Brazilian defeated 'Miauzão' heads-up, who took away $4,800 in second. In the $55-Medium event, 'roaden' took the SCOOP title after they defeated 'Hoelle1' for the $37,999 first-place prize. Their victory also earnt them the very nice sum of $13,131 in bounties, with second-place 'Hoelle1' taking away a total of $27,800.
Event #33 saw the introduction of the Stud Hi/Lo tournaments, and it proved to be a welcome addition for 'Leon_Javur'. The Estonian won their first SCOOP title for coming top of the field in the $11-Low to bank $4,196, while also brilliantly making it to heads-up play in the $109-Medium event. However, 'TheHamHunter' was hunting a title of their own and stood in the way of 'Leon_Javur' from securing a second SCOOP title of the day after the two players had agreed to a money-deal. With the prize money now chopped up, it was all about the win and 'TheHamHunter' held their nerve to eliminate the Event #33-Low champion into second-place for $10,447, with the victor taking away $11,754.
In the $1,050-High event, Russia's 'ImluckNuts' became a SCOOP and WCOOP title-holder after achieving victory for $31,490. The Russian claimed first-place in last year's WCOOP Event #17-High 8-Game for $25,880, and this time around won another gold medal for defeating 'jerryfci' after a heads-up deal had been made, with the runner-up taking away $30,717 for their agreed upon share of the prize pool.
It was all about the short-handed play in Event #38 as players took part in the Four-Max PKO Pot Limit Omaha tournaments. Krasimir 'Kraskata85' Yankov won a staggering $41,853 in bounties during their victory in the $530-High after a heads-up deal was agreed with '12maxel13′. The eventual runner-up, '12maxwel13′ took away $25,171 + $3,781 in bounties as winner Yankov collected a total of $72,300 and the title. There was also final table appearances for current world #11 'Sasuke234' from Sweden, and 2015 SCOOP $10,300 Main Event runner-up Maroonlime, who finished in third-place for a total of $15,780.
Ireland's Brendan 'Daehbonk' Naughton won their first SCOOP title after outlasting the 3,426 player field in the $55-Medium. The victory banked him $21,800 (including bounties) as 'nally18' collected $8,700 in second.
The $5.50-Low buy-in tournament was taken down by 'jokkee_apart' for $3,380.73 + $1,462.88 (in bounties) after 'ZAVOD_ZT' had finished in second-place for a post heads-up deal amount of $2,780.36 + $362.15 (in bounties).
Below are the SCOOP results for Tuesday May 15:
Event #33 (Low): $11 Stud Hi/Lo
Entries: 2,518
Prize pool: $24,676.40
Leon_Javur – $4,196.92
elabuga – $2,961.16
psholka – $2,220.87
adrian2315 – $1,727.34
comeonrsca – $1,233.82
iGrind4Chips – $740.29
Natural_Phe – $493.52
pornfighter – $246.76
Event #33 (Medium): $109 Stud Hi/Lo
Entries: 688
Prize pool: $68,800
TheHamHunter – $11,754.28*
Leon_Javur – $10,447.48*
kidpokerX7 – $6,880.00
virvuglaz – $5,160.00
kay3000 – $3,440.00
100naPuK – $2,408.00
CandyJohnson – $1,548.00
Zanos_Goda – $1,032.00
*denotes heads-up deal
Event #33 (High): $1,050 Stud Hi/Lo
Entries: 167
Prize pool: $167,000
ImluckNuts – $31,490.00*
jerryfci – $30,717.50*
Kroko-dill – $20,040.00
pokerqmaster – $14,195.00
gangstachel9 – $9,185.00
Connor 'blanconegro' Drinan – $7,515.00
cmase86 – $5,845.00
PHQENIX – $4,592.50
*denotes heads-up deal
Event #34 (Low): $5.50 Six Max PKO No Limit Hold'em
Entries: 27,479
Prize pool: $134,647.10
Rick7BR – $6,663.58 + $2,688.09 (in bounties)
Miauzão – $4,631.58 + $202.48 (in bounties)
yawoi – $3,227.17 + $798.52 (in bounties)
teddyoojo – $2,248.61 + $384.39 (in bounties)
schoppen5 – $1,566.77 + $274.32 (in bounties)
piolhohz – $1,091.68 + $203.87 (in bounties)
Event #34 (Medium): $55 Six Max PKO No Limit Hold'em
Entries: 11,634
Prize pool: $581,700
roaden – $37,999.22 + $13,131.52 (in bounties)
Hoelle1 – $26,471.27 + $1,412.53 (in bounties)
sinedth – $18,444.45 + $5,698.03 (in bounties)
superaffeee – $12,851.58 + $2,805.28 (in bounties)
Sajanas23 – $8,954.63 + $861.16 (in bounties)
plangepaul – $6,239.34 + $3,229.87 (in bounties)
Event #34 (High): $530 Six Max PKO No Limit Hold'em
Entries: 2,464
Prize pool: $1,232,000
reverdy365 – $90,640.72 + $64,676.79 (in bounties)
LiroLa – $63,155.15 + $7,673.15 (in bounties)
FloweerBoy – $44,004.69 + $2,164.06 (in bounties)
heyalisson – $30,661.21  + $17,279.73 (in bounties)
doofus86 – $21,363.86 + $4,841.79 (in bounties)
guitey – $14,885.70 + $4,298.82 (in bounties)
Event #38 (Low): $5.50 Four Max PKO Pot Limit Omaha
Entries: 9,126
Prize pool: $50,000
jokkee_apart – $3,380.73* + $1,462.88 (in bounties)
ZAVOD_ZT – $2,780.36* + $362.15 (in bounties)
germanRan – $1,500.26 + $106.53 (in bounties)
pehmokorva – $946.04 + $145.84 (in bounties)
*denotes heads-up deal
Event #38 (Medium): $55 Four Max PKO Pot Limit Omaha
Entries: 3,426
Prize pool: $171,300
DAEHBONK – $12,290.45 + $9,475.68 (in bounties)
nally18 – $7,748.72 + $973.26 (in bounties)
muggsyboges – $4,886.21 + $165.63 (in bounties)
jklhgf – $3,081.15 + $408.10 (in bounties)
Event #38 (High): $530 Four Max PKO Pot Limit Omaha
Entries: 816
Prize pool: $204,000
Kraskata85 – $30,476.87* + $41,853.87 (in bounties)
12maxel13 – $25,171.82* + $3,781.24 (in bounties)
Maroonlime – $13,570.44 + $2,218.75 (in bounties)
Sasuke234 – $8,557.29 + $6,654.31 (in bounties)