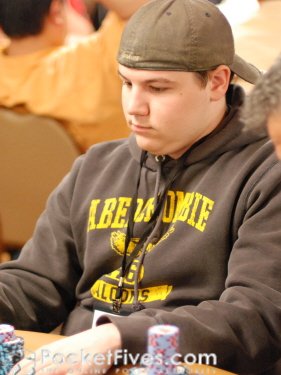 Early Sunday morning, longtime PocketFives member Shaun shaundeebDeeb (pictured) captured his fifth PokerStars Spring Championship of Online Poker (SCOOP) title, extending his own record for the most ever. He told PocketFives in an exclusive interview following his victory, "Once I get deep, I just know I'm going to win. I have the craziest confidence that I'll make the right decisions and not get coolered or bad-beated."

Deeb's latest SCOOP trophy came in the high-stakes version of Event #38, a $2,100 HORSE tournament. The final table was chalk-full of poker talent, including PocketFives Triple Crownwinner Dylan ImaLucSacLinde, Jonathan FatalErrorAguiar, George Jorj95Lind, Russia's Andrey ZayaZaichenko, and the United Kingdom's Jon EMSBas Spinks.
On his success in HORSE, Deeb told us, "I play a lot of Eight Game, so playing HORSE is an easy adjustment. I obviously had some key hands when I was short-stacked, but once I got chips, I never really lost two big pots back-to-back; I just keep stealing and building."
Deeb faced off against Spinks heads-up early Sunday morning and entered with a 3:2 chip lead. We'll let the PokerStars Blog describe the last hand, which came during Limit Hold'em: "[Spinks] and Shaun Deeb saw a Td-8s-5h flop. Deeb check-called [Spinks'] bet, then check-raised the turn when the Kc fell. [Spinks] three-bet to 30,000, Deeb capped, and [Spinks] called all-in, turning over Ad-5c for bottom pair. Deeb showed Qs-Tc, his pair of tens in the lead. [Spinks] needed an ace or a five, but the river fell a total blank with the 6c."
Deeb gave his two cents on the talent-rich final table in SCOOP Event #38: "Luckily, a lot of them were tighter. I was able to steal a lot knowing how rarely they played back. Lind(pictured) has really impressed me this SCOOP with his skills in other games. I used to think he wasn't good at them and was just playing the satellites and hypers for VPPs, but he's definitely a great overall player and deserves a ton of respect for his grinding and skill."
The PocketFives forums were also buzzing with word of Deeb's fifth victory in a SCOOP event. One PocketFiver from the United Kingdom was looking for action on Deeb's World Series of Poker (WSOP) bracelet chances: "He's done it again… Absolutely incredible. Any bets he ships a bracelet this year in a Stud or HORSE event?"
An Aussie PocketFives member echoed the same sentiments, posting, "He must be pretty psyched for WSOP Stud and Mixed Games at this point." Deeb also has victories in Stud, Triple Stud, and Stud High-Low tournaments during the 2012 SCOOP. His first SCOOP title, which came in 2010, was in Pot Limit Omaha.
Deeb is fired up for the WSOP, which begins next weekend from the Rio in Las Vegas. And even though he won't admit it, we think he's a little more stoked given his recent SCOOP success. "I couldn't get more excited than I was before SCOOP," Deeb claimed about the WSOP. "The WSOP is just the end boss of the year, and being close to so many people who have had great WSOPs in the last few years, I want to join them."
By the way, Deeb's latest SCOOP event win was worth $46,000. Here's how the final eight players cashed out:
1. Shaun shaundeebDeeb – $46,325
2. Jon EMSBasSpinks – $31,450
3. Dylan ImaLucSacLinde – $23,800
4. BiatchPeople – $16,150
5. Andrey ZayaZaichenko – $11,900
6. Sivokhan – $8,925
7. Jonathan FatalErrorAguiar – $7,225
8. George Jorj95Lind – $5,525
Deeb has nearly double the number of overall SCOOP leaderboard points with 825 thanks to eight top 10 finishes and four wins. He'll take home a trophy and a 2013 European Poker Tour (EPT) Grand Final prize package for blowing away the pack in that competition. He's also pacing the high-stakes SCOOP leaderboard and will likely get a 2013 PokerStars Caribbean Adventure prize package for winning.
In the low-stakes SCOOP leaderboard, Deeb can be found in a tie for sixth place, with another PCA package on the line. Deeb told us that he'll look to add to his arsenal of leaderboard points by entering all three SCOOP Main Events on Sunday: "I am a super long shot for the low-stakes leaderboard. Plus, I love adding to my Player of the Year score, which is something that no one will ever beat, I think."
Visit PokerStars today for the 2012 SCOOP finale.