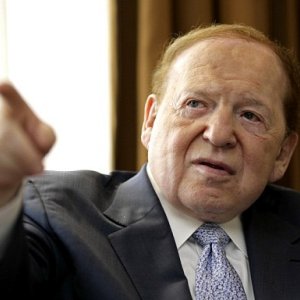 According to PennLive, Las Vegas Sands Chairman and CEO Sheldon Adelson (pictured), who has vowed to spend "whatever it takes" to crush the internet gambling and online poker industries in the United States, allegedly contributed nearly $1 million to the reelection campaign of Pennsylvania Governor Tom Corbett. The problem: the donation was reportedly illegal.

—
PocketFives' news coverage is brought to you by Betsafe, one of the leading suppliers of online gaming products worldwide and a major sponsor of Gumball 3000. Sign up now for great bonuses, €3,000,000 guaranteed monthly, and plenty of live events!
—
Pennsylvania resident Nathan Sooy commented in a press release sent from the Keystone Group and picked up by PennLive, "The RGA and Adelson both say the donation was made mistakenly, but the intent is irrelevant. The Republican Governors Association Pennsylvania PAC received the money directly from Adelson. That is money that went directly and illegally to Corbett and the Pennsylvania Republican Party."
PennLive quoted the same release as adding, "The RGA Pennsylvania PAC claims it returned the donation, but questions remain as to what communication has occurred between Adelson and Governor Corbett's reelection campaign. There is also some doubt about when the RGA returned the money to Adelson."
The amount of the donation was $987,444, but Sooy is reportedly calling for a fine of $1.3 million. Although that might seem like a lot, it's likely the equivalent of pocket change to Adelson, who according to Forbes saw his net worth jump by $15 billionin 2013. Adelson's corporation owns Sands Casino Bethlehem in Pennsylvania, a state that is strongly considering legalizing online gambling.
In fact, a bill to do exactly that was introduced in the state's Senate last week. Online Poker Report has a full breakdown of it if you haven't checked it out.
However, Adelson's influence, potentially from a financial standpoint, could derail any bill in Pennsylvania, according to Online Poker Report: "The consensus opinion is that Pennsylvania is one of the most likely states to legalize and regulate some form of online gambling… [However, countering that are] well-financed opposition from Las Vegas Sands, a foggy legislative path through the House, and an uncertain fate for any bill that does reach Gov. Corbett's (pictured) desk."
A complaint from Sooy was registered with the Pennsylvania Gaming Control Board. Sands also owns and operates the Venetianand Palazzoin Las Vegas, two casinos many poker players have vowed to stay away from while in town for the World Series of Poker at the Rio.
Stay tuned to PocketFives for the latest poker legislation news.
Want the latest poker headlines and interviews? Follow PocketFives on Twitterand Like PocketFives on Facebook. You can also subscribe to our RSS feed.