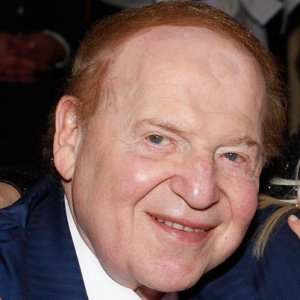 In case you think that Las Vegas Sands head Sheldon Adelson (pictured) has a longstanding hatred for the internet gambling industry, you should check out an article from 2001 that appeared in the Las Vegas Sun. In it, Adelson charged that his company will "be in that ring," referring to the internet gambling arena, and praised lawmakers for pursuing pro-internet gambling legislation.

Yes, that Sheldon Adelson. The same man who created the Coalition to Stop Internet Gamblingand said he'd spend "whatever it takes" to rid the US of internet gambling forever. As ESPN's "Monday Night Countdown" crew would say, "C'mon man!"
According to the Sun in 2001, Adelson was "pleased that the Nevada Legislature has taken the lead in regulating internet casinos" and added, "Our hat will be in that ring, but I don't believe the US Congress or the current administration is very anxious to make it happen."
The Las Vegas newspaper added, "Adelson said the ultimate acceptance of internet casinos may rest with the realization that billions of dollars are leaving the United States as gamblers play online casinos located offshore." He also stressed, "If more people accepted gaming, we'd also do well here."
Just in case it weren't obvious, Adelson appeared to be pro-online gaming at the time, going so far as to say, "I applaud the gaming authorities in their efforts." And that was only 13 years ago.
So what caused Adelson's about-face on internet gambling? As one poster on Two Plus Two joked of the now-81-year-old, "He was only 68 back then. You can't blame a guy for his youthful indiscretions. He was immature and looking to spread vice through the land. Now, he's a grown man and wants to prevent you from clicking mouses and losing houses."
As posters on Two Plus Two pointed out, a sister company of the Venetianin Las Vegas, a Sands property, received an internet gambling license from Alderney in 2003.
And, in perhaps one of the most hypocritical comments you'll ever see, Richard Depew, Venetian Interactive CEO, was quoted in the Sun as saying 11 years ago, "An internet gaming license in Alderney provides Venetian Interactive with some of the highest regulatory standards and controls in the industry, which supports our goal of providing a user-friendly gaming and entertainment experience in a totally secure and trusted environment."
The statement's hypocritical nature stems from Adelson today questioning whether underage gamblers could be identified and rooted out in a regulated scheme.
C'mon man!
Sands has come out in opposition to rivals like Caesars Entertainment, which runs WSOP.com Nevadaand WSOP.com New Jersey and has been at the forefront of regulated internet gaming in the US. Perhaps Adelson's sentiments are more competitive-based as opposed to morally-based, but only time will tell. Sands has not yet opened an online gaming site in its home state of Nevada, one of three US jurisdictions with regulated gaming.
Want the latest poker headlines and interviews? Follow PocketFives on Twitterand Like PocketFives on Facebook. You can also subscribe to our RSS feed.