In the middle of February, the 888 Poker Mega Deeppulled in 829 entrants and offered up a prize pool of $165,000. The money made a 14-hour tournament much more palatable to Polish PocketFiver aimazing (pictured), who told us, "I'm feeling awesome. It's my biggest score ever. However, I felt a little bit disappointed since I lost heads-up to a recreational player." He took second for $22,000.

aimazing said the structure of the Mega Deep was "incredibly good." It has 30-minute levels, which allows for plenty of play, but as he put it, "One of the downsides is the length of the tourney; it took almost 14 hours. From the beginning, I played pretty tight, trying to grab chips in low-variance spots due to the good structure. In the middle, I tried to keep an average stack and not fight too much. In the later stages, I got a good run of cards and started using my tight image to play around with guys who seemed to wait for the pay jumps."
By the time the final table rolled around, aimazing got it in three times with aces versus A-Q and A-K. "I have a good life," he joked of his luck. "Heads-up play was rather short. My opponent flatted my 4bet with 10-3 suited and managed to suck out on me."
If you're a regular grinder, then looking at a computer screen for 14 hours probably isn't a huge issue, but for some of us, it can become physically taxing. "It's pretty hard, but does not happen that often," aimazing said of being hunkered down for so long. "When you realize you are fighting for such a large first place prize, you can handle it. During the breaks, I try to rest my eyes, do some exercises, and get some fresh air, which help a lot."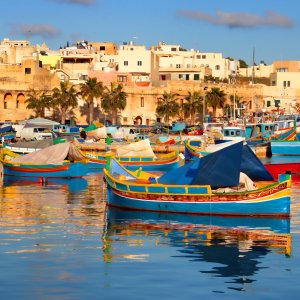 As far as the money goes, aimazing plans to throw a party for his friends and use the rest to increase his bankroll. He is a month removed from winning a MiniFTOPSevent for $14,000 and so is riding a hot streak of sorts. "I'll definitely start playing more live tournaments," he said. "I have already been to Malta(pictured) and loved the whole experience. I will also move up in tournament buy-ins if I think I have an edge in those games. I will still play lower buy-in tournaments with good prize pools, though."
The Polish player is definitely an up-and-comer and just passed 1,000 in the money finishes in online tournaments. His journey originated three years ago when a friend was playing cash games. "I railed his results, which were awesome for me at the time, and decided to play a little bit. I fell in love with the game pretty fast and started playing low buy-in sit and gos." He has $161,000 in tracked cashes thus far and should clear $250,000 in short order.
Outside of poker, aimazing studies economics and, in his free time, hangs out with friends. He's also an avid traveler, telling PocketFives, "In the next couple of months, I'm planning on traveling across the Europe and enjoying earned holidays."
If you don't already have an 888 Poker account, sign up through the links on PocketFives to get an enhanced 100% up to $600 deposit bonus (regularly 100% up to $400), $88 free in most locations, and one free month of Tournament Poker Edge or CardRunners poker training. Click here to get started.
Want the latest poker headlines and interviews? Follow PocketFives on Twitterand Like PocketFives on Facebook.