Major online poker tournament action over the weekend saw a number of well-known players compete for large cash prizes. The PokerStars Sunday Million was won by player Ariel 'Vilactes' Vila who received $131,000 as a result of a three-way final table deal. PocketFives member Fabiano 'kdrAS' Teixeira of Chile finished second for $110,000 and will likely move back into the Top 1,000 Worldwide while '$trateGema' was awarded $93,071 for third place in that event.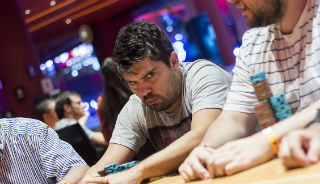 'JacobLarsson' took down the Sunday Warm-Up for $53,180 while Vicente 'vincefish' Delgado Zamorano of the United Kingdom, ranked #105 worldwide, earned $38,236 for his runner-up performance.

Jon 'apestyles' van Fleet of Canada, ranked #136 worldwide, captured an outright victory in the PokerStars Sunday Grand for $57,943. van Fleet had to overcome extremely tough competition in outlasting #6-ranked Jonatan 'Pot4teUS' Hellman (second place for $43,351) and #4-ranked 'lena900' (third place for $32,434) — both from Sweden.
Team PokerStars Pro Bertrand 'ElkY' Grospellier received the highest payout in the Sunday Supersonic — taking home $26,075 for his official third place effort as 'pokerjoe485' won $25,443 in first place.
The $2,600 buy-in partypoker Super High Roller was won by Sam 'Pudge714' Greenwood' of Canada, who will move up into the top 200 Rankings while savoring a $51,188 payday. 'Gagurgel' was victorious in the partypoker $530 buy-in version of the High Roller for $35,588.
'TomYamiKai' came out on top in the $600 buy-in WHALE tournament on 888 Poker and took home $32,236. 'Sickmanijfs' took first place in the Mega Deep event on 888 for $25,875.
PokerStars Sunday Million ($200+15 NLHE)
5,383 entrants – $1,076,600 paid out to 764 spots
Ariel 'Vilactes' Vila – $131,000.00
Fabiano 'kdrAS' Teixeira – $110,000.00
$trateGema – $93,070.69 *3-way deal
boahgerding – $51,784.46
scallpell – $36,082.03
Re8uZ – $25,140.97
ekziter – $17,517.68
Joao joaomathias' Mathias Baumgarten – $12,205.84
kalaloom – $8,504.81
PokerStars Sunday Warm-Up ($200+15 NLHE) *$300K Guaranteed
1,755 entrants – $351,000 paid out to 242 spots
JacobLarsson – $53,179.56
Vicente 'vincefish' Delgado Zamorano – $38,235.72
allin0709 – $27,491.82
taartjekomt – $19,766.88
MrBittar – $14,212.55
clancywigam – $10,218.94
Big Popp4 – $7,347.51
Basilaz – $5,282.90
naskeladden – $3,798.45
PokerStars Sunday Grand ($1,000+50 NLHE) *$250K Guaranteed
308 entrants – $308,000 paid out to 39 spots
Jon 'apestyles' van Fleet – $57,942.80
TanTanSWE – $43,350.81 (Pot4teUS)
lena900 – $32,433.66
maggess88 – $24,265.81
kaju85 – $18,154.87
Turko_man – $13,582.89
wozzle9 – $10,162.27
JWPRODIGY – $7,603.07
DeosOner – $5,688.35 (RoryYoung)
PokerStars Sunday Supersonic ($215 NLHE Six Max Hyper) *$175K Guaranteed
1,113 entrants – $227,898 paid out to 155 spots
pokerjoe485 – $25,442.72
Tomatee – $24,827.27
Bertrand 'ElkY' Grospellier – $26,075.35 *3-way deal
nailuj90 – $10,246.94
thehushpuppy – $6,698.14
nicosty21 – $4,378.37
PokerStars Sunday Storm ($10+$1 NLHE)
24,525 entrants – $250,000 paid out to 4,031 spots
Freakstah – $19,837.75
+KO2B+ – $17,935.54
Become_No1p – $19,207.63 *3-way deal
henkewhafan – $9,469.70
jeanfranco07 – $6,808.80
boboo343 – $4,895.60
vitel1818 – $3,519.97
Samuel13korn – $2,530.90
sandybell13 – $1,819.75
partypoker Super High Roller ($2,600 NLHE) *$100k Guaranteed
63 entrants – $157,500 paid out to 8 spots
DeanMalenko – $51,188 (Pudge714)
luckytedbear – $33,075
Ilove2fish – $23,625
gotunagi19 – $15,750
Plazya7 – $11,813 (Banicivan)
tiote22 – $8,663
broooooooooooo – $7,088
JeanClaude1970 – $6,300
partypoker High Roller ($530 NLHE) *$150K Guaranteed
365 entrants – $182,500 paid out to 45 spots
Gagurgel – $35,588
eardleym – $26,919
Ilove2fish – $20,075
AAassasin007 – $15,330
calum27 – $10,494
OwnYrSoul – $8,213
flsh2013 – $6,388
Therealmoorm – $4,563 (moorman1)
TragEV – $3,194
iPoker Sunday Masters (€150 NLHE)
121 entrants – $18,873 paid out to 18 spots
NicholasHalden – $4,340.83
AGoodSport – $3,019.71
RistoRap3Ass – $2,293.09
gt1128 – $1,698.59
karldaly – $1,132.39
4timesBet – $943.66
GGBG1 – $754.93
solvay516 – $566.20
RuningLikeAGod – $471.83
888 Poker WHALE ($600 NLHE) *$120k Guaranteed
279 entrants – $157,635 paid out to 36 spots
TomYamiKai – $32,236
cswami – $23,645
BadModafoka1 – $17,813
krokopp – $13,399
ekziter1 – $9,143
dccnesquick – $7,094
grisildur – $5,517
Deeepz – $3,941
urshitstorm – $2,995
888 Poker Mega Deep ($215 NLHE) *$100k Guaranteed
690 entrants – $138,000 paid out to 90 spots
Sickmanijfs – $25,875
33ReNate – $18,630
maketoney – $13,800 (Tiny_molester)
icallyamet – $10,350 (dean23price)
974kWRT – $7,245
trino11 – $5,865 (bipbippp)
PKaiser – $4,485
Runnerboy23 – $3,105
Xorkoth – $1,946