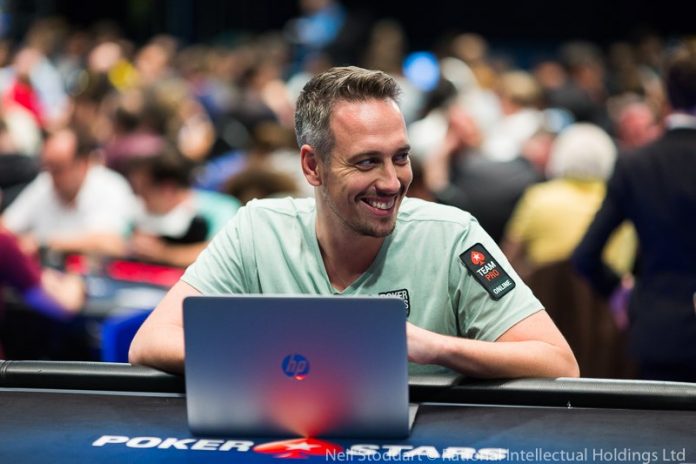 For the second Sunday in a row, a prominent online poker pro streamed a deep run in a Sunday Major, this time taking his audience on a journey that included a visit to the winner's circle. Lex Veldhuis beat out 1,068 other players, including Jonathan 'Proudflop' Proudfoot heads-up, to win the PokerStars Sunday Warm-Up for $34,690 and was one of the highlight winners on another busy Sunday on the virtual felt.
Sunday marked the debut of the $109 Sunday Million on PokerStars as a permanent fixture on the slate. The event attracted 15,550 players pushing the total prize pool to $1,555,000. The new buy-in also changed the payout table significantly. Both events paid roughly 18% of the field, but the winner last week received (before chop) 13.5% of the total prize pool. This week's winner, '555AU', took home just 8.8% of the prize pool for outlasting 9,713 more players.
The Sunday Million also played down without a chop. '555AU' beat 'kmarao-Vi' heads-up to secure the $136,892 first place price. 'kmarao-Vi' was forced to settle for $99,334. PocketFiver Michael 'SmallKindB' Sklenicka rounded out the podium finishes by banking $72,087 for finishing in third place.
The biggest buy-in event on partypoker's Sunday Schedule included some of the biggest hitters in the online poker world. The $5,200 buy-in The Big Game consisted of 211 players and pushed the total prize pool $55,000 past the $1,000,000 guarantee. 'edgybrah' topped a final table that included John Duthie, Roman Romanovsky, and former #1-ranked Patrick Leonard to win $215,114. Runner-up 'lqq1974' earned $156,140 while Orpen 'orpenkk' Kisacikoglu was left with $111,302 as his third place prize.
PokerStars Sunday Million ($100 + $9 NLHE) $1M Guaranteed
15,550 entrants, $1,555,000 prize pool
555AU – $136,892
kmarao-Vix – $99,334
Michael 'SmallKindB' Sklenicka – $72,087
AAgoodfold – $52,313
Hookz – $37,964
Denis XXX007 – $27,550
simbadac – $19,993
rizseshus – $14,509
Expert Tver – $10,529
PokerStars $2,100 Sunday High Roller, $150K Gtd
119 entrants, $238,000 prize pool
Luke 'Bit2Easy' Reeves – $52,166.28
adkaf – $40,149.41
kimokh – $30,900.75
elmerixx – $23,782.57
Secret_M0d3 – $18,304.10
Roman 'RomeOpro' Romanovsky – $14,087.64
anteen – $10,842.47
Tankanza – $8,344.82
Sasuke234 – $6,422.54
PokerStars $530 Bounty Builder High Roller, $400K Gtd
1,081 entrants, $540,500 prize pool
Turko_man – $43,974.09 + $29,635.16
Rick 'ThEcLaiMEer' Trigg – $32,232.36 + $11,273.43
xs169747 – $23,626.22 + $8,085.93
Jonas 'llJaYJaYll' Lauck – $17,317.94 + $1,710.94
Guilherme 'guix2x' Oliveira-Brasileiro – $12,693.99 + $3,250.01
Barato04 – $9,304.65 + $9,801.51
Z-ENERGIES – $6,820.27 + $6,743.65
losos007 – $4,999.24 + $2,343.75
Graftekkel – $3,664.45 + $1,781.25
PokerStars $215 Sunday Warm-Up $175K Gtd
1,069 entrants, $213,800 prize pool
Lex 'L. Veldhuis' Veldhuis – $34,690
Jonathan 'Proudflop' Proudfoot – $24,942
filusPL – $17,933
corresao – $12,894
chrtinho7 – $9,271
MinReraise – $6,666
dawwhiteninja – $4,793
Tom 'Jabracada' Hall – $3,446
Charlie 'JIZOINT' Combes – $2,477
partypoker $1,050 Sunday High Roller $150K Gtd
146 entrants, $150,000 prize pool
ACHSO8000 – $34,485
Sami 'LarsLuzak1' Kelopuro – $24,750
nipa3p3 – $18,000
ReQui3m4 – $12,750
pinolerobeats – $9,000
GlobalHappiness – $7,125
p0kchkmonsta – $5,670
proudflop – $4,500
partypoker $1,050 Sunday High Roller Bounty Hunter – HR $200K Gtd
196 entrants, $200,00 prize pool
Otxark0agabr0 – $15,804.19 + $12,851.72
Ciao_Polacco – $15,801.52 + $16,835
ReQui3m4 – $11,264.84 + $5,200
PeterLudolf – $8,328.50 + $3,654.22
LarsLuzak1 – $5,872.66 + $2,145
RedDwarf9 – $4,484.58 + $260
SpiritDNA – $3,310.04 + $5,330
MoNddLeR – $2,455.84 + $0
partypoker $5,200 The Big Game: $1M Gtd
211 entrants, $1,055,000 prize pool
edgybrah – $215,114
lqq1974 – $156,140
Orpen 'orpenkk' Kisacikoglu – $111,302
Patrick 'Patrick_Leonard' Leonard – $82,290
Roman 'SanityWaterline' Romanovsky – $58,025
John 'John_Duthie' Duthie – $44,310
bgigra4 – $32,705
HeavensEdge222 – $24,265
partypoker $3,150 Super Sunday High Roller $200K Gtd
66 entrants, $200,000 prize pool
aLiNeNok1617 – $61,000
haddoken – $41,000
WWWpartyC0M – $28,000
Sam 'bestindabiz51' Panzica – $18,000
ucantrybut – $14,000
HeavensEdge222 – $11,000
Drulitooo – $9,500
IamPEAKing – $9,000
888poker $215 Sunday Mega Deep
513 entrants – $102,600 prize pool
Utd879908 – $19,853
Yattag0 – $14,877
888topPair – $11,286
Mr.Fonzi – $8,464
Mimm0000000u – $5,848
plomaha – $4,514
bossamtisch1 – $3,488
sonmonedass – $2,462