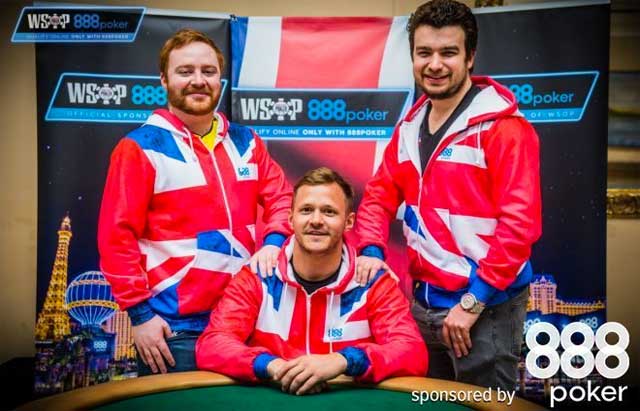 Thanks to a deep run in the 49th Annual World Series of Poker Main Event, Chris 'moorman1' Moorman helped seal the victory for Team UK in 888poker's second annual 8-Team Competition.
The competition assembled teams of three for seven different countries. Each country's team was assigned a captain, a wingman as well as an online qualifier. Then, depending on how each of the teams performed in the Main Event, they were assigned points. Points were given for both surviving each day as well as where they finished in the chip counts.
The team with the most points, would not only grab the glory of outlasting their peers but also nab a free entry into the 2019 WSOP Main Event for all three team members.
That means that Moorman, wingman (and the subject of PocketFives' 50 Days & 50 Nights) Niall 'firaldo' Farrell and online qualifier Billy 'BillyChat' Chattaway will all be returning to the Rio All-Suite Hotel & Casino in 2019 to, once again, take their shot at poker's biggest prize.
The three Brits were bolstered by Moorman's strong performance. He finished off Days 3 and 4 holding the greatest amounts of chips of any of the participating players left in the tournament, earning them crucial bonus points.
In addition, Moorman, who finished in 273rd place in the Main Event for $42,980.
While Moorman and Farrell were probably already planning on heading back to Las Vegas in 2019, now UK online qualifier Chattaway is certain to make his travel plans early as well.
Chattaway a 28-year old professional poker player hailing from London has already made four trips to the WSOP, including this year. Having won free entry into the Main Event, he'll certainly return for his fifth. While many might look at the title of "online qualifier" to mean someone who lucked their way onto a team with some formidable pros, Chattaway himself is a force to be reckoned with. He's amassed over $4.3 million in lifetime career online earnings and has been ranked as high as #14 in the world (he currently sits ranked #215.)
He also pulled his weight for Team UK by finishing in the money in the Main Event, hitting the rail in 652nd place for $21,750.
While Team UK will enjoy the spoils of victory some of the other teams were in the mix right until the end.
Team Brazil, finished the competition in second place. Although captain Vivian Saliba was unable to make the money, their online qualifier, Pedro Correa made a deep run. He exited the tournament in 356th place for $33,305.
Right behind Brazil in the standings was Team Russia. Arseniy Karmatskiy, the Russian captain, was the only other captain of a team to make the money. He finished five spots ahead of Moorman, bowing out in 268th for $42,980. Karmatskiy ended up as the last participant standing, which gave his team an extra 100 points. However, it simply wasn't enough to overtake Team UK.
With the 8-Team competition all wrapped up, the next stop for 888poker LIVE will be this September when the tournament series make their way to Sao Paulo, Brazil.