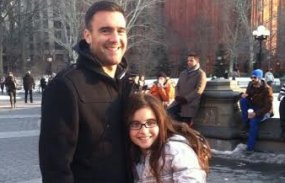 Earlier this year, Mexico's Aaron aguskbGustavson (pictured) earned his $3 million cash badgeon PocketFives. It's fitting that we're interviewing him now for a feature article, as he is also at his all-time high in the PocketFives Poker Rankings at #21 in the world. He's a poker transplant living in Mexico.

"It's nice since not that many people have accomplished it," Gustavson told PocketFives in an exclusive interview about his new profile badge. He's at a healthy $3.2 million in tracked online MTT scores for his career, including a $135,000 hit for winning the Sunday Warm-Up in 2009. He won an FTOPS event the following year to prove he was no one-hit wonder.
Gustavson has $1.5 million in live tournament winnings to boot, according to the Hendon Mob, the majority of which came by winning the EPT London Main Event in 2009. "That score multiplied my bankroll by an enormous amount," he recalled, "so it allowed me to play higher and without financial stress."
In the EPT London Main Event, his heads-up foe was none other than Peter Eastgate (pictured), who was a year removed from winning the WSOP Main Event in Las Vegas. "Heads-up was really short, but when playing with him throughout the tournament I gained a lot of respect for his game and I enjoyed getting to know him as well," Gustavson said. "Before that tournament, all I knew was that he won the Main Event; I never saw the ESPN footage."
In 2009 when all of his various big-time winnings happened, Gustavson had been playing for a while and doing so full-time was his plan. He explained, "After a live score at Borgata and winning the Warm-Up, I made the move to Las Vegas to play full-time." His Borgata score was a win in a $1,600 event during the Summer Poker Open for $53,000.
He originally relocated in 2013, two years after Black Friday, and his first stop was Macau. "I did Asia for the first year of relocating, then I made the move to Playa del Carmen and this has been my primary residence for the last 2.5 years," he told PocketFives.
He was a big fan of Asia, but as many players in the Asian time zones can tell you, putting in a full-time grind on sites with schedules geared towards the other side of the world can be complicated. Gustavson explained, "The time zone made it really tough to grind the normal MTT schedule. I did not enjoy living in Macau, but I really liked Thailand (pictured). It is one of my favorite places, but since it's so far from the States and given the rough time zone schedule, I'm not over there anymore."
He has 5,489 in the money finishes and is averaging a hair under $600 a pop. Away from the tables, Gustavson likes to play basketball. He gleaned, "There is a great basketball community here in Playa and I play regularly with a lot of other tournament players. I'm in the process of fixing a bad knee at the moment, so I've taken a little break." He played Division III basketball in college in New York.
See who else has hit $3 million in online tournament winnings.
Want the latest poker headlines and interviews? Follow PocketFives on Twitterand Like PocketFives on Facebook.